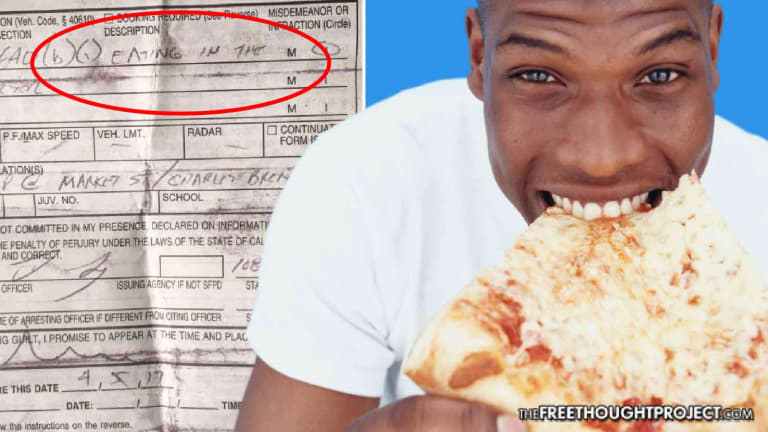 Cops Issue Man $250 Ticket Because Eating Pizza at a Bus Stop is Illegal in the Land of the Free
In the land of the free, eating pizza while waiting for a bus is now a criminal act as a homeless man recently found out.
San Francisco, CA — Window tint, smoking a plant in your own home, not wearing your seatbelt, walking across the street, sagging your pants, and even building a sand castle — can and will get you extorted, kidnapped, caged, or even killed — in the land of the free. And now, eating pizza while waiting for the bus can be added to the list.
According to the San Francisco Gate, a man, who also happens to be homeless, was fined $250 for eating pizza while waiting for his bus to arrive. He was waiting at the corner of Market and Seventh street, holding the pizza he'd bought as a birthday treat for a female friend when the temptation to eat a slice was more than he could bear.
While indulging in his piece of the pie, he soon found himself the focus of a police investigation. The homeless man was then cited for eating pizza. Yes, you read that right. He's was charged with eating pizza in public; more specifically, eating in the bus stop shelter. The law is real, yet according to Kelly Cutler with the Coalition on Homelessness, the violation is rarely enforced. The man needed help with paying the fine, so he sought out the help of a local homeless advocacy group.
"Some people get agitated or upset, but he was being a good sport...He laughed about it. He kept saying he bought the pizza for his friend on her birthday," Cutler said. He was given a citation on March 5th and was due on court on April 5th, but Cutler said he does have legal recourse. If the man can show he's seeking help for being homeless, the court will likely dismiss the charges which can carry a hefty fine of $250.
SFGate wrote, "Homeless outreach workers said Monday that they could not recall a similar instance of pizza prosecution, although another coalition worker did recall that a client of his had been cited some months ago for skateboarding on a Fulton Street sidewalk at 3 a.m., instead of in the street." Cutler called the ticket a "waste of police services" and doesn't seem to understand why now, all of a sudden, the police are enforcing laws long overlooked.
The Free Thought Project understands why police go after the homeless. In short, the answer is revenue generation. As TFTP has reported on numerous occasions, there's a lot of revenue which can be generated when police departments target agencies which help the homeless, as well as the homeless themselves. Those who help the homeless can find themselves on the wrong side of the law. In one
In one such case, a few entrepreneurs sought to reclaim discarded food and provide it to the homeless. They were arrested. In another instance, a homeless woman was arrested and charged with charging her cell phone in public.
While some see the police fines, arrests, and penalties as a war on the homeless, instead of a war on homelessness, others simply see such police actions as revenue generation. At any rate, there's something to say about an America which doesn't allow people to eat pizza at a bus stop. So much for being the land of the free!