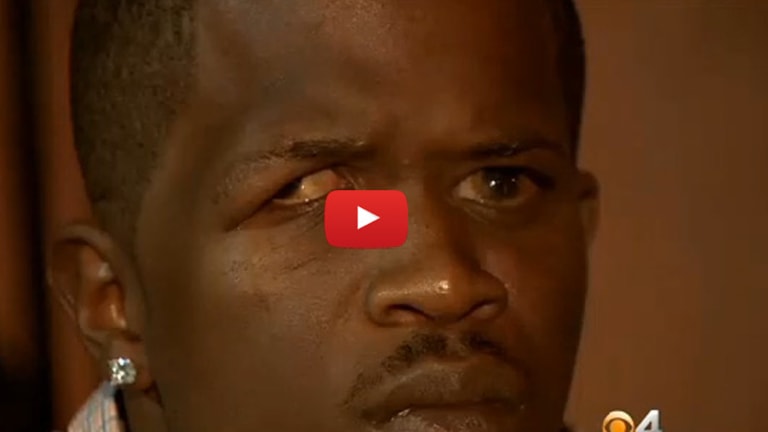 Cops Kidnap Blind Man, Dump Him on the Side of the Road in the Middle of Nowhere
In an apparent retaliatory move, Miami cops, kidnapped and dumped this innocent blind man in a desolate part of town.
Miami, FL -- Blind since birth, 21-year-old Tannie Burke had no idea how to get home after police dumped him on the side of the road in the middle of nowhere.
On the night of August 27, four plainclothes police officers pulled up to an apartment complex in South Dade and arrested three young black men.
A bystander caught the interaction on video.
According to police, the three men were arrested because officers claimed to witness the horrible crime of passing a marijuana cigarette.
The men were arrested for possession of marijuana, a misdemeanor, and made to sign citations promising to appear in court.
Two of the men were let go, but c0ps threw the third man, Burke, into the back of their unmarked car. Burke was unable to even find the cop car.
"He's blind dumbass," the man videotaping the incident is heard saying. "If you don't tell him he's walking to the car how the f**k is he going to know?"
"T-Man what are they taking you for?" a woman shouts.
"I don't know," Burke replies.
After kidnapping him, Burke estimates that police drove him around for twenty minutes before dropping him off in a desolate section of South Dade.
"They put me off somewhere in Goulds. There were no street lights and no houses," he said. "It was just dark."
CBS4′s Jim DeFede asked, "Did you tell the officers you were blind?"
"Yes I told them in the car I was blind and I couldn't see," Burke said.
DeFede then asked, "Did they seem to care?"
"Not that I know of," he answered. "They put me out somewhere where they aren't no street lights and no houses."
Burke can't see anything out of his right eye and can only make out general shapes, with enough light, with his left.
Finally, after walking with one foot on the pavement and one in the weeds, a stranger came to his aid and led him home.
Marvin Armstrong, Burke's stepfather and the man who filmed the interaction, expressed his concern.
"Forty-five minutes to an hour later he comes walking through the door all sweaty up," said Armstrong.
"I was like, `How'd you get out?' He said they released me way in the back," Armstrong recalled.
According to CBS4, Burke believes the police took him away as payback for Armstrong's actions. He said the cops complained about him after they put him in the car.
"They said, `Your stepfather got a lot of mouth. You know we don't like that,'" he said.
Burke, who has never been convicted of a crime, has been arrested twice and detained by police on more than a dozen other occasions. Being stopped and handcuffed in his neighborhood, he said, is nothing new.
"I feel they stop me because they see a black man walking down the street," he said. "I don't know what to say about it. I just feel bad about it. That's it."
Two months after he was arrested, kidnapped and charged with marijuana possession the charges were dismissed.
Burke's family has since filed a complaint with the Miami Dade police department, who declined to comment on the issue, citing that the incident was being investigated by Internal Affairs.