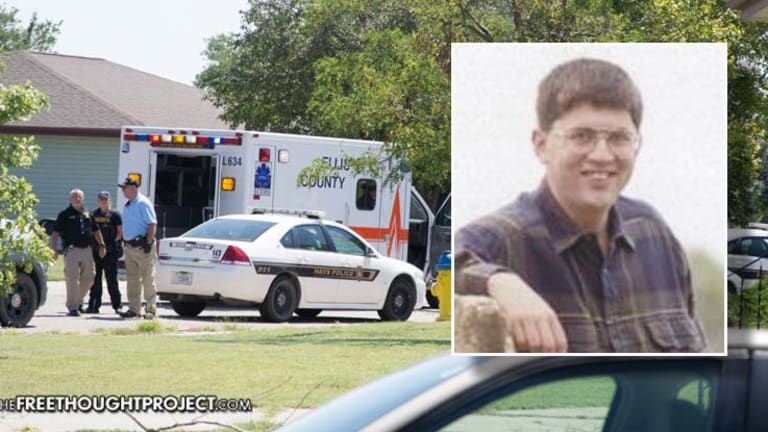 Cops Kill Speech Impaired Autistic Man Trying to Find Safety in Home for People with Disabilities
A family and community are mourning the loss of a beloved autistic man who was gunned down by police who've yet to give a reason why.
Hays, KS -- Joseph Nathaniel Weber, 36, was described by the community and his family as a person full of life and excitement. However, on Thursday, that life was taken from him by a Hays police officer. During a traffic stop last week, Weber, who had autism, was shot and killed.
Known to family as Joey, Weber was an upstanding member of the community who learned to embrace his autism, allowing him to lead a happy and mostly normal life. Weber was employed at Joe Bob Outfitters and a member of Knights of Columbus at his church.
Weber was also a participant of New Age Services which provides activities and services to members of the community with mental disabilities -- like Weber. Throughout their Facebook page, Weber is seen participating and many different events. The owner of New Age Services provides jobs to those with mental disabilities at his company, Joe Bob Outfitters -- where Weber worked.
So how could a kind, loving, and harmless man with autism, who's had no previous run-ins with police, be gunned down in cold blood?
According to Ellis County Attorney, Thomas Drees, they don't know.
"Did the man threaten police? I'm not going to comment on that, obviously, there was an escalation to the point where a shot was fired and he was killed," said Drees, as reported by KSN.
According to a release from the Ellis County Attorney's Office, as reported by KSN, Weber was stopped for an unknown traffic infraction and failed to obey the officer's commands. As additional officers were called, he drove off and headed toward to Timber Drive.
Timber Drive happens to be the street on which New Age Services is located. As he was startled by the officers, it is apparent Weber tried to make it to a safe space; somewhere he knew he would be okay.
However, when he got out of the car again, according to police, he did not obey their commands. However, according to his family, Weber's autism has left him with very low verbal skills and it is possible that he simply had no idea what to do.
When someone with autism is yelled at, or experiences bright lights, loud noise, and highly stressful situations, they tend to break down. Weber was most likely going through this when police opened fire. He died at the scene.
A woman who lives next to the New Age Services home, and who witnessed some of the event, said she's had interactions with Weber before, and they've been pleasant.
Weber was killed in broad daylight, in front of the place that made him feel safe.
The only details released by police so far have been the fact that none of the officers have body cameras and the patrol cars may or may not have had dash cameras.
Authorities remain tight-lipped on the details of Weber's death five days after he was killed.
However, the case seems cut and dry. Weber had autism, a condition which causes high-stress situations such as a police stop to overwhelm him. Although police haven't said whether or not he was armed, it is obvious that he did not have one, as this would have been the first detail released.
When Weber attempted to go to the only place he knew that could help him, police, who clearly lacked any training in dealing with people on the autism spectrum -- killed him.
If anyone would like to donate to the family, they can write a check to the Joey Weber Memorial Fund and send it to Baalmann Mortuary, PO Box 204, Oakley, KS 67748 and that will be put in his memorial fund.