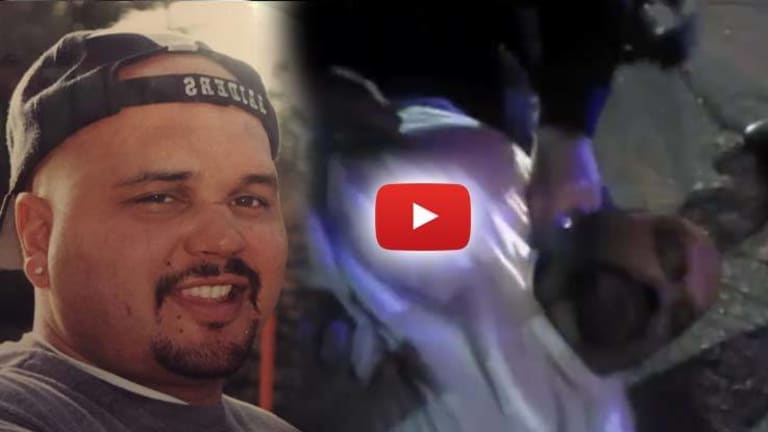 Cops Kill Unarmed Man on Body Cam -- But There Was No Investigation Since Cops Didn't Fire a Shot
A stop for suspicion of DUI lead to an unarmed and compliant father being killed by a swarm of cops.
Hayward, CA -- A routine traffic stop by BART police officers quickly turned deadly for a California father after police escalated force to the point he suffocated to death. After filing a lawsuit, the family has chosen to make the body camera footage public.
On May 23, 2014, James Greer was pulled over by BART police and given a field sobriety test.
According to the police report, which we will learn is untrue, police claimed that Greer "got out of his vehicle but would not participate in a field sobriety test." However, the body camera footage shows that Greer was entirely compliant, and he merely sought to inform the officers of his hernia and injuries.
As the stop progresses, cops begin to swarm the non-violent and obedient man. Decidedly scared of the massive police presence, Greer puts up his hands and merely attempts to back away.
"Don't be walkin' away," barks an officer.
"Wait, wait, wait, wait, what are you guys doing to me?" Greer asks as he is swarmed by police officers who immediately begin attacking him and bringing him down.
Greer, who was 380 pounds the night he was killed, had a hard time putting his arms completely around his back. Officers, utterly ignoring this physical impossibility, continued to force Greer's arms back.
"Hey, hey, hey, hey! You're breaking my arm," Greer says in agony as cops jump all over him, slamming him to the ground.
"When he was on the ground I hear him screaming in agonizing pain," Greer's former wife, Deana Greer said.
"Mr. Greer, you need to stop resisting, or you're going to be tazed," says an officer as five other officers pounce on the non-violent man who is only trying to prevent his face from being slammed into the ground and the excruciating pain of his stomach hernia.
Greer is tasered three times as multiple cops sit on him, squeezing the air out of this distressed large man.
Police then place Greer in a restraint device called "the wrap," which is designed to immobilize a suspect.
After suffocating this father for 6.5 minutes, cops then turned Greer over to find that he was unconscious and turning blue. Instead of helping him or rendering aid, police are seen and heard on the body cam footage laughing and making jokes.
According to their report, police said, "emergency medical personnel immediately intervened." However, Greer family attorney Fulvio Cajina, after reviewing the body cam footage, says that is not at all what happened.
"You see that his lips look blue and discolored. This is someone in urgent medical distress," Cajina said. "Nearly 7 minutes went by before anyone tried CPR on Mr. Greer. There's no sense of urgency. In fact, what they're doing is they're joking around."
One hour after Greer had been pulled over, he was pronounced dead at the Saint Rose Hospital.
Tom Nolan, a criminologist at Merrimack College who worked as a Boston police officer for 27 years, was sharply critical of the actions of officers after viewing the video, reports the East Bay Times.
"I don't think I've ever seen such a hyper-exaggerated, borderline-hysterical response," Nolan said. "We don't need 20-plus police officers, including superior officers, on the scene to take a guy into custody for a drunk driving offense."
"I'd say that the heavy hand of the Taser is what contributed to this guy's demise," Nolan added.
His father died from the "excessive and unbearable weight of the officers" and from "multiple Tasings," son, Joseph Greer says.
According to the state-sanctioned medical examiner's report, however, Greer died from "exerting himself while under the influence of PCP."
To add insult to death, the Hayward police never investigated Greer's death because, according to ABC7 News, the county's policy has been to only investigate deaths in which police fired their weapons.
In spite of the video evidence which shows the officers lied in their reports because a gun was not fired, this man's death was a non-issue to the department.
"He was kind of the glue that always kept everyone together," Deana Greer said. "We believe police are there to protect us and to see somebody who we trust to do such a thing. I don't think I will ever accept that."
Below is the entire body cam footage compilation. WARNING: Very Graphic