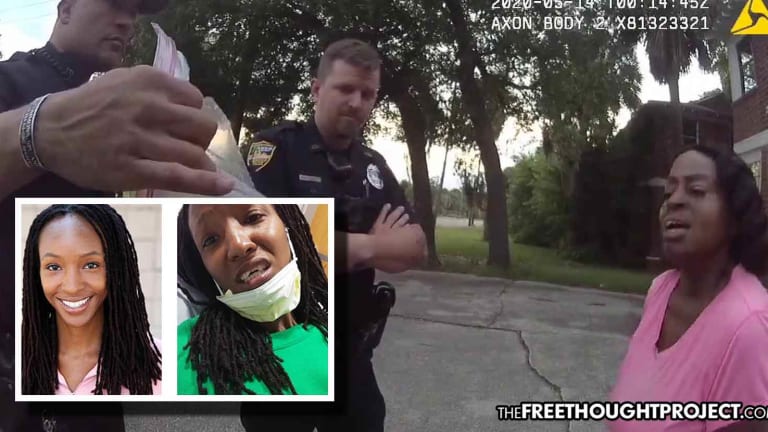 WATCH: Cops Knock Woman's Teeth Out After She Asked Them Not to Park in Her Yard
Newly released body camera footage shows cops knock a woman's teeth out after she asked them not to park in her yard.
Jacksonville, FL -- As frequent readers of the Free thought Project know, police officers will use almost any reason to justify the escalation of force and subsequent arrest. TFTP has reported on savage violence dished out by law enforcement in case after case of "contempt of cop" otherwise known as damaging a cop's ego.
An innocent woman in Jacksonville learned about contempt of cop the hard way recently, after having her teeth knocked out by police after asking them to not park in her yard.
Earlier this year, Brittany Crishawn Williams called 911 asking for assistance after an officer parked in her driveway for a nearby police matter and wouldn't leave.
In Williams's eyes, the officer was trespassing, so she called 911 for help. In the eyes of the cops, however, Williams insulted their egos and so she deserved to be beaten and arrested.
To be clear, the officer was no longer working a case, he was done and simply using Williams' yard to send emails. As Jacksonville.com reports:
Williams, a 29-year-old graduate of the Paxon School for Advanced Studies and the University of Central Florida, walked out of her house and asked the officer if she could help him.

He said he was going to check emails and then leave shortly, according to the arrest report. The report said she then asked him to leave her property. He again said he was going to finish up his work there first.
Williams call to 911 came after she threw a spoon at the cop because he refused to leave. This was a childish act, but so was trespassing and refusing to leave someone's property to send emails.
When the responding officer showed up, the cop in Williams' yard said Williams "assaulted" him because in the cop's eyes, throwing a spoon and not hitting anyone, is "assault."
"Why can't he pull off my yard? Why can't he leave my yard?" she asks the officer.
"I want him to leave," she told the officer. "... When I asked him, `Why are you here? Police officer, please leave,' he started yelling at me. Do you think he has this kind of power, this kind of authority?"
She then repeats, "Why are you here, and why are y'all smirking?"
After her repeated questions, he tried to grab her and she was brutally beaten.
"No, no, no, no, stop, please, please stop, stop, stop, stop, stop. Please stop. Stop, stop, stop, stop, stop, stop, stop. Please, please bro, please, please, man, please. That's my girl, please," Williams' husband is heard saying.
After the attack, Williams was left toothless, bloody, and facing charges.
"I still can't believe this happened to me. JSO police came to my house and attacked me. And now I have broken teeth with exposed nerves, and I haven't been able to sleep or eat in days," Williams tweeted after the attack.
She was arrested on two charges of battery on a law enforcement officer and one charge of resisting arrest without violence. The arrest report said she had a gun, but it appeared she lawfully owned the gun. She was initially held on a $7,009 bond that she paid, according to Jacksonville.com.
Williams' cellphone video of the incident was released in May and it did not show the entire ordeal. However, as part of a lawsuit, Williams released the full body camera footage this week. It is nothing short of shocking and shows these officers savagely attack a tiny woman, 5'2" and 98 pounds, for no reason.
"We do not understand why the State Attorney's Office filed criminal charges against Ms. Williams, and we do not understand why they waited over five months to file such charges," the woman's South Florida attorney, Jeff Chukwuma, wrote in a Dec. 22 media statement. "However, what we know for certain, is that the actions and conduct of the Jacksonville Sheriff's Office on May 13, 2020 were unlawful, unjustified, and completely unacceptable. Law abiding citizens who are exercising their constitutional rights should not have to fear being harassed or harmed by the people who are supposed to protect them."