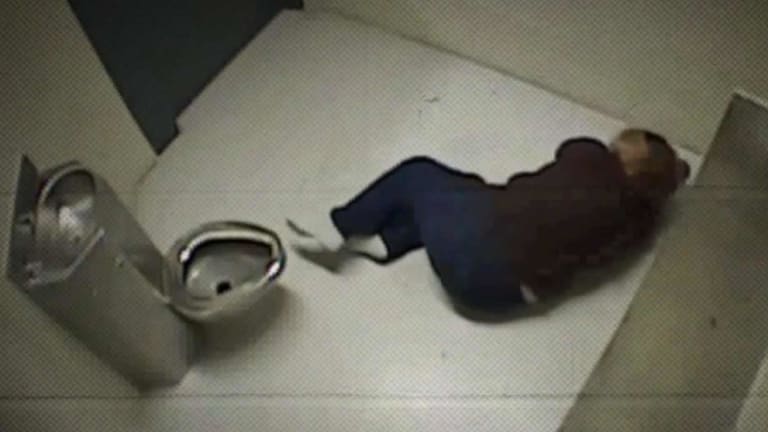 WATCH: 'Forgetful' Cops Caught Torturing Multiple Women in Holding Cells—Get Slap on Wrists
Denver Police have left individuals in holding cells for up to 13 hours with no food, no water and no toilet access at least three times this year.
Denver – Surveillance footage has revealed a horrific ongoing epidemic in the Denver Police Department in which individuals are forced to spend the night restrained by handcuffs in "temporary holding cells" with no access to food, water or a toilet.
According to a report from Denver7 Investigates, the cruel treatment has happened at least three times this year, and the officers who were responsible for checking on the suspects every 30 minutes faced alarmingly short suspensions for leaving them to suffer for several hours.
When individuals are arrested, they are sent to temporary holding cells where they are supposed to stay for no more than one hour until they are transferred to the city jail. However, in the case of Victoria Ugalde, she was left in a holding cell for 13 hours.
"They forgot about me," Ugalde told Denver7. "I was looking in the camera, I was [saying] 'Can anybody help me?' And then, nobody."
Ugalde was initially arrested in January for the crime of failing to pay a traffic ticket on time after she was riding in the passenger seat of a friend's car that was pulled over by a police officer. When she was taken into custody, she was told to remove her jacket, sweatshirt and shoes before she was handcuffed to a bench in the holding cell.
"The only thing I wanted was [someone] to help me use the bathroom. Nobody was there," Ugalde said, noting that after 6 hours of being chained to a bench, she was in such excruciating pain that she managed to pull down her pants and urinate on the floor.
The initial officer who was supposed to check on Ugalde every 30 minutes, did not do his job, and at least four officers who were supposed to check on Ugalde during the night, went through their entire shifts and failed to do so.
The surveillance footage from the cell shows the torture Ugalde was forced to endure as she finally managed to slip her hand out of her handcuff around midnight, which allowed her to curl up on the floor in an attempt to sleep. She later told Denver7, "she was so afraid of police catching her with her hand out of the handcuff that she later slipped it back in."
The report claimed that Officer Sean Kelly said that even when checking the security monitors that were right in front of him, "he failed to notice she was there" for 13 hours because "he was wrapped up in reading a book, titled 'Emotional Intelligence 2.0.'"
Yet even with such a ridiculous excuse, Kelly was slapped with a 3-day suspension, and he is now back on the job. The other desk clerks who also failed to check on Ugalde, and to report her situation to a supervisor, were given written reprimands.
In response to the inhumane treatment, Deputy director of the Denver Department of Safety Jess Vigil said, "It should not have occurred. It doesn't sit well with me and it doesn't sit well with the department."
However, this is not the first or even the second time this has happened in the Denver Police Department—this year. According to the report, the next incident happened less than a month later when a woman was once again arrested after she was the passenger in a vehicle that was pulled over by a police officer. The woman was forced to remain in a holding cell for 9 hours.
While the desk officer who was held responsible for the second incident, Officer Ramone Young, was suspended for 10 days, Denver7 noted that "he was working desk duty after prior suspensions for inappropriate contacts with women on duty."
The situation happened once again in July when a man was arrested for suspected domestic violence and forced to spend 10 hours in a holding cell. The desk officer in his case, Officer Brian Klaus, was suspended for 6 days.
As The Free Thought Project has reported, a similar incident occurred in Douglas County, California, in 2014, when two teenagers were left in a holding cell for an entire weekend in the dark, with no food.
An even more horrific incident occurred in San Diego, California, in 2012, when a man was arrested for allegedly smoking cannabis at a friend's house, and he was left in a holding cell for 5 days. Despite that fact that the man almost died from dehydration, near-kidney failure, and a perforated lung from a suicide attempt, not a single DEA agent was fired or indicted on criminal charges.
In the case of Victoria Ugalde, her daughter told Denver7 Investigates that the family is considering a lawsuit against the Denver Police Department for the inhumane treatment Victoria endured after she was arrested for failing to pay a traffic ticket.