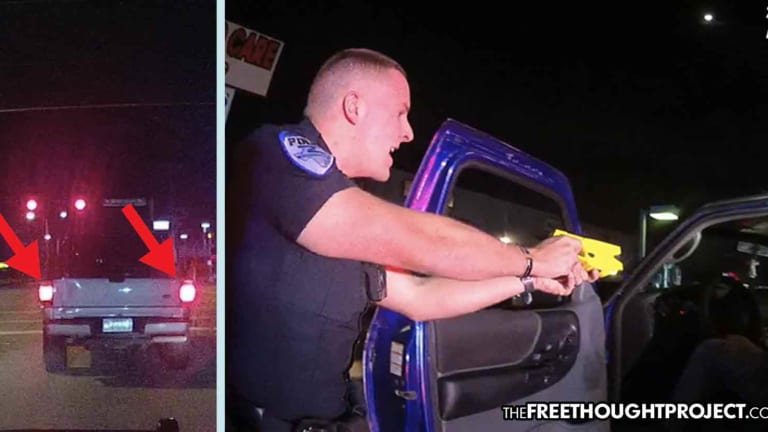 WATCH: Cops Lie About Broken Taillight to Stop Innocent Teen and Beat the Hell Out of Him
The teen was polite and complying with all the officer's orders and was then dragged from his truck, beaten and arrested over fabricated charges.
Richardson, TX — On the night Neco Bonham was pulled over by Richardson police, he had broken no laws and given cops zero reason to pull him over. Bonham — who has no criminal record — was polite and complied with all of the officer's orders. Unfortunately, however, the officer who stopped him had a history of violence and corruption, so no amount of politeness and innocence was enough to protect this 18-year-old kid from police violence.
Though the stop originally took place in December 2018, body camera footage was only just released as part of a lawsuit filed against the two officers who stopped him and the city of Richardson. According to the lawsuit, Officer Parker Winn contrived a bogus stop to fish for drug activity based solely on the fact that Bonham was a "young Black man with a hoodie."
Given the fact that black people account for 25.4% of all traffic stops in the city of Richardson while representing only 9% of the city's population, this claim is certainly warranted.
"I believe the reason he pulled him over is he saw a young Black man driving a car," Bonham's attorney Damon Mathias said. "The thought process, which is completely illegitimate, is 'I'm pulling over a young Black male in a hoodie and he probably has weed in the car, so I can do what I need to do.'"
After being pulled over, Bonham was compliant, polite and simply asked Winn why he was being stopped.
"May I ask why I'm getting stopped?" Bonham asked.
"You got a headlight out, back right —uhh — brake lights not working, and also your license plate light is out, so all three of those things," Winn replied.
However, according to the lawsuit, and which is evidenced in the video, there is photographic evidence that these claims were not true.
"Winn, knowing he fabricated the basis to stop the teen, was already dead set on his course of action," the lawsuit says.
As the stop progressed, Bonham gave the officer his insurance and even told him where he was headed, which was to help a friend fix a flat tire. He was clearly not a threat at all.
"I was scared. I felt I did everything correct," Bonham toldThe Dallas Morning News.
But doing everything correct was no defense against brutality.
"Do me a favor, hop out for me real quick," Winn said.
Bonham, who has no criminal history, and who works at a solar energy company, unbuckled his seat belt and opened his door to comply.
"Is there a reason why you are asking me to get out of the car?" he said.
Winn refused to answer, only repeating the demand.
"He clearly appeared to be nothing more than a scared teenager confused by the request," the lawsuit says.
After asking once more, Winn refused to answer and then became unhinged and physically accosted the teen.
Winn then falsely claimed Bonham "punched" him, according to the lawsuit. No punch is visible in the video and Bonham appears shocked when Winn makes the claim to his backup officer who had just arrived, and immediately denies it.
Bonham was then tasered, dragged from the car, slammed to the ground, punched repeatedly in the head and face, and arrested on a multitude of charges, including felony assault on an officer.
After dragging the teen from the car and beating him senseless, a search was conducted of the vehicle. Inside Bonham's backpack, squished up at the bottom was an empty sealed zip lock bag of marijuana which contained a few flakes of shake. The officer would later go on to write in his report that the reason he asked Bonham to get out of the truck was that he smelled that marijuana — an outright bogus claim.
"That a crumble of marijuana in the bottom of a backpack would emit an odor that would have been detected by Winn is simply ludicrous," the lawsuit says.
Luckily for Bonham, once the court viewed body camera footage and realized there was no legal basis for the stop, all charges against him were thrown out.
He is now suing the cops who have claimed qualified immunity in their case.
Highlighting the problem with bad cops is that Winn has a history of violence and misconduct, and because he was not fired for attacking Bonham, he will continue down this path of violence and rights violations. According to the Dallas Observer:
In October 2017, Winn was the subject of a disciplinary investigation because a DWI case was dismissed as a result of excessive force being used during the arrest. There are several other examples of Winn using excessive force mentioned in the lawsuit.

Also in 2017, Winn tased, punched and elbowed another individual, a "non-compliant" Black male, during an arrest, court records say. Winn and another office involved were recommended to undergo remedial training in use-of-force options. According to court documents, however, "Upon information and belief, Defendant WINN did not participate in this recommended remedial training."

According to the lawsuit, Winn received a written reprimand for escalating the Bonham traffic stop, but he did not admit fault and said he would do it the same way again.
Residents of Richardson beware, officer Winn is patrolling your streets and has a propensity toward violence and fabricating reasons to stop innocent black men.