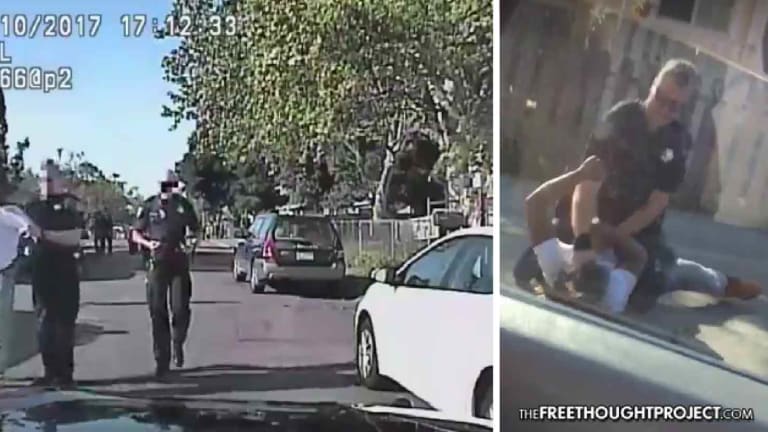 Dashcam Catches Cop Snap As Alleged Jaywalking Suspect Questions His Manhood
A stop for alleged jaywalking ended with harassment, a brutal beat down, a kidnapping, and deprivation of rights for a Sacramento man.
Del Paso Heights, CA — Newly released dashcam video of an incident the Free Thought Project reported on Tuesday shows just how far police are willing to go to extort people for jaywalking — or alleged jaywalking. It also shows how some cops react when their manhood is brought into question by those they are trying to extort.
As we reported yesterday Nandi Cain Jr. was crossing the street when a Sacramento police officer approached him. As seen in the video, the pair exchanged some words just before the officer charged Cain and began choking him.
In the original video, we cannot hear what Cain said to the officer as he removed his jacket. As the newly released dashcam video shows, however, Cain was just showing the officer he was unarmed, while questioning the validity of the stop — and questioning his manhood by saying, "if you were a real man, you'd put down that gun and fight me."
This apparent questioning of his manhood sent the officer over the edge and into Cain's neck.
This entire time, Cain had done nothing wrong. It is not illegal to walk away from an officer unless you are accused of a crime. When the officer said he was accusing Cain of jaywalking, Cain stopped. However, this cop couldn't contain his rage and snapped.
Police say, according to Fox40, the officer charged at Cain to take him into custody, then "the officer threw the pedestrian to the ground and began striking him in the face with his hand multiple times."
Cain told Fox40 he didn't fight back because, "that's when guns would've been pulled out and I would've gotten shot. I would've been dead."
After repeatedly bludgeoning the man in the face for doing nothing other than questioning his manhood, this officer arrested Cain and brought him downtown. Absent from the arrest report, however, was the charge of jaywalking. This officer only charged Cain with suspicion of resisting arrest.
Once police reviewed the evidence, however, the realized they had zero reason to hold or charge Cain and he was released Tuesday morning with no charges.
Once they became aware of the video, the Sacremento police department placed the unnamed officer on suspension and Sergeant Bryce Heinlein released a statement noting that the "actions of this officer does not represent the men and women of this police department ... the video speaks for itself and you know obviously we're taking this seriously."
Sacramento Mayor Darrell Steinberg said the officer's actions were "extremely disturbing and they are not representative of the training nor the expectations we have for our Police Department."
Naomi Montaie was the one who filmed the abuse and said she posted it to Facebook because she felt everything she saw was wrong.
"I never witnessed anything like that. He just kept hitting himand kept hitting him, and I was like 'oh my God...why you hitting him like that? Why you hitting him like that? You need to stop hitting him.' And he kept hitting him," she said.
In the dashcam video, after Cain was placed in the back of the cruiser, he becomes understandably upset. For being wrongly harassed, beaten, and kidnapped, after doing nothing wrong, Cain became physically enraged. While many will see this behavior as a bad thing, it is important to understand the reality of his situation. To those who don't experience the police state on a daily basis, this may seem like an isolated incident. However, this takes place every hour of every day in every city across America. Cain had been through enough of it.
Below is a video of what can and will happen to you if an officer accuses you of crossing the street the wrong way.