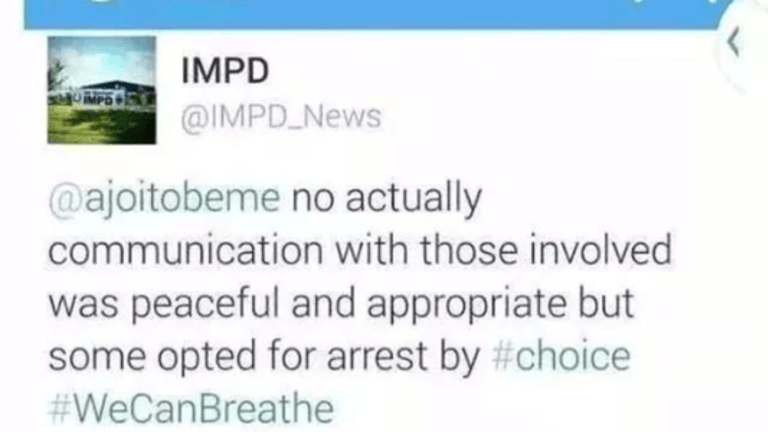 In a Sickening Display, Cops Mock Garner's Death With #WeCanBreathe Tweet
Indianapolis, Indiana - As police brutality and misconduct has taken center stage in the mainstream discussion, many police organizations and officers have attempted to enter the conversation on social media, only to reveal how sick and sadistic they actually are.
Last week, The Indianapolis Metropolitan Police Department thought that it would be funny to end one of their tweets with the hashtag "#WeCanBreathe", in reference to the "#ICantBreathe" protest slogan that calls attention to Garner's last words.
The post has since been removed and the police department has apologized, but luckily The Indy Star was able to obtain screenshots of the post before it was taken down.
Later they issued this terribly penned apology:
Police all over the country have been making similar public relations blunders in recent weeks. Earlier this week, we reported that the St. Louis Police Department posted an insulting piece of advice on their social media pages, instructing parents to teach their children that they should be afraid of police.
According to the St. Louis Police Department, children like the recently murdered Tamir Rice and their parents are the ones to blame when the child gets shot by a cop for carrying a toy gun. The post actually makes specific mention of the case of Tamir Rice, and attempts to abdicate the murdering officer from any responsibility in the killing. In their post, the St. Louis Police Department suggested that if these children were a bit more scared of police, then maybe they wouldn't end up in situations where cops were shooting at them.
John Vibes is an author, researcher and investigative journalist who takes a special interest in the counter culture and the drug war. In addition to his writing and activist work he is also the owner of a successful music promotion company. In 2013, he became one of the organizers of the Free Your Mind Conference, which features top caliber speakers and whistle-blowers from all over the world. You can contact him and stay connected to his work at his Facebook page. You can find his 65 chapter Book entitled "Alchemy of the Timeless Renaissance" at bookpatch.com.