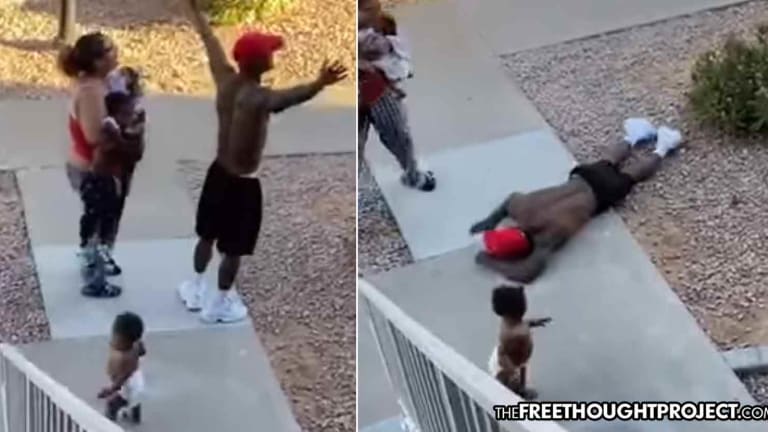 WATCH: Cops Open Fire on Unarmed Dad in Front of 5 Kids, Keep Shooting Bean Bags As He's Down
A deeply disturbing video shows cops open fire with less lethals on an unarmed father in front of his kids, and they kept shooting him after he went down.
Mesa, AZ — A SWAT team from the Mesa police department is facing backlash this week after video surfaced showing officers opening fire on an unarmed father with his hands up who was surrounded by his five children.
The father, Lorenzo Jones had just handed his youngest child off to the child's mother before police opened fire.
To be perfectly clear, Jones is accused of beating a woman and a child and if guilty, deserves to be punished. Police were at the residence that day because on July 6, according to court documents, Jones allegedly punched his fiancee's sister in her face at least three times, causing her to fall. Her children then attempted to stop him from hitting their mother, and Jones reportedly punched and shoved them before leaving the apartment.
If he actually committed the above crimes, he needs to be locked up. However, because the SWAT team opened fire on him with less lethals in front of his children, endangering their lives, he will likely win a taxpayer-funded settlement instead of simply doing his time.
According to police, Jones missed his court date for the above incident, so a warrant was issued for his arrest. The video below is of the SWAT team serving said warrant.
When Mesa SWAT went to serve the warrant on July 16, Jones, a woman and five children came out. A neighbor filmed the interaction and the subsequent child endangerment that ensued.
As the video shows, Jones tries to tell the officers that he did show up to the court date and couldn't have a warrant for failing to appear. He then complies with everything the SWAT teams says including putting his hands up. Despite 100 percent compliance, police opened fire on him anyway.
As Jones writhed in pain on the ground, the cops kept firing bean bag rounds.
Police are claiming they opened fire on Jones because they were told he was armed. However, video shows him shirtless, compliant and with his hands in the air when they start shooting.
According to the report, a department spokeswoman said officers were told Jones had a gun and were on "high alert." They claim Jones was not complying and that they deployed non-lethal force to get Jones to comply once the children were out of his immediate vicinity.
However, the video shows that is not true at all and they opened fire on Jones with the baby directly behind him.
"They [the officers] felt that he was armed and dangerous," said Mesa Police Chief Ken Cost. "It would be premature for me to comment on the split-second the officer made the decision."
In reality, that split second decision put the lives of innocent children in danger. A baby was directly behind Jones when police opened fire while a toddler stood right next to him.
"We understand that any time force is used it raises a lot of questions. Less-lethal tools are exactly that, less lethal, and were developed to prevent violent actions, protect the public, save the lives of suspects as well as officers," said Mesa police in a statement on Friday.
A less lethal to the face of a baby, however, would be anything but less lethal.
"This is unbelievable," Jones' fiancé Tenisha Gaston said. "My 2-year-old son sat there and said 'I don't want to go to jail.' My 2-year-old shouldn't be saying nothing like that."
We agree.
"Mesa police have a history of harassing the community, of harassing their own citizens," said the family's attorney Benjamin Taylor who is also calling for an investigation into the officers who fired at Jones. "There was no need for him to be shot in front of his children."
Indeed, the Mesa police have a long and violent history that includes executing innocent unarmed fathers. Just ask the family of Daniel Shaver who was executed by Mesa police officer Philip Brailsford. Shaver was begging for his life, crying, crawling on his belly, then on his hands and knees, and was shot to death by Brailsford when Shaver reached back to pull up his shorts which were falling down as he crawled.
Instead of going to jail for decades for murdering the innocent unarmed father of three, Brailsford was fired, only to be rehired. He then immediately retired from law enforcement winning the equivalent of a lottery jackpot and is still collecting his pension and will do so for the rest of his life.