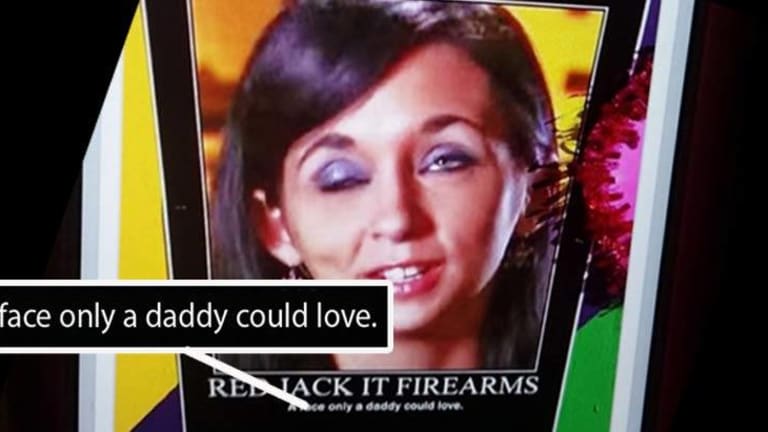 Cops Make Parade Float Mocking a Woman for Being Raped By Her Father as a Child
Disgusting, repugnant, vile, hateful, despicable. These are just a few words that can be used to describe the actions of several of Baton Rouge's finest.
Baton Rouge, LA -- Disgusting, repugnant, vile, hateful, despicable. These are just a few words that can be used to describe the actions of several of Baton Rouge's finest.
The Baton Rouge police department has launched an internal investigation into the actions of officers who allegedly rode on and helped decorate a float that mocked a woman for being raped as a child; by her father.
The theme of the float was of the Baton Rouge reality show, "Sons of Guns." It focused on the daughter of the former television star, Will Hayden. Hayden is currently facing sexual assault charges in East Baton Rouge and Livingston Parishes, after being accused of sexually assaulting his own daughter along with two other victims.
The float was "decorated" with a large photo of Stephanie Ford, the sexual assault victim, with the caption underneath her photo stating, "A face only a daddy could love." Other sayings on the float consisted of things like, "Krewe of Sleazania," "Red Jack It" and "Kiss Me Daddy."
In what world could this ever be considered humor? Who in their right mind thinks it would be okay to mock a person for being raped by her father as a child?
Nola.com reached out to the BRPD Chief Carl Dabadie who acknowledged officers were involved in this incident but said they are not representative of the department.
"The theme of this float in no way represents the belief or attitude of the Baton Rouge Police Department," Dabadie said in a statement. "The struggle a sexual assault victim endures is a very serious matter and is not something that should be taken lightly or used in a satirical manner."
However, Dabadie is wrong, these three officers do represent the Baton Rouge Police Department. These officers don't go to work and simply turn into new people when they put the uniform on. If they can act like this in their off time, they can act like this when they are out on the streets, "protecting and serving."
Ford issued a statement after the incident saying that her worst fears were realized after officers used her image in such a manner.
"I was assured by the Baton Rouge (police department) that my safety and rights would be protected. To have a member of law enforcement treat me, a victim, in this manner tells women and children across America that their worst fears will be realized if they come forward," read Ford's statement.
"What prevents women and children from coming forward and reporting sexual crimes is the fear of being further victimized and shamed by law enforcement, the justice system, the community and of course their attacker."
Ford also said at least one of the officers took to Facebook to share photos of her image on the float.
The Free Thought Project contacted the Baton Rouge police department on Wednesday to get the status of this supposed internal "investigation." We were told only that "these investigations can take up to 60 days to complete."
Baton Rouge Police Department spokesman Cpl. Don Coppola identified the three officers in the float as Donald Young, John Byron Fontenot and Douglas Atkins.
Apparently it takes the BRPD 60 days to ask three cops, two questions. Shameful indeed.