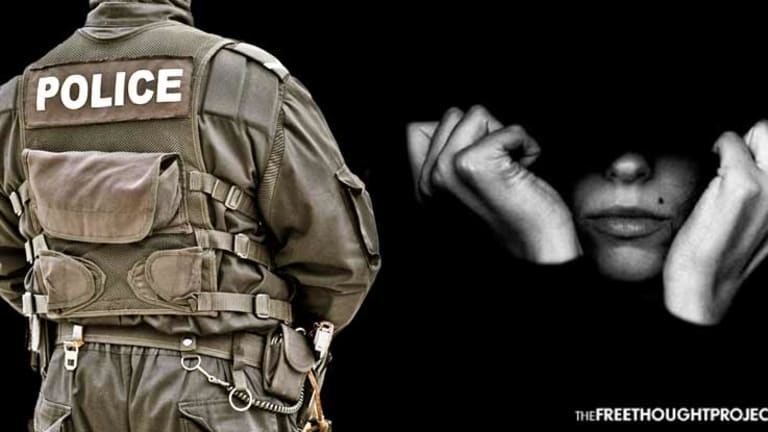 After Police Sex Trafficked Her as a Child, Woman Now Bringing Depts Down as An Adult
After suing Oakland police for using her as a teenage sex slave, a California woman is now going after other departments in the state.
The men wearing badges were supposed to be protecting her. Instead, they were pimping her out to other officers within their own police department, and to policemen from nearby departments. It may sound like the subject of a fiction novel, but it is far from fiction, and it happened here in America, according to one woman who says the officers involved are nothing less than sexual predators who trafficked a teenage girl for sex and cash.
Jasmine Abuslin already won a nearly $1 million settlement from the City of Oakland for its officers' role in using her for sex as a "modern-day sex slave," according to her lawyer. Abuslin was being pimped out from the time she was just 12 years old. Soon, police officers got in on the action and the chance to have sex with a minor. Word got out among many of the officers and she was passed around like a rag doll within the department.
Now, her lawyers have set their sights on the next police department implicated in sex trafficking the teenaged girl. Police in Richmond, California, are now in Absulin and her lawyers' proverbial crosshairs. According to a report from the Independent:
"Jasmine Abuslin, who also goes by the name of Celeste Guap, filed a lawsuit naming Allwyn Brown, the current Richmond police chief, former Chief Chris Magnus and Lt Brian Dickerson. Ms Abuslin's lawyer, John Burris, says they failed to supervise and stop the sexual misconduct of at least five Richmond police officers."
Burris said all of the officers involved took advantage of Abuslin's psychological vulnerabilities. He reportedly told reporters for Courthouse News:
"They took advantage of a vulnerable young person. Girls like this are always suffering from some psychological deficit of some kind. Instead of acknowledging that and getting her help, they took advantage of her vulnerabilities. That's the most negative and damning aspect of this."
According to court records, Abuslin admitted she exchanged sex for favors from Richmond police officers. The lawsuit states she engaged in "sexual favors and pleasure in exchange for paid monies, protection, or other forms of consideration."
As TFTP previously reported:
"Abuslin is a former prostitute who was allegedly 'passed around' for sex by up to a dozen Oakland police officers, some of whom purportedly had oral sexual relations with her when she was underage. She has claimed that eventually approximately 30 police officers from departments around the Bay Area had sexual relations with her or sexually assaulted her.

Last summer, her claims led to investigations and criminal charges brought against seven Bay Area officers as well as the resignation of Oakland Police Chief Sean Whent and discipline for several other Oakland officers, according to the LA Times. Additionally, investigators from the Alameda County district attorney's office and Richmond Police Department were fired."
While the lawsuit against Richmond PD is still ongoing, Abuslin and her lawyers have already announced their intentions to sue other police departments in the San Francisco Bay Area whose officers took part in sex with her and pimped her out to their colleagues, all the while concealing their activities and protecting their brothers in blue. Abuslin's lawyers have said they plan to target Alameda County Sherriff's Office, the Contra Costa County Sheriff's Department, and the Livermore Police Department after they settle their claims with Richmond.
Abuslin's involvement with police officers came to light after one officer involved committed suicide and confessed his sins in a suicide note left at the scene. The Independent writes:
"The allegations first surfaced in 2015 when an Oakland police officer, Brendan O'Brien killed himself. Ms Abuslin had threatened to reveal they were in a sexual relationship when she was 17. In California, the age of consent is 18. O'Brien left behind a note admitting his involvement with Ms Abuslin and implicating several other officers."
Abuslin's story serves to illustrate that there is a child pedophilia network that seeks to exploit minors for profit and sexual gratification, and it is ongoing in some of the departments that are supposed to provide a safe haven for those victims. It is sick. It has to stop. It has to be exposed. If you have been trafficked like Abuslin, now is the time to come forward.