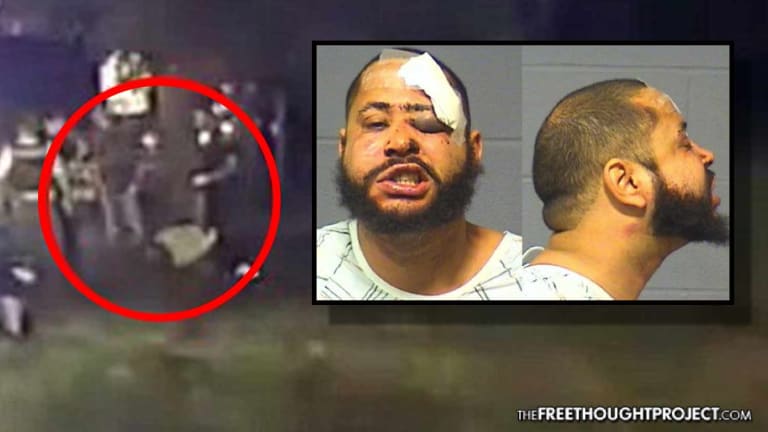 Cops Promoted, Get Golden Parachute for Stomping Handcuffed Man's Head on Video, Covering It Up
This is why there are protests. For severely beating two men, stomping a handcuffed man's head, and covering it up, cops got promoted and a golden parachute.
Hartford, CT — Last year, police released dash camera footage of a controversial arrest — showing an officer in street clothes walk up to a handcuffed suspect sitting on the curb, and kick his head into the ground — it hit so hard, it bounced. Several other officers were also involved in attacking two restrained suspects. They admitted to doing it and covering it up, and now, two of them are being promoted while another gets a golden parachute.
Officers Steven Barone and Detective Christopher Mastroianni, who were recently punished for excessive force and lying on police reports, were just promoted to sergeant last week. What's more, the officer seen on video stomping a suspect's head, Sean Spell, who was arrested for his role in the attack, was allowed to quietly retire and avoid all accountability.
On June 4, officers pursued Ricardo Perez and Emilio Diaz through the streets of Hartford and West Hartford in a vehicle police suspected to be stolen. When the chase ended, officers arrested the pair — but the details of those arrests became the subject of multiple investigations when supervisors saw the bloody mugshots of the suspects.
The concerns over excessive force intensified in October, after Hartford police released dash camera footage of a controversial arrest — showing former Sgt. Sean Spell, 46, in street clothes walk up to a handcuffed suspect sitting on the curb, and kick his head into the ground.
Spell retired from the force amid the probe and now, this 46-year-old will draw an annual pension of $129,977 from Hartford, paid out in monthly installments of $10,831—for the rest of his life—for stomping a handcuffed man's head.
Receiving only a slap on the wrist for their role in the case, however, Mastroianni and Barone will go on to receive higher pay and continue to police the citizens of Hartford as they get rewarded with a promotion.
According to the Hartford Currant:
During his interview with Internal Affairs, Barone provided "excuses" that seemingly contradicted themselves, according to Sgt. Kevin O'Brien, the report's author. These included that he had recently been transferred from the Conditions Unit (which uses cruisers that don't have dashboard cameras), yet it was "muscle memory" for him to turn cameras off.

Barone also said he manually shut the camera off at the end of the chase and during the initial struggle with Diaz and Perez because he didn't think it was "relevant" to record. He denied shutting off the camera so it wouldn't capture the two being taken into custody, according to O'Brien, who noted that the angle the car was positioned would've captured at least a portion of Diaz and Perez being arrested.

The report also says that Barone manually shutting off his cruiser's camera was one reason why state's attorney's office investigators "were concerned that the video was physically tampered with" and sent all cruiser hard drives to be forensically tested during its probe of the incident.

Mastroianni's discipline stemmed from his delay in filing a supplemental police report or requesting a use-of-force report until June 11, a week after Diaz and Perez were arrested.

During an interview with Internal Affairs, Mastroianni said he "delivered multiple foot strikes to Mr. Diaz's torso area" during the arrest, but stopped after he saw that Diaz had been secured by other officers.

Mastroianni told the investigators that he was a "little rusty" on the policy for use-of-force, but ultimately admitted that he "should have known better," O'Brien writes.
To recap, these officers were caught in a cover-up of police brutality, admitted to violating policy, one of them was even arrested for it, and their punishment comes in the form of two promotions and a golden parachute. And people wonder why there are protests in the streets.
"On its face, the video raises very serious concerns, and I commend the Hartford Police Department for making the video public as soon as they were permitted to do so by the State's Attorney," said Hartford Mayor Luke Bronin in a statement at the time the video was released. "As a city, we are committed to transparency and openness, we have an outstanding and dedicated police force, and we expect our officers to uphold the highest standards – and to be held accountable when they fall short."
So much for that one.