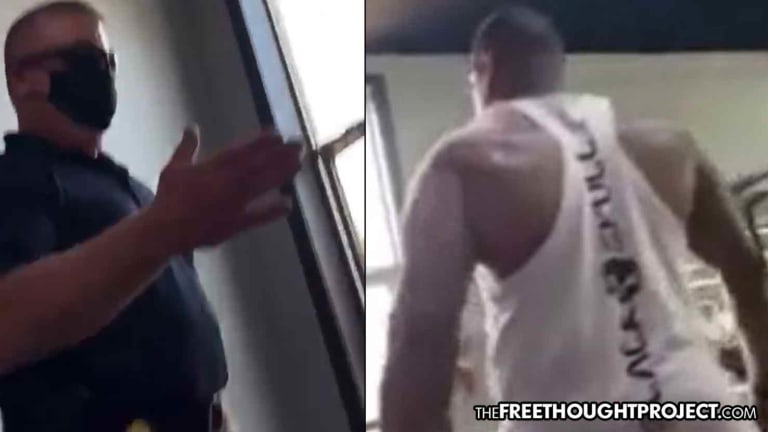 WATCH: Cops Raid 'Illegal' Gym, Let Cop Who Was Working Out Go While Ticketing Everyone Else
Cops raided a gym because people working out is illegal in parts of Michigan, but when they found their fellow cop there, they let him go while citing everyone else.
Lincoln Park, MI — In northern Michigan and the Upper Peninsula, the almighty governor is kind enough to allow gyms to open under Phase 5 of the MI Safe Start Plan. However, the rest of the state remains in Phase 4 which means gyms in those areas are illegal. Naturally, this has upset a lot of people who chose to disobey Governor Gretchen Whitmer's unconstitutional executive order. As a result of the fact that the only way government can enforce immoral laws is through the barrel of a gun, the gyms were raided by cops.
Last week, Tino Ulicne, owner of the RTB Gym, defied Whitmer's dictate and opened his gym to those who wanted to be their voluntarily. 
"I don't understand," Ulicne said. "Like, if we take all the right precautions, why can't we open?"
Because the governor said so, that's why! Clearly it is not evidence based as the NY Times reports, researchers found no coronavirus infections among thousands of people allowed to return to their gyms.
Ulicne said defying the governor's unconstitutional order was not some criminal act but a financial necessity as this is his only means of income.
"It's a do or die situation," he said.
While taking all the necessary precautions, multiple people, who were tired of not being able to work out, voluntarily used the facility. This was a no-no to the police state, however, who promptly raided the gym. Every single staff member and patron were detained and cited for their illegal workouts — except for one — who happened to be identified as a Detroit Police officer.
According to the Michigan Sentry, several individuals have reportedly confirmed that the individual seen leaving the gym is a plainclothes officer with the Detroit Police Department named Lamar Harris, but have done so off the record due to fears of possible retribution.
As the Sentry reports, according to a report from the Detroit News, Harris graduated and became an officer in 2019. They also presented photos of celebrated cookies made by Harris' friends and family, shaped as guns and barbells, featuring his presumed badge number, 881.
Harris' Instagram account shows the massive cop flexing his biceps which some could say makes him a good candidate for a urinalysis to test for steroids. But I digress.
As the video below shows, as all the other gym goers were detained and cited, the man identified as Harris was simply allowed to walk right through the door. And just like that, the blue line protected their own while punishing everyone else for the non-crime of staying healthy.
"Go stand in line back there and go get a ticket," the unidentified cop says as he lets Harris walk right out of the front door without so much as a slap on the wrist.
The irony of police officers detaining and fining people for trying to stay healthy during a pandemic is thick. But it is even more prevalent given the fact that one of their own was doing the exact same thing and he was let go.
Ulicne said that he and everyone else are due to appear July 30 in 25th District Court in Lincoln Park to answer to the citations — except for the cop of course.
"We all got violation of the governor's orders," he said. "The officers said they're not sure on how we're going to be punished. They don't know what the fines are going to come out to, but I do believe it's a misdemeanor."
In total, according to WYXZ, police issued 21 violations to gym staff and members like Scott Taylor.
"I happened to finish my workout and they got me on the way out," Taylor said.
Taylor told WXYZ that he plans to fight the ticket in court and there is already an attorney willing to represent those who received citations — pro bono.
Attorney Nick Somberg, told WXYZ none of the members should have received tickets for simply being inside the gym. He says they plan to fight the violations in the court.
"The Governor's executive order 2020-21 order specifically exempts and encourages people to leave their home to engage in recreational activity. People go to the gym to get healthy. If this was a strip club then there would've been no issue," he told Action News.
This is 2020 in the land of the free.
Full video below: