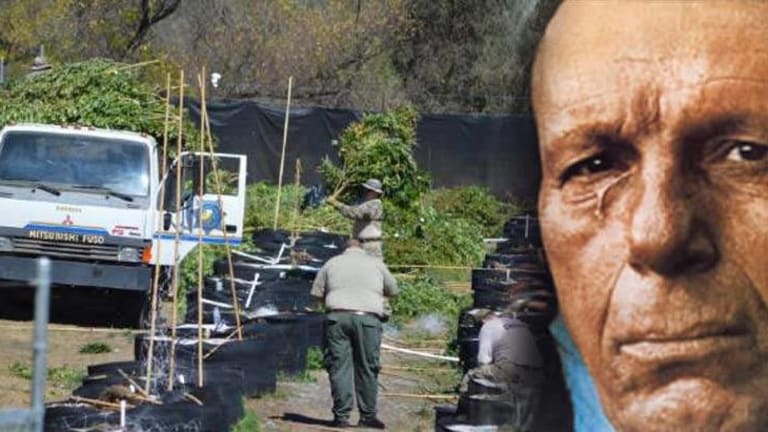 US Cops Raid Native American Reservation, Destroy their Medicine and Eradicate Entire Industry
As the people of the Pinoleville Pomo Nation attempted to lift themselves out of poverty, they were dealt a heavy blow by US tyranny.
The Pinoleville Pomo Nation made headlines earlier this year when they announced that they will be growing medical marijuana on their reservation.
Aided by a Kansas company called FoxBarry that helps Native American tribes develop for-profit ventures, and United Cannabis, a Colorado company that develops strains of pot, the Pinoleville Pomo Nation set out to make history.
Although the partnership with FoxBarry and United Cannabis would be short lived, the Pinoleville marijuana farm was well on its way to being the first large-scale medical pot cultivation and distribution enterprise on tribal land in California.
The new operation, on their sovereign land, would benefit those in need as well as create jobs and revenue for the downtrodden tribe. It was a win-win.
However, this mutually beneficial endeavor would be short-lived thanks to tyrants whose job it is to attack people for growing and selling a plant to willing customers.
On Tuesday, courageous deputies from the Mendocino County Sheriff's Office invaded the sovereign nation and trespassed on native land to destroy everything that this tribe has built.
According to the Press Democrat:
Deputies eradicated some 400 pot plants from an outdoor location. At another location, they began dismantling a "highly sophisticated" chemical laboratory where honey oil — a sticky, concentrated pot product used to make edible medicine— was being manufactured under the auspices of the Pinoleville Pomo Nation, said Sheriff's Capt. Greg Van Patten. More than 100 pounds of trimmed and drying marijuana also was found inside the laboratory building, a former car dealership on North State Street.
The tribal leaders immediately denounced the raid, stating that their operation was legal.
"I think what they're doing is not right," said Nori Baldridge, the tribe's director of economic development. "This is sovereign land, and this is a sovereign nation," she said.
"We were shocked," said Mike Canales, president of the tribe's business board.
Canales rightfully contests the legal basis for the raid as the Sheriff's department does not have any authority over the tribal land or its people.
Van Patten attempted to justify his tyrannical invasion of the tribe's sovereign land by claiming their operation violated some arbitrary limit of 25 pot plants per parcel. However, they later determined that the tribe did not violate the policy, so Van Patten backpedaled, claiming that the raid was justified due to the "sheer size" of the grow operation.
Van Patten also attempted to justify their trespass, destruction, and theft of property by stating that the tribe using this operation as a source of income also violates state law. Attempting to use your own sovereign land to pull yourself out of the depths of poverty by growing a plant -- is criminal activity according to these tyrants.
The tribe's fight is not over though. Canales says that it is only a setback on the operation, and they intend to fight the crackdown. He implied that it was political and that the warrants contained false information, such as claiming the garden guards were armed.
This raid highlights the insanity of the war on drugs. The double standard set forth by the state in regards to punishing people for cultivating marijuana, while at the same time curtseying to the pharmaceutical companies is staggering.
In America, your sovereign property can be raided by a small army if you attempt to raise yourself out of poverty by growing a plant. However, if you are the Sackler family, the makers of OxyContin, which is responsible for more deaths per year than heroin and cocaine combined, you get to rub elbows with the elite.
Fed up yet? We are. Help to spread this information by sharing this article in hopes that we may wake up enough people to the horrors of the drug war. Only through a lesser ignorance will reason and logic prevail.