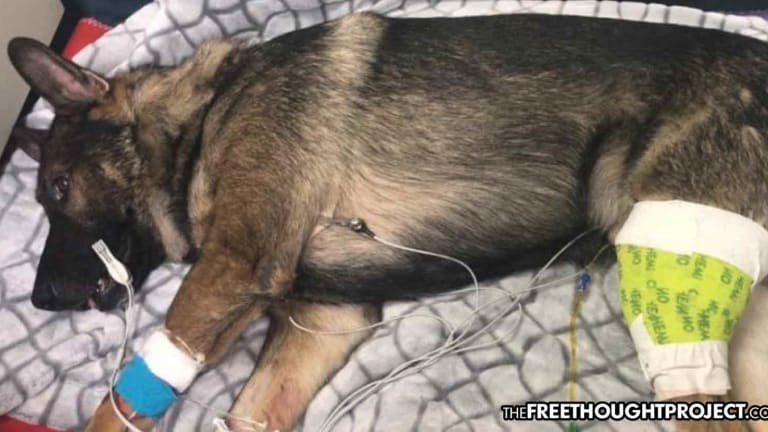 Cops Raise $73K for K-9's Medical Bills And Conveniently Left Out the Fact They Shot Him
Police claimed a suspect shot their K-9 and raised $73,000 for him, but it turns out, cops shot their own down while shooting a suspect on the ground.
Thurston County, WA — "Police K9 - and Tik Tok star - gets lifesaving surgery at OSU after he was shot twice" reads the headline on KATU after a police K-9 officer 'Arlo' was shot in the line of duty. Similar headlines ran across other news outlets as the department asked for help paying for Arlo's surgery bills.
The article reported that "the dog was shot twice while on the job and immediately transported to emergency care. That's when they realized his injuries were very serious and he needed to be transferred to OSU."
Several officers with the Thurston County Sheriff's Office were quoted in the article saying how awesome Arlo is, photos were shared, and heart strings pulled all in an attempt to garner support for the K-9 officer who'd been shot in the line of duty.
Q13 Fox reported, "last week during a pursuit, the sheriff's office said a suspect "exchanged gunfire" with officers, injuring the suspect and K-9 Arlo on scene. Arlo was shot twice, but he has since recovered."
"Right now a police dog and an armed driver are in the hospital after a police chase and shooting overnight in Thurston County," KOMO News reported.
Arlo's story made national headlines and millions of tik tokers viewed videos of his recovery and he received an outpouring of support, raising over $73,000 in a GoFundMe drive. Arlo was even made into stickers and t-shirts with the hashtag #arlostrong.
Nowhere in any of the articles, however, did it state who shot Arlo. As the Intercept reports:
On January 27, the Mason County Sheriff's Office, which led an investigation into officers' use of force in the shooting, notified the public that Arlo had been shot by friendly fire. But it wasn't until weeks later that local outlets like The Olympian, a paper based in Olympia, reported on what had actually happened.

By that point, Arlo's story had taken on a life of its own. The Thurston County Deputy Sheriff's Foundation organized a GoFundMe page and raised more than $73,000 for Arlo's medical bills. Arlo grew his social media following on TikTok to 2.5 million, and on Instagram to 130,000. Arlo's handler, a deputy with the sheriff's office, together with another K-9 handler and ex-cop started a website called "VARLO Nation," a business for law enforcement officers and others to "buy affordable quality equipment." No such efforts were made to support the recovery of the suspect, who was hospitalized after being shot at least three times by police and later told a nurse he was contemplating suicide. He was released from the hospital in late January and booked into the Thurston County jail.
Naturally, police are claiming that they did not mislead the public to raise the $73,000 and loads of other funds through the sale of stickers and shirts.
"To the best of my knowledge we did not make any statements that the dog was shot by the suspect or was shot by the officers until we were very comfortable," Jason Dracolby, chief criminal deputy of investigations at Mason County Sheriff's Office, told The Intercept.
Apparently, "very comfortable" means two months down the road and nearly six figures in income for a dog the cops shot. The deputy also failed to answer questions as to why all the media outlets ran stories — with information given to them by police — that the suspect shot the dog and that there was an "exchange of gunfire" when no gunfire was exchanged at all. What's more, the deputy didn't address the fact that Arlo's own handler took to social media — in a now deleted post — to state that Arlo had been shot by a suspect.
According to the facts of the matter, as properly reported by the Olympian, the only people to fire any rounds off that day were the cops. What's more, the suspect was brought down by the gunfire before Arlo ever reached him — meaning cops recklessly kept shooting at the man, hitting their dog in the process.
As the Olympian reports, investigators did not find a shell casing from Oritz Bucio's handgun at the scene and the gun itself did not contain any bullets.
"(The nurse) told Victor (the suspect) that it was her understanding that he had been shot by law enforcement after he shot a dog," the report read. "She said that Victor shook his head and signaled that he wanted to write something else. … Victor wrote, 'No bullets in the gun I.'"
He later told investigators at the hospital that his gun was not functional, and he was unaware the dog had been shot, according to the report.
As of the writing of this article, there has been no update to the GoFundMe account and only a single sentence in a quietly released press statement state that Arlo was shot by his own officers while they were shooting a man who had already fallen to the ground.