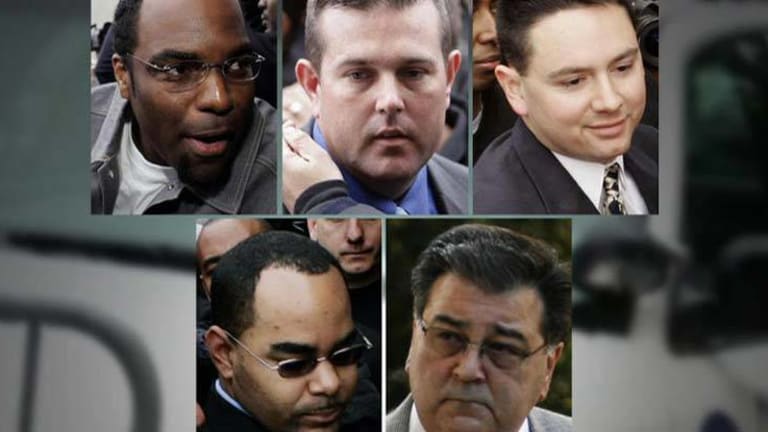 Cops Receive Slap on the Wrist for Pleading Guilty to Slaughtering Innocent Civilians on a Bridge
After confessing to gunning down innocent, unarmed civilians during Hurricane Katrina, five cops received drastically reduced sentences.
New Orleans, LA – Four former New Orleans Police Department (NOPD) officers pleaded guilty on Wednesday to gunning down innocent, unarmed civilians in the days following Hurricane Katrina, while a fifth officer confessed to covering up the unjustified shooting. Although the ex-cops previously received sentences ranging from 6 to 65 years in prison, their new trial and plea deal resulted in reduced sentences ranging from 3 to 12 years with credit for time served.
On September 4, 2006, six days after Hurricane Katrina hit New Orleans, five members of the Bartholomew family along with their friend, 17-year-old James Brissette, were walking across Danziger Bridge when a Budget rental truck loaded with plainclothes cops approached them. Armed with shotguns and assault rifles, the NOPD officers immediately exited the vehicle and opened fire on the Bartholomew family without warning.
Although Brissette was unarmed and had not committed a crime, the cops shot the innocent teen to death as the Bartholomew family ducked behind a concrete barrier. Shot in the arm, Susan Bartholomew later had to have her limb amputated. Her husband, daughter, and another friend survived the ambush but received multiple bullet wounds. Her son remained unharmed by escaping under the bridge.
While walking down the bridge to visit their brother, Lance and Ronald Madison witnessed the cops sadistically gunning down the unarmed family when the NOPD officers began shooting at them. As the brothers fled back across the bridge, several officers jumped into an unmarked car driven by a State Trooper. With the vehicle in pursuit, Officer Robert Faulcon leaned out the window and shot Lance's 40-year-old developmentally disabled brother, Ronald Madison, in the back with a shotgun. According to his autopsy, Ronald Madison sustained seven bullets wounds including five in the back.
After watching his brother die for absolutely no reason, Lance Madison was falsely arrested on eight counts of attempted murder of a police officer and held in police custody for three weeks before NOPD suddenly released him without charges. Although no weapons were found at the scene, the officers involved decided to cover-up the unjustified shooting by falsifying numerous police reports and planting a gun at the scene.
Responding to a call regarding shots fired in the vicinity near Danziger Bridge, the police opened fire on an innocent family walking toward a grocery store in search of food and water. Later investigations revealed that the initial reports of gunfire before the callous murders came from desperate residents trapped by floodwater who had fired their guns to attract the attention of rescue workers.
On December 28, 2006, a grand jury indicted seven NOPD officers on charges of murder and attempted murder. Sgt. Kenneth Bowen, Sgt. Robert Gisevius, Officer Anthony Villavaso, and Officer Robert Faulcon were charged with first-degree murder, while Officers Robert Barrios, Michael Hunter, and Ignatius Hills were charged with attempted murder for their roles in the shooting. Less than two years later, Judge Raymond Bigelow tossed out the state's case after blaming a prosecutor for improperly using the cops' grand jury testimonies to secure indictments.
In July 2010, Bowen, Gisevius, Villavaso, and Faulcon were indicted on federal murder charges for killing Brissette and Madison, while retired Sgt. Gerard Dugue and Sgt. Arthur Kaufman were charged with covering up the killings despite the fact that they had been assigned to investigate the police shooting. On August 5, 2011, Bowen, Gisevius, Villavaso, and Faulcon were convicted on multiple counts of civil rights violations, conspiracy, and obstruction of justice. They received prison sentences ranging from 38 to 65 years.
Kaufman was convicted on several counts of falsifying records in a federal investigation, conspiracy, false statements, and civil rights conspiracy for false persecution. He was sentenced to six years in prison while Dugue was granted a severance and is awaiting retrial.
After the five officers appealed their convictions, U.S. District Judge Kurt Engelhardt decided to grant them a new trial while citing "grotesque prosecutorial misconduct." Engelhardt decided to toss their convictions out after discovering that senior prosecutors from the U.S. Attorney's Office had anonymously posted comments on Nola.com articles related to the trial.
On Wednesday, the five defendants agreed to plead guilty in exchange for drastically reduced sentences. Instead of serving 65 years in prison for shooting a mentally disabled man in the back, Faulcon agreed to serve 12 years. Instead of spending 40 years in prison for gunning down an innocent teen and nearly killing a family, Bowen and Gisevius both received 10 years. Villavaso's sentence was reduced from 38 years to 7 years while Kaufman's prison sentence went from 6 years to 3 years with time served. Except for Kaufman, the other four cops will receive credit for six years of time served.
"This has been a terrible ordeal for our family, friends and the community," Lance Madison told WWLTV. "We are glad the officers involved have finally admitted their guilt. I pray that no other family will ever have to go through what we have gone through."
[author title="" image="https://"]Andrew Emett is a Los Angeles-based reporter exposing political and corporate corruption. His interests include national security, corporate abuse, and holding government officials accountable. Andrew's work has appeared on Raw Story, Alternet, Activist Post, and many other sites. You can follow him on Twitter @AndrewEmett and on Facebook at Andrew Emett.[/author]