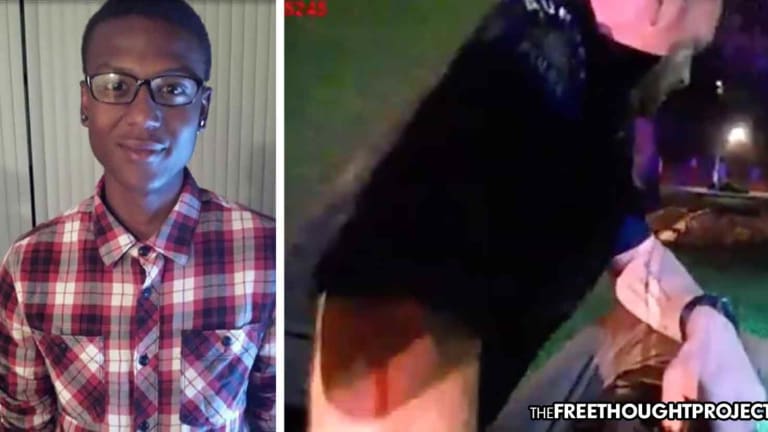 Cops Go Back to Where They Killed Elijah McClain, Take Photos Sadistically 'Reenacting' His Murder
Three cops have been suspended after they went to the scene of where Elijah McClain was murdered, and reenacted it while taking photos of themselves.
Aurora, CO — Imagine for a moment that a handful of "bad apple" police officers attacked, choked, and forcibly drugged an innocent pillar of the community as he walked home from the store — killing him. Imagine that we are told these cops committed no crime when they attacked this innocent man and killed him. Imagine that people then become very upset and demand a stop to this police brutality. And, while these people in the streets to demand cops stop killing innocent people, imagine that more cops go back to the scene where that innocent pillar of the community was murdered by police, and reenact his murder — taking photos of themselves — seemingly just for fun.
There is no need to imagine this, because it is exactly what happened in Aurora, Colorado.
According to CBS 4 Denver, the Denver Division of the FBI issued a statement Tuesday about photos of Aurora police officers taken at the Elijah McClain memorial. Sources tell CBS4 Investigator Brian Maass the photos show the officers reenacting the carotid restraint, which was used on McClain.
"We are gathering further information about that incident to determine whether a federal civil rights investigation is warranted," officials stated.
Aurora interim police chief Vanessa Wilson released a statement this week noting that she found out about the incident last Thursday and launched an investigation. The investigation was completed on Monday, according to Wilson.
"This investigation will be publicly released in its entirety promptly upon its conclusion," Wilson said. "This will include reports, photographic evidence obtained, officer's names, and my final determination which can rise to the level of termination."
Despite claiming the investigation was concluded on Monday, none of the photographs have been publicly released as of Wednesday.
According to Wilson, all the officers who were involved in this sadistic act have been placed on administrative leave.
The officers are allegedly "depicted in photographs near the site where Elijah McClain died," which were reported to Aurora's internal affairs unit by another police officer, according to Wilson.
Lt. Chris Amsler, a spokesman with the Aurora Police Department, declined to describe the content of the photographs in question to The Washington Post.
"Because we're still in the middle of an active investigation, we're not commenting on it at this time," he told The Post.
Despite local prosecutors declining to charge the officers—Nathan Woodyard, Jason Rosenblatt, and Randy Roedema—with any wrongdoing, according to the FBI, they have been investigating McClain's death since last year.
"The matter is ongoing, and we are in the process of gathering additional evidence from the Aurora Police Department and other parties. To date, the City of Aurora has been cooperating," investigators stated.
The Department of Justice typically does not discuss the existence or progress of ongoing investigations.
"However, there are specific cases in which doing so is warranted if such information is in the best interest of the public and public safety. Recent attention on the death of Elijah McClain warrants such disclosure," officials stated.
As TFTP reported, last August, Elijah McClain was killed by police after he was put in a chokehold and given the sedative ketamine. The incident began when someone in the neighborhood called the police because McClain was walking down the street with groceries while wearing a mask. McClain reportedly always wore the mask because he was anemic , and often got cold, and he was an introvert.
At the time of his death, he had never gotten so much as a speeding ticket in his life.
In his last few words on this planet, McClain could be heard saying, "I'm an introvert. I'm just different. That's all. I'm so sorry. I have no gun. I don't do that stuff. I don't do any fighting. Why are you attacking me? I don't even kill flies! I don't eat meat! But I don't judge people, I don't judge people who do eat meat. Forgive me ... I'm so sorry."
He was innocent, successful, and a light in this often dark world, and police killed him for being different. Then, after they killed him, they went back to the scene of the crime and reenacted it for fun. This is not some case of a bad apple. This is systemic and sadistic, and it needs to change. Here's how we can do that, right now.