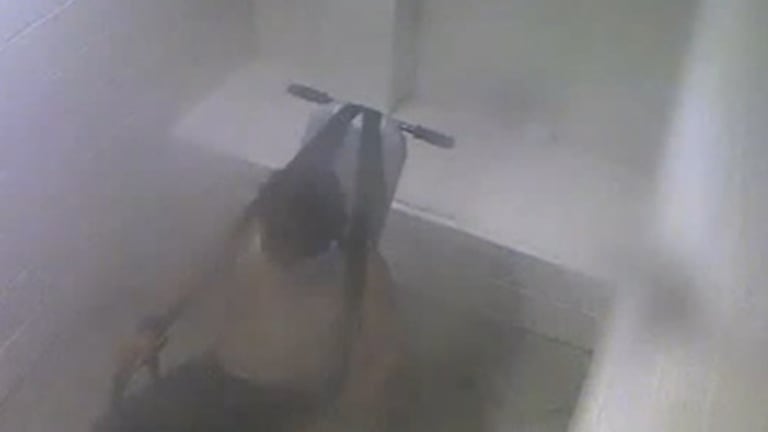 Cops Restrain Man, Pepper Spray Him, Leave him Screaming for Help While Convulsing
Abu Ghraib-style torture comes stateside in this Tennessee jail.
(Rutherford Beacon) - - On December 9, 2013 an inmate was brought to the Rutherford County (TN) Sheriff's Office jail facility on a charge of "Resisting" and "Hold - Other Department". The inmate was placed into a restraint chair in the sally port, which binds your wrists and ankles into restraints, as well as various straps to limit movement.
Upon being brought into Holding Cell #133, a strap that goes across the inmate's legs to keep movement limited came loose. According to department records, this strap had been malfunctioning for several months prior.
Deputy James Vanderveer, who was re-hired after being forced to resign due to a DUI arrest, and is the nephew of Sheriff Robert Arnold, enters the holding cell and begins to re-secure the strap.
The inmate's ankles and wrists are still securely in their restraints and he is unable to move his legs or arms more than an inch or two. There appears to be no struggle taking place when Deputy Vanderveer sprays pepper spray into the gap in his spit shield. The spit shield remains in place for ten minutes before being removed.
For one hour and fifteen minutes, the inmate receives no medical attention and can be seen convulsing, yelling for help, and struggling.
Deputy Vanderveer stated in a subsequent incident report that the inmate was combative and that his legs had come lose, which is contradictory to video evidence.
Jail supervisors later documented that they informed him that "he better write a good report and ... hoped he could justify spraying someone while they were restrained in a restraint chair." Deputy Vanderveer later received a written reprimand for "Disproportionate Use of Force" and is still employed as a sheriff's deputy.
Sources: RCSO Incident #33690, RCSO Complaint #13120964007, RCSO Booking #329368, Report of Action from Cpt. Derrell Cagle Re: James Vanderveer on 12/12/13,