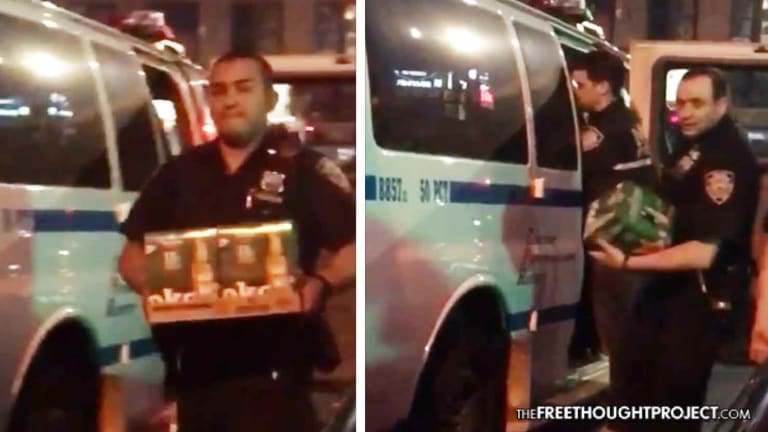 WATCH: Cops Rob Business of $30K in Booze and $10K in Cash and Never Report It
An innocent father of two had his businesses raided by police who robbed him of $30,000 in booze and $10,000 in cash and never reported it, constituting an illegal theft.
Bronx, NY — An innocent business owner is calling out the NYPD after he says they robbed him of $30,000 in liquor and beer as well as $10,000 cash. Adding credibility to the owner's claims is the fact that the entire robbery was captured on video.
Rolando Feliz has just filed a lawsuit against the 50th precinct of the NYPD after they stole his entire restaurant's liquor stock — from Corona and Negro Modelo to Patrón Silver and Hennessy — 124 cases in total.
According to the lawsuit, police had no reason to be at his business that night and the entire seizure was illegal.
"I didn't do anything and I lost everything," Feliz, 50, told the Daily News.
On top of video evidence, also backing up the claims of theft is the fact that the tens of thousands of dollars in alcohol stolen from Feliz was never entered in as evidence, nor was any record the confiscation ever recorded.
Vouchers for the stolen booze were never given to Feliz or the district attorney's office, and no one claims to know where it went.
Naturally, the NYPD is claiming they were simply protecting society when their officers raided an innocent business and stole all its booze.
"The NYPD took necessary and proper enforcement actions to close an illegal social club," Lt. John Grimpel said in a statement.
However, according to Feliz, police told them they were there that day investigating a nearby shooting.
As the NY Daily News reports:
Cops stormed into La Rola Restaurant on E. 198th St. near Webster Ave. around 7:30 p.m. on May 19 with a warrant to search for a weapon and related items — none of which were found. Feliz was told the raid was connected to a nearby police shooting.

He claims cops collected a large sum of cash from a shop he runs next door to the Dominican eatery and bar, where he operates a money-transfer service — and that $10,000 was not returned.

Police asked him where the security cameras were and "ripped them off the wall" before trashing the place, he said. They destroyed his computers and a valuable safe, Feliz alleges. He accuses the search team of destroying $6,000 worth of electronics along with making off with all his booze.
After they stole all of his booze and money, police charged this father of two with possession of a video poker machine and gambling slips.
The charges were later dismissed through a plea deal after Felix showed that the machine was left by the landlord before he took over the building and was in a closet covered in dust during the raid. Also, the "gambling slips" were screenshots of some gambling site Feliz had never seen.
To illustrate how futile the charges were, Feliz was given back the poker machine but cops kept the booze and money.
"That was an abuse, what they did to me, because I never had a gun," said Feliz.
Adding insult to injury was the fact that Feliz couldn't make an insurance claim for the stolen booze and money because the robbers were cops.
Feliz explained that they refused to reimburse him for the losses, telling him, "If they rob you, that's one thing, but it was the police that took it," he said.
"Not preparing a property invoice to document the seizure of the beer, wine and liquor facilitated the criminal theft of the beer, wine and liquor by the police," Feliz's lawyer John Angrisani wrote in the lawsuit. "The property in question was not contraband or evidence of crime."
Now, this innocent father of two is left with nothing—as the NYPD likely celebrates with booze and money—and it is all thanks to the people who claim to protect him.