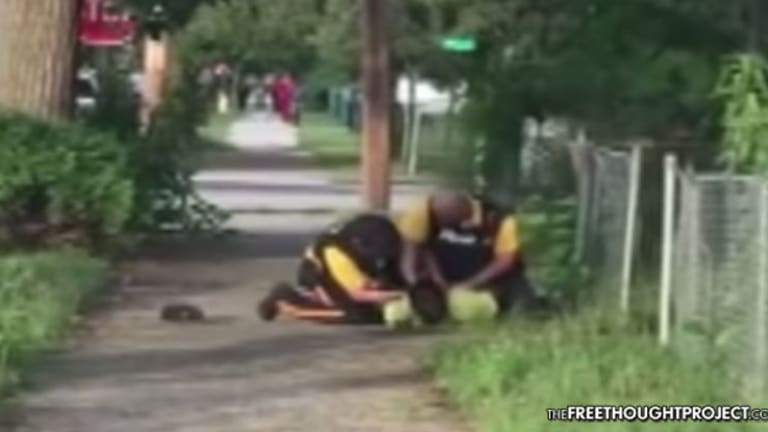 WATCH: Cops Scream 'Stop Resisting' So They Can Beat A Man For Jaywalking
As police repeatedly hit a man in the head, yelling "Stop resisting!" video of the encounter raises questions about how exactly the man was resisting arrest.
A viral video of police hitting a man in the head, while yelling "Stop resisting!" after they reportedly confronted him for jaywalking, has resulted in an official investigation in Millville, New Jersey.
The video, which was recorded and uploaded to YouTube by "Hezakya News," shows a scene in which police already have the suspect pinned down on the ground. Because so much of the incident is not captured on video, it has yet to be determined what kind of an encounter led to police attempting to arrest the man.
Pointing out an important aspect of the encounter, North Miami Beach Police Officer Ericson Harrell—who has a reputation for being highly critical of his fellow boys in blue—wrote the following Facebook post about the psychological tactics used by police:
"Did you know police are in fact trained to shout, "Stop resisting?" Someone somewhere did a study showing if witnesses are out of eyesight of the encounter, psychologically they will perceive the person to be resisting. Thanks to cell phone footage we have seen cops yelling, 'Stop resisting, stop resisting', when the individual clearly isn't resisting because he's been trained to say it."
That is what appears to have taken place on the sidewalk in Millville in the case of Barry Cottman. As the video shows, he had two police officers on top of him, even though he did not appear to be putting up a fight. Everyone around seemed to know the officers were going too far, with many pedestrians stopping to record.
Officers can be heard yelling "stop resisting," and then it happened. A bystander started taking the side of the officers. Even though other onlookers noticed police repeatedly punching Cottman in the head, one may yelled out, "Yo, stop resisting bro!"
What we do know is that police said Cottman was jaywalking. That may or may not be true. Video has not surfaced of his alleged offense. But when they approached him, they asked him for his identification, which he reportedly refused to give.
After his violent arrest, Cottman was charged with "assault on a police officer," jaywalking and other related crimes, but was transferred to Cape May County Jail for an outstanding warrant related to unpaid child support.
Cottman's mother told WPVI's Action News 6 that she believes her son was brutalized and has never resisted arrest in the past. "It was no need for them to stomp him like that...that's it, he was just walking up the street," Cynthia Jackson said. "He has never resisted police, Never!"
Responding to the incident, Millville Police Chief Jody Farabella said, "The officers are saying 'stop resisting, stop resisting.' With the use of force continuum, officers have to use force as much as necessary to affect the arrest. Our officers are trained here to never use the use of force as routine."
The unnamed officer's actions are under official review, following Cottman's arrest. Cottman suffered injuries in the takedown and was transported to a local hospital for treatment.
"The officer did use force to affect his arrest. Obviously, it's going to be looked at. We have a professional standards unit. They are going to have to look and see if the use of force was justified in this case," Farabella said.