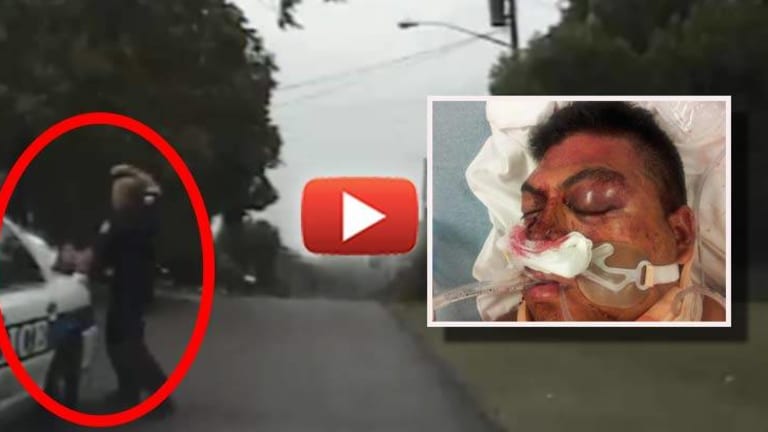 Cops Shatter Man's Face for Complaining About Tight Cuffs, Wrongfully Jailed for Months
Ernesto Rodriguez was beaten unconscious, his face shattered, left nearly blind, and wrongfully jailed for 4 months. No Charges.
Knoxville, TN -- According to a civil rights lawsuit filed in US District court by Ernesto Delgadilo Rodriguez, four Knoxville police officers deprived him of his 4th and 14th amendment rights. The officers beat him nearly to death and lied on official reports which resulted in his unlawful imprisonment.
The lawsuit stems from a domestic incident that occurred on July 9, 2014. Officer Frederick Kimber was dispatched via a 911 call in which the caller alleged Mr. Rodriguez had thrown a knife and then walked away.
The knife was not reported to have hit anyone, just that it had been thrown. Officer Kimber encountered Mr. Rodriguez walking down the street and subsequently placed him under arrest. By all accounts, Mr. Rodriguez was not armed and was compliant with the officer's demands.
According to reports, the officer attempted to handcuff Mr. Rodriguez with a set of cuffs that were too small to fit his wrists. Mr. Rodriguez attempted to inform the officer that the cuffs were too tight, despite limited English proficiency.
Instead of attempting to address the issue peacefully, the officer pushed him face down into his patrol car and violently tried to force the cuffs on him. This naturally caused Mr. Rodriguez to scream in pain.
The below video is hard to watch.
In an act of true cowardice, the officer claimed Mr. Rodriguez's screams of pain constituted resistance. He then threatened to use a taser on him and called for backup. When Officer Thomas Thurman arrived at the scene, he approached the vehicle and proceeded to unleash a sadistic, unprovoked beating. The attack severely fractured Mr. Rodriguez's eye socket.
Officer Thurman is no stranger to using excessive force 'in the line of duty' and facing public scrutiny. In 2011, he was involved in the shooting death of a suspect who brandished a pellet gun and was cleared of all wrongdoing, according to a report by the Knoxville News-Sentinel.
The lawsuit and KPD both acknowledge that a third officer, Travis Baker arrived during the attack. Officer Baker chose to join the other officers in their violent assault upon Mr. Rodriguez. After beating Mr. Rodriguez to within an inch of his life, the officers forced the cuffs onto him after he lost consciousness. In doing so, the cuffs left visible scarring on his wrists.
He was then transported to a level 1 trauma center where he was treated for life-threatening injuries. He suffered a blowout fracture on the left side of his face which left him unable to breath without assistance and nearly left him permanently blind.
According to court documents, 
Officer Kimber swore out 4 warrants. In these warrants, Mr. Rodriguez was falsely charged with assault, though Officer Kimber failed to mention the assault in his official report. Additionally, in his request for a patient hold at the hospital, Officer Kimber indicated that Mr. Rodriguez was being held
for failure to obey a court order allegedly originating from a child support case, not assault.
Due to the officer's false allegations, Mr. Rodriguez was falsely imprisoned for 4 months. He was released November 13, 2014 and all charges against him were dropped.
As we continue to see, in many cases of police brutality, the department is defending the officers and their behavior. They are making the stereotypical claim that they have investigated themselves and found that they acted appropriately. Meanwhile, a man who was not suspected of harming anyone has been forced to undergo multiple surgeries to fix the damage caused by these thugs with badges.
The city is also currently facing a wrongful death lawsuit in the fatal shooting of Ronald Carden. According to court documents the suit alleges;
On July 27, 2014 KPD Officer David Gerlach shot Mr. Carden twice in the back while he was fleeing and then proceeded to fire 4 more shots into his back after he was already laying on the ground.
These incidents come just months after a man settled out of court with the city for $200,000. As the Free Thought Project previously reported, three officers repeatedly slammed the man's head on the hood of a car and continued to punch and kick him after he was handcuffed and lying on the ground, clearly a threat to no one.