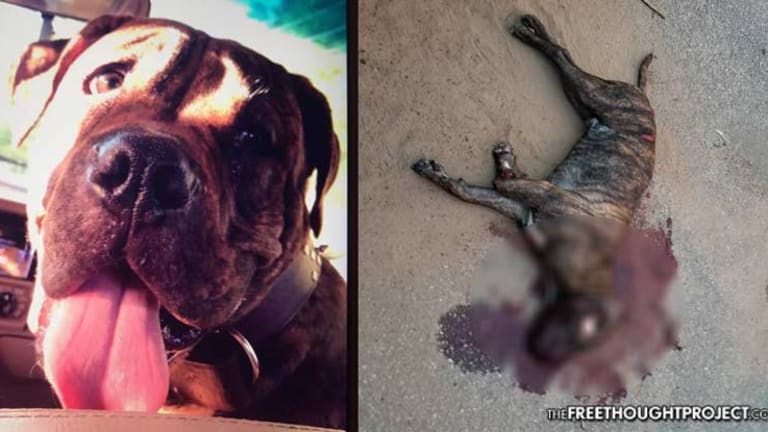 Family Heartbroken As Cops Shoot And Kill Puppy While Raiding House Next Door
A family in South Carolina is devastated after police shot and killed their puppy—while serving a search warrant at the house next door.
Greenville, SC — The Free Thought Project has provided in-depth coverage of numerous accounts in which police officers have shot and killed dogs—sometimes those dogs were stray animals, and other times they lived at the homes where police were called. But the following story is about a family whose puppy was killed by police because it was in the yard next to the house they were searching.
Greenville County Sheriff's Deputies were serving a search warrant at the home next to the residence of Marissa Gilliland. But instead of focusing on their targeted address, deputies entered Gilliland's yard.
According to family friend Heather-Perez Escobar, the family's 10-month-old dog "was outside and started barking at them." The officer who entered the yard responded by opening fire and killing the dog.
"Chico" as he is known, was hit by the first bullet. Escobar said that even though "the dog then turned around and ran towards the house," the officer then "shot him two more times for NO REASON. This dog was on NO WAY aggressive, he was barking to protect his home."
Showing no signs of remorse, police left the dog in Gilliland's front yard. She witnessed the encounter and is now devastated by the cruel and inhumane treatment that led to the loss of her pet.
Gilliland told WYFF 4 News that their dog was friendly and the only thing it would have done to the deputy when it ran toward him was lick him or play "paw" with him. She said he was in no way aggressive with the officers and would never hurt anyone. Describing what happened when he was hit, Gilliland said the first shot the deputy fired broke his leg, and then the next few killed him.
The family has organized a GoFundMe page to pay for legal counsel in a lawsuit against the city, the sheriff's department, and the officers. The fund raising page's description reads:
"On July 24th 2017 my precious baby Chico was murdered by a Greenville County Sheriffs officer. We will not stop until we get justice for Chico. We have found legal counsel and we are trying to raise the funds necessary to have this killer fired and prosecuted as well as file a lawsuit for the wrongful death of my Chico and pain and suffering. We know this will not bring Chico back but if this will save other familes from going through this kind of pain and suffering then Chico will have some kind of justice. Greenville County needs to know that this kind of behavior is not acceptable and will not be tolerated. Thank you to all my friends and supporters. Please keep me and my family in your thoughts and prayers."
In a statement from the Sheriff's Office, Master Deputy Drew Pinciaro said, "It is not our intent or practice to use deadly force on animals. In this situation, the dog came at the deputy in an aggressive manner while he was serving a search warrant and that is why he shot the dog. Due to the dog being aggressive and unrestrained, that is why he used the level of force he did."
Heartbroken and choking back tears Gilliland said, "I have never been this hurt in my life...Other people say, 'He is just a dog,' but he wasn't. He was my best friend. My everything. He was family."
She and her husband do not have any kids and she said she treated "Chico" like he was her own son. Distraught, she told reporters, "I can't take this pain anymore...I am hurting so bad. My heart is broken."