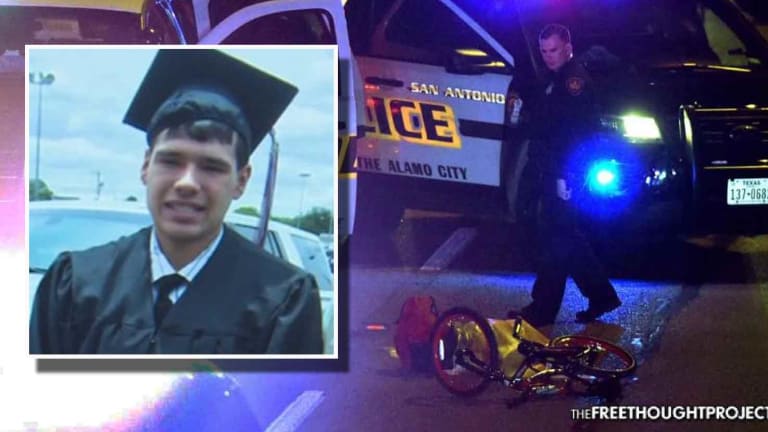 Cops Shoot, Kill Special Needs Teen With the Mental Capacity of a 7-Year-Old—On a Bicycle
A police chief is claiming that his officers "did exactly what they were supposed to do," when they shot and killed a disabled teenage boy.
San Antonio, TX – A heartbroken mother is speaking out after her disabled teenage son was shot and killed by police, and she is questioning why the three officers who confronted the boy decided to use lethal force against him.
Dustin Castillo, 19, was killed after a confrontation with police officers who accused him of stealing a BMX bicycle from a local Target. Police Chief William McManus claimed that Castillo "evaded security and rode the bike on the Northwest Loop 410 highway, with three police cars in pursuit."
The officers surrounded Castillo, and when he got off of the bike, McManus claimed that he pulled out a knife that was "certainly big enough to kill someone," and then cut officer Paul Armendariz' hand.
Armendariz responded by pulling out his gun and shooting Castillo in the abdomen, according to the chief. Castillo was pronounced dead at the scene.
"The officers did exactly what they were supposed to do," McManus said.
However, while the San Antonio Police Department has yet to release any Body Camera footage from the incident, which occurred on Jan. 25, and they have also not produced any photos of the knife McManus claimed was "big enough to kill," Castillo's mother is now speaking out.
Peggy Sue Castillo told KENS5 News that because of his disabilities, her son was "slow to process information" and may not have understood why he was being chased, which made him "confused and scared" when he was confronted by police.
"He didn't know how to read or write. He was only on a second-grade level. He was special needs. He had an intellectual disability," Castillo said.
Castillo acknowledged that her son may not have done everything right, but she said she wishes the officers would have pushed for a non-lethal solution before taking his life.
"My son was at fault in some ways, he was, but at the same time, there always has to be other ways of doing things," Castillo said. "I just wish that they would learn more about special need kids, because not every kid has a, shows a disability. Not everybody walks around with a wheelchair or a cane in their hand."
Castillo also said that she does not believe the official story from police about what happened, and she believes that given her son's small height and weight, the officers could have easily gained control of the situation by using a Taser to subdue him.
"To be shot twice is something I will never forget. Why didn't they Taser him? My son was only 110 pounds. He was only 5'2". You have three officers on the scene. You can't tell me you couldn't do something," Castillo said.
Dustin Castillo was a Special Olympics athlete who graduated from high school last year and regularly volunteered with his church and at the local food bank. His mom said he had "a very special heart for everybody, no matter what," and always thought of others.
Peggy Sue Castillo also told News 4 San Antonio that while police were confronting her son, she was stuck in the resulting traffic, and was discussing the back-up with two of her other sons on the phone.
"My oldest son was stuck in that traffic and my second oldest son was stuck in that traffic because we all called each other and we were all talking (about) how we were stuck in that traffic not knowing," she said.
Castillo said that it was not until five days after the shooting that police contacted her to tell her that they had killed her son. She noted that this was strange considering the fact that Dustin was carrying his wallet at the time, which contained his identification and address.
SAPD Chief McManus' declaration that the officers who killed Dustin Castillo "did exactly what they were supposed to do," leaves questions about whether officer Armendariz will ever be held accountable for his actions. It also serves as a reminder that the department is still not working to help its officers better understand individuals with special needs.
"Knowing all those lights that were going on and I can see his confusion, could see him trying to figure it out, trying to see what was going on," Peggy Sue Castillo said. "Was he stressed? Was he trying to process it? How fast was he processing? I don't know."