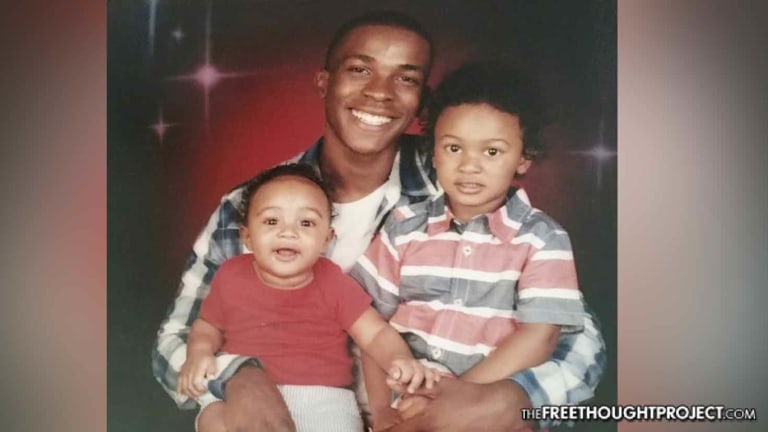 Cops Shoot Unarmed Dad In The Back, Kill Him For Holding a Phone in His Grandparents' Backyard
Police officers ambushed a man in his family's backyard and fired several rounds into his back, killing him because they claimed the phone in his hand was a gun.
Sacramento, CA – A father was shot and killed in the backyard of his grandparents' house after police claimed he was the robbery suspect they were searching for and they opened fire because they thought he was holding a gun. They later found out that he was actually holding his phone and was not armed.
Stephen Clark, 23, was shot and killed by police around 9:30 p.m. on Sunday night. The confrontation began when officers started their search for a black man wearing a black hooded sweatshirt and dark pants who was reportedly breaking into cars in the neighborhood.
A police helicopter was helping conduct surveillance in the area and its officers claimed that they spotted the suspect in the backyard of one of the houses, attempting to break into a sliding glass door with a "toolbar." While the officers then claimed that the suspect went back to the front of the home and started looking into the windows of another car, the deputies on the ground entered a backyard and found Clark on his grandparents' property.
Sequita Thompson, Clark's grandmother, told the Sacramento Bee that it was normal for Clark and other guests to enter the home through the backyard because "the front doorbell doesn't work and she and her husband, who is in a wheelchair, have poor mobility."
The officers claim that when they entered the backyard and confronted Clark, they feared for their lives because they saw an object in his hand, assumed it was a gun and immediately stated started shooting at him.
"He looked back at our officers and faced them. And had something, an object in his hand, and pointed it at our officers," Sacramento Police Sgt. Vance Chandler said. "And at that time our officers believed it was a firearm, and out of fear for their own lives they fired their service weapons."
However, investigators have confirmed that Clark was not armed with a gun or a toolbar. The only object found next to his body that had been in his hand was his phone.
Thompson said she was near the window when the shooting happened, and she did not hear police issuing any kinds of commands before she heard four consecutive gunshots ring out, and she immediately dropped to the floor and crawled across the house to check on her husband and her 7-year-old granddaughter.
Both Thompson and her husband were not immediately aware that police were responsible for the gunshots—or who they were targeting—and they called 911 to report it. Officers came to the back of their house and asked to come inside and ask them questions.
Thompson complied and said it was not until she decided to get up and look out the window into her backyard that she realized her grandson had been killed.
"I opened that curtain and he was dead," she said. "I started screaming."
The officers who shot Clark made no attempt to render aid, and his body was left on the ground until backup arrived. While the officers claimed they opened fire because Clark was facing them with an object in his hand, his family has maintained that he was actually shot in the back.
Shernita Crosby, Clark's aunt, told FOX40 that she believes he had just entered the yard and was walking to the back door of the house when the officers ambushed him and opened fire.
"In the back, so that means he was running," Crosby said. "So that means that he was probably saying, 'This is my grandmama's house. This is where I live. Leave me alone.'"
The two officers responsible for shooting and killing Clark were placed on a taxpayer-funded vacation, or paid administrative leave, while the incident is investigated. The city's policy requires Body Camera footage to be released within 30 days of the shooting.
Before he was killed, Stephen Clark was a loving father of two sons, ages 1 and 3. Now his children are left growing up without a father and his family is forced to mourn his death, all because police chose to take his life while accusing him of a crime they still have yet to prove he committed.