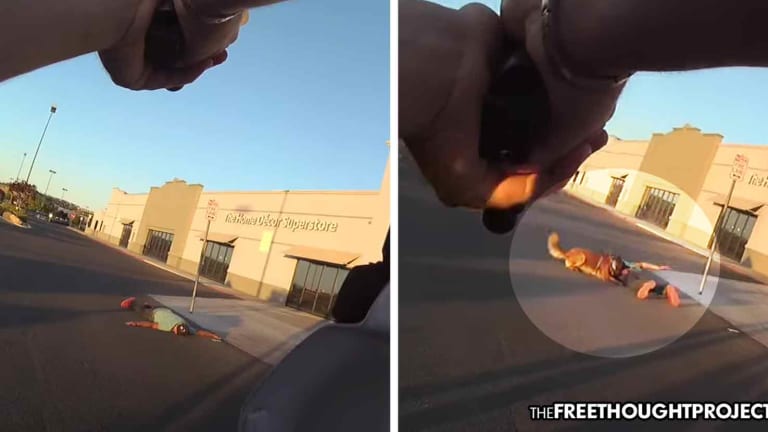 WATCH: 'Good boy!' Cops Force K-9 to Maul Unarmed, Entirely Compliant Man
An unarmed and compliant man who deserved to go to jail will now likely receive taxpayer money after cops forced forced the K-9 to attack him, despite being no threat.
Prescott Valley, AZ — Alfredo Saldivar, 28, endangered the lives of many when he drove recklessly in May leading police on a high speed chase before eventually surrendering. However, instead of simply doing the time for his crime, he will like receive tens of thousands of dollars in taxpayer funds because cops couldn't help but dole out their own punishment while taking him in to custody.
According to police, Saldivar was speeding eastbound on State Route 69 in a red Chevrolet truck on May 14 at about 6:32 p.m. before entering Prescott Valley near Stoneridge Drive when officers activated their lights and sirens.
Saldivar ran from cops and eventually crashed into a truck before abandoning his vehicle in a shopping center parking lot, fleeing on foot. When police caught up with Saldivar, he did every single thing they asked, never once deviating from their commands.
"Don't move, dude," Yavapai County Sheriff's Deputy Steven Surak tells Saldivar as he holds the compliant man at gunpoint. "Don't talk. Don't move."
Body camera footage was released this month showing officers with the Prescott Valley Police Department sic their K-9 on Saldivar as he complied with every single order they gave him. The dog was allowed to maul Saldivar for an entire minute in spite of the man completely obeying every single order they gave him.
As the video shows, Saldivar is lying face down on the pavement, as instructed. When police tell him to get to his knees, he complies. When police tell him to lift his waistband to show them he has no weapons, he complies. When police tell him to put his hands in the air, he complies but for some unknown reason this wasn't enough.
"Here's what I want you to do," an officer can be heard telling Saldivar amid a wailing siren and a barking dog. "Stand up!"
As the video shows, Saldivar was complying with this order too, yet the dog was released.
As the dog starts tearing into Saldivar, police yell at him to get on his stomach, as if it is some how an easy feat to roll over as a dog tears flesh from your body.
"Please stop the dog!" Saldivar repeatedly screams.
In a move we see quite often here at TFTP, the officer can be heard praising the dog in a calming tone, saying "that's my good boy" as the dog continues to bite the compliant man.
As you watch the video below, there was clearly no reason whatsoever to release the dog on Saldivar and he knew it too. After the situation finally calmed down, Saldivar tells them he is going to sue.
"You guys get your payback?" Saldivar asks. "Huh? Why'd you guys get the dog at me? I was already down bro. You all shot me. I am suing you guys."
According to police, during the chase, Saldivar ran into a deputy's vehicle, prompting that deputy to fire several rounds into Saldivar's truck. Luckily for Saldivar, he received only minor injuries from the bullet wound.
After the officer walks to his truck to wash his hands with a disinfectant wipe, he can be heard talking with another officer, telling that officer that Saldivar was compliant.
"Yes sir," Surak says. "He was hands up, compliant, pretty much."
Despite video showing the exact opposite, in an obvious attempt to justify the attack, police claim Saldivar "hesitated" which justified the release of the K-9. This hesitation is not visible in the video.
"As officers confronted Saldivar and gave him numerous verbal commands to surrender, it initially appeared he was complying, then hesitated," the department said in a written statement. "Saldivar's hesitation and the observations made by police led officers to believe that he was going to flee from law enforcement again, which resulted in a Prescott Valley Police K-9 being deployed."
Saldivar was booked into jail on suspicion of endangerment, aggravated assault on law enforcement, criminal damage, unlawful flight, leaving the scene of an accident and resisting arrest.
Now, while he sits in jail, he will likely move forward with a lawsuit and the taxpayers will pay dearly for the aggression of these officers.