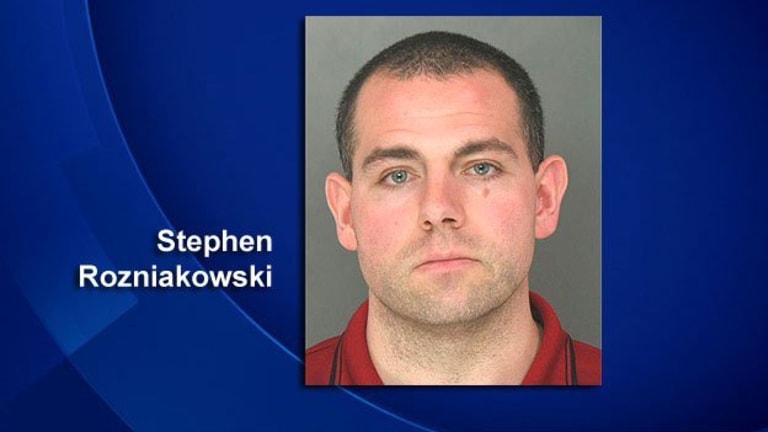 Woman Serves Stalker Cop with a Restraining Order, So He Killed Her and Shot Her Daughter
Philadelphia - On Monday, a protection-from-abuse order was served on officer Stephan Rozniakowski, 32, of the Colwyn Police Department. Upon receiving the order, the enraged Rozniakowski who had a history of harassment, strapped on his bulletproof vest and weapon and went to the home of Valerie Morrow, 40, who had obtained the order against him.
The events that transpired next shock the conscience, and can be described as nothing less than absolutely horrifying. Rozniakowski proceeded to kick in Morrow's front door to her home, then ran up stairs, shooting and killing Morrow.
"He came up the steps with his gun drawn, and as soon as he saw Mrs. Morrow and her daughter in the hallway, he started repeatedly firing at them in their direction, striking Mrs. Morrow and also hitting her 15-year-old daughter," Delaware County District Attorney Jack Whelan said yesterday.
The daughter suffered a gunshot wound to the left bicep, while Morrow was pronounced dead on the scene.
"Bridget fled into her bedroom, while, unfortunately, her mother lie dying in the hallway," Whelan said.
Whelan went on to say that Morrow's husband, Tom, a part-time cop in Morton Borough, returned fire from a revolver he retrieved from the nightstand, hitting Rozniakowski numerous times, potentially stopping what could have been a triple homicide.
Once out of bullets, Tom Morrow, who heard the sound of Rozniakowski reloading the magazine, jumped out of the second story bedroom window and ran to a neighbor's home to call 9-1-1 on a broken ankle.
According to the criminal complaint, as cops were responding to the incident an odd transmission was received from the Delaware County police transmission system known as DELCOM.
Rozniakowski could be heard over DELCOM saying, "I'm unarmed." He had brought along his police radio in the commission of this heinous crime.
"Who's the actor? Tell me about the actor," the dispatcher responded.

"DELCOM, I am the actor," Rozniakowski said.
As the daughter ran from the bedroom she claims to have seen Rozniakowski in the hallway mumbling apologies, as he held a gun to his head. She knocked the gun out of his hand and escaped from the home, according to the complaint.
Rozniakowski resigned from the department on Monday prior to the killing, according to Whelan. He is currently hospitalized in critical but stable condition.
"We are looking at this as a potential death-penalty case," Whelan said.
The irony of the entire situation is that Rozniakowski was convicted in 2009 and 2010 of harassment, and currently is facing harassment and stalking charges in a case separate from the Morrow case.
In the current case, he is accused of texting and calling a woman over a hundred times a day. But in spite of his previous convictions, and the current case he was being prosecuted for, he was still allowed to continue as a police officer. He was taken off of street duty, but nonetheless was still an officer for the Colwyn Police Department.
Colwyn Police Chief Bryan Hills previously told the Delaware County Daily Times that he thought the most recent stalking allegations were overblown, according to Philly.com.
"Looking at the circumstances, I think a lot of this is bulls---," Hills told the newspaper in April.
There are far too many instances of officers engaging in domestic violence, sexual assault, harassment, stalking or other illicit and violent behaviors, where their departments simply turn the other cheek and toe the thin blue line.
Cops make up a very disproportionate number of domestic violence cases, which studies have found occur in 40% of police households. Sadly this sadistic murder isn't even close to an isolated incident.
There's the recently retired 30-year police veteran who killed his wife then himself in Colorado Springs this summer. In April, an Indiana news station reported on "Sgt. Ryan Anders, a narcotics officer," who "broke into his ex-wife's home and fatally shot her. He then turned the gun on himself."
In February, "Dallas police confirmed ... that a Crandall police officer shot and killed his wife before killing himself."
Last year, a Nevada police officer killed his wife, his son, and then himself. And Joshua Boren, a Utah cop, "killed his wife, their two children, his mother-in-law and then himself" after receiving "text messages ... hours earlier threatening to leave him and take their kids and confronting him for raping her."
When departments simply make excuses and attempt justify or cover for the illicit behavior of their officers, even after warning signs of a mental defect, it only serves to embolden the officer's derelict demeanor.
It seems the Colwyn Police Department had a psychopath in their midst and never chose to do a thing about it. Perhaps if they had intervened when he showed signs of mental instability years ago this tragic outcome could have been avoided.
Jay Syrmopoulos is an investigative journalist, freethinker, researcher, and ardent opponent of authoritarianism. He is currently a graduate student at University of Denver pursuing a masters in Global Affairs. Jay's work has previously been published on BenSwann.com and WeAreChange.org. You can follow him on Twitter @sirmetropolis, on Facebook at Sir Metropolis and now on tsu.