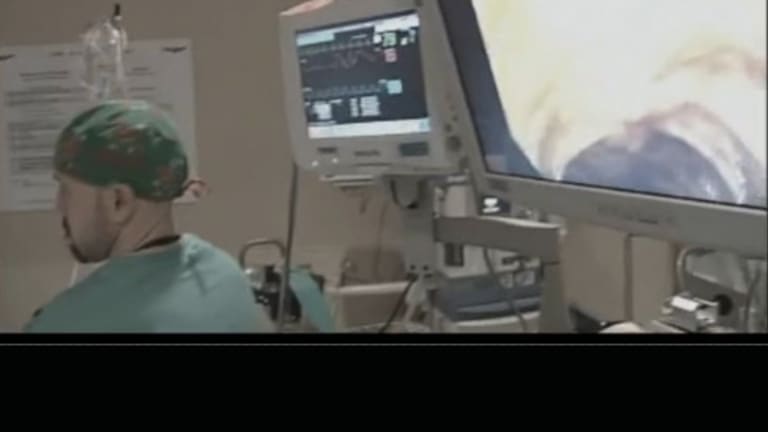 Cops Who Sodomized Innocent Man with Anal Probes and Enemas Remain on the Job!
New Mexico cops still on the job after performing illegal anal probes
June 4, 2014
Police officers in a New Mexico town who forced suspects to undergo multiple, forced anal cavity searches are still on the job despite their questionable behavior, according to Watchdog.org.
In January, the town of Deming and Hidalgo County settled a lawsuit for $1.6 million over the case of David Eckert. Pulled over for a minor traffic violation, Eckert was flagged for holding drugs by a K-9 unit, which would later be found to be operating under expired certification. Police suspected Eckert was carrying drugs in his anal cavity and sought out a search warrant, but then transported the man to a hospital outside of the warrant's jurisdiction when the first establishment refused to conduct the search on ethical grounds.
At Gila Regional Medical Center, however, doctors performed eight separate medical procedures against Eckert's protests, including two rectal finger examinations, three enemas and a colonoscopy. He was also forced to defecate in front of doctors and police officers. None of these procedures uncovered any drugs.
According to Eckert's lawyer Shannon Kennedy, not only was the issued search warrant overly broad and lacking in probable cause, but it was also only valid in Luna County, where Deming is located and Eckert was arrested.
After the first hospital refused to perform the anal search, police took Eckert to Gila, which is located in a separate county altogether. If that is the case, then doctors performed all eight of the
To make matters worse, the search warrant expired at 10 p.m. while doctors didn't even begin prepping Eckert for the colonoscopy until 1 a.m. the next morning, when the warrant had been expired for hours.
But Eckert's story wasn't an isolated incident. According to police reports, a man named Timothy Young was also stopped by police after a minor traffic violation. The same unlicensed K-9 dog, Leo, sniffed drugs on his seat, causing police to seek a warrant to search Young's body for illegal substances, KOB TV reported.
Just like Eckert, Young was taken to Gila Regional Medical Center, located in a county not covered by the search warrant, where doctors performed medical procedures, including finger exams of his anus and an X-Ray of his stomach. Young did not consent to the examinations. Again, no drugs were discovered in his body.
The Eckert lawsuit listed three Deming Police Department officers, three members of the Hidalgo County Sheriff's Office, as well as the doctors and the hospital involved. The three city cops are still listed as active duty, New Mexico Watchdog reported.
In a phone interview with NM Watchdog, Deming Police Chief Brandon Gigante wouldn't say why they are still active or if they were disciplined. "That is a personnel matter," he said. (After the Eckert incident, he told KOB, "We follow the law in every aspect and we follow policies and protocols that we have in place.")
The Hidalgo County sheriff did not return NM Watchdog's phone calls, and the status of the three officers is unclear.
Hildalgo County Commissioner Darr Shannon told NM Watchdog, "I don't know [about the status of the officers]. I hate to admit it, but I don't know anything … A county commissioner cannot have anything to do with personnel matters."
The county commission chair, Ed "Bim" Kerr wouldn't speak with NM Watchdog, referring questions to the county manager, Jose Salazar. Salazar then referred questions to the county's attorney, Damian Martinez, who also refused to comment.
Republished with permission from Russia Today