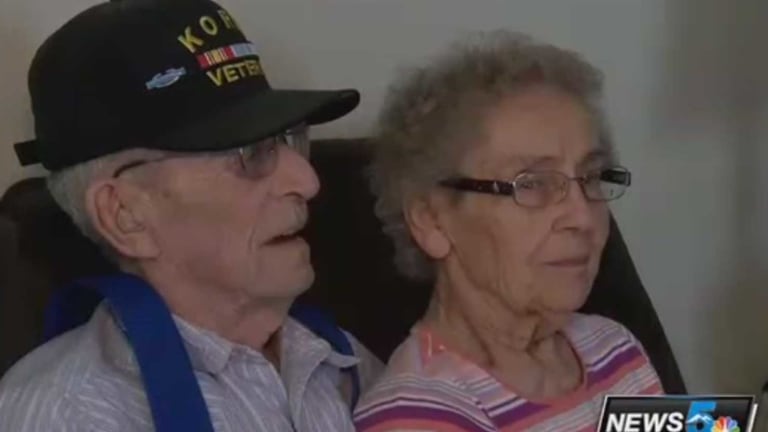 Cops Busted Trying to Sell Innocent Elderly Woman's Car After Telling Her They Needed it for Evidence
An 80-year-old woman's car was stolen in a robbery—it was then stolen again by police "for evidence" before they attempted to sell it an auction.
Pueblo, Colorado – When an 80-year-old woman's car was stolen in June, and then recovered by police, she had no idea that it would be stolen once again—but this time by the same group that claimed to be helping her get her car back in the first place.
The Ford Crown Victoria owned by Mary Antrim and her husband Clyde, was initially stolen from their residential neighborhood in Pueblo during a robbery on June 1, according to a report from KOAA News.
"I need my car for my doctors' appointments that I have to go to," Mrs. Antrim said. "That's my transportation and I'm 80 years old and I'd like to have my car back so I can do what I have to do." 
The car was discovered 45 miles away on June 5, after police responded to reports of an aggravated robbery at a Dillard's in Colorado Springs. Mrs. Antrim told the local NBC affiliate that she was told her car was being impounded and was "on hold" while police fully investigated the robbery.
"They told me it was involved in a robbery and that it was being held for evidence and that's all I was told," Mrs. Antrim said. "I've called them every week to find out where the car is at and what's going on with the car. No one has called me back." 
After more than a month of calling and receiving no answers, Antrim said she began searching online, and she found out that not only were police not planning to return her car, they were planning to sell it in an auction!
"I was dumbfounded," Antrim said. "I thought how in the world can the car go from being on hold for evidence and now it's on hand and being ready to go to auction. I couldn't believe that." 
KOAA News reported that Colorado Springs Police "refused to address the situation on camera or provide a formal comment," and instead claimed that they sent Mrs. Antrim a letter on July 7, which stated that "her vehicle was at the CSPD Impound Lot and charges have accumulated as a result of being impounded."
The letter claimed that if Antrim did not claim the vehicle, it would be sold in an auction on Sept. 11. However, while Colorado Springs Police insisted the letter was mailed on July 7, KOAA News noted that it was not postmarked until July 11—the same day their reporters contacted the department.
Investigative reporters from KOAA also noted that while they "filed an open records request for any phone call records (if any) showing how many times Colorado Springs police or the CSPD Impound Lot called Mrs. Antrim about her vehicle prior to putting it on a September 2017 auction list," they have yet to receive any information other than the formal notice that the request was "received."
As soon as Colorado Springs Police realized they wouldn't get away with auctioning off Mrs. Antrim's car without a fight, they still attempted to make a profit off of it by insisting that she needed to pay $178 for the fee to have the car impounded—something police insisted on in the first place.
However, KOAA News noted that this fee was the exact opposite of the policy Sgt. Garza mentioned over email, which stated, "It is the policy of the Colorado Springs Police Department that victims of crimes whose vehicles are towed as part of the criminal investigation will not be charged tow/impound storage fees while at the Impound facility."
Following the report from KOAA News, Mary Antrim received notice that her car would be returned, and she would not be forced to pay any fees.
While Colorado Springs Police may act as if everything is fine now that the car is returned, the fact is that their department attempted to take advantage of an 80-year-old woman after she was the victim of a robbery by stealing her car once again, ignoring her repeated requests for information, and then attempting to extort money from her after they realized they wouldn't get away with auctioning off her vehicle.
KOAA.com | Continuous News | Colorado Springs and Pueblo