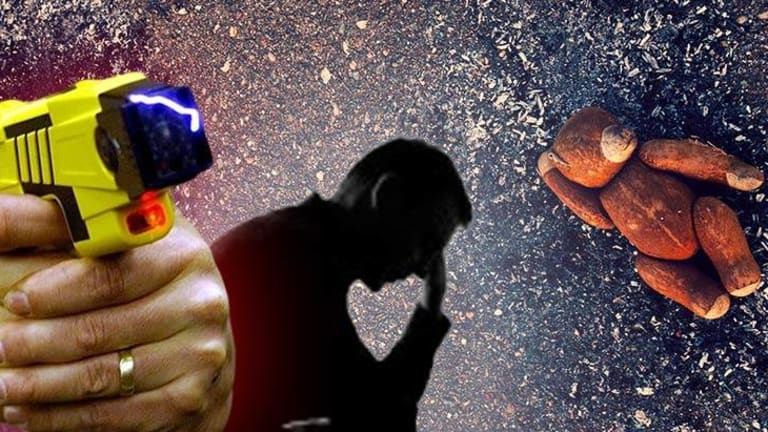 Cops Tase Father Multiple Times as He Tries to Save His 3-Year-Old Son From House Fire
This father knew his 3-year-old was trapped inside. However, as he kicked in the front door to the home in an attempt to save his child, police showed up.
Louisiana, MO -- On October 31, 2013, the house of Ryan and Cathy Miller caught fire. In that fire, their 3-year-old son, Riley Miller was killed.
The 9-1-1 call came in at 12:58 am and firefighters showed up just 5 minutes later.
Ryan Miller knew his 3-year-old stepson was trapped inside, and he was going to do whatever it took to get him out. However, as he kicked in the front door to the home in an attempt to save his child, police showed up.
As Miller tried to run back into the house, police grabbed him. Obviously Miller pulled away from the officers as he and his wife's 3-year-old was trapped in a deadly inferno; that's when the taser came out.
Miller was tasered several times as he fought to save his son.
"He tried to get back in the house to get the baby," Lori Miller, Riley's grandmother said. "They took my son to jail because he tried to save his son."
Ryan Miller's sister-in-law doesn't think the police handled the situation correctly.
"It's just heartless. How could they be so heartless? And while they all just stood around and waited for the fire department, what kind of police officer wouldn't try and save a 3-year-old burning in a house?" said Emily Miller. "We've been going through pictures and he's just smiling in every picture. He was just a happy, go-lucky kid."
"He was my best friend," Ryan Miller said told the Press Journal after the fire. "He was everybody's best friend. If you would have met him, you would have loved him. He was the joy of my life."
Last week, on March 12, 2015, the Millers filed a lawsuit against the City of Louisiana.
"Officers Jeffrey Salois and William Harrison prevented Ryan Miller from entering the home to save his stepson Riley Rieser by forcibly moving and by repeatedly Tasing Ryan Miller, including once in the police cruiser as Riley Rieser was being removed from the home," the lawsuit states.
According to Courthouse News, the Millers say that Ryan never presented a threat to the officers or other emergency personnel, that Salois and Harrison never announced they were police officers and never placed Ryan Miller under arrest.
"I was hysterical, yes, because I wanted to save my son," Ryan Miller told the Louisiana Press Journal days after the fire.
Also named in the suit is the Miller's former landlord, Louis Houston, who the Millers say is responsible for the faulty wiring in the house that caused the fire.
According to the suit, Miller was not charged with any crime. He claims that the repeated tasing constitutes an unreasonable seizure and that officers "used more force than was reasonably necessary under the circumstances."
The Millers seek damages from the City of Louisiana for excessive force, negligent infliction of emotional distress, wrongful death and false imprisonment.
There is no amount of money that will ever fill the void of a lost child. Shame on these police officers for forcing this family to live the rest of their lives thinking about how different things could have turned out had they not stopped him.