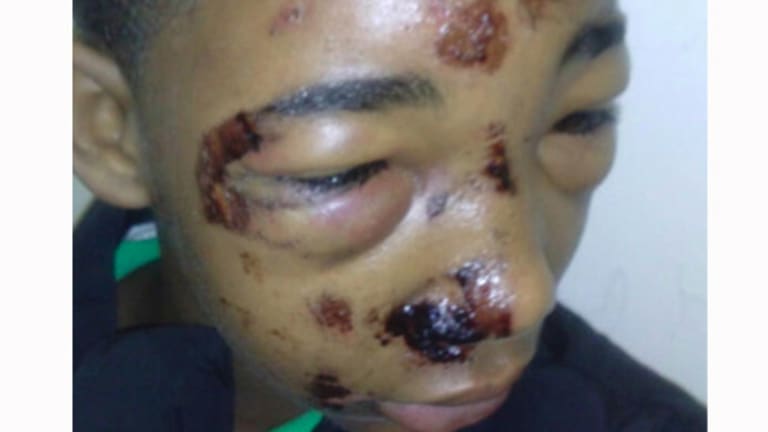 Cops Taser 14 Year Old Boy in the Face, While he is Handcuffed
A Pennsylvania mother is asking for an investigation of police brutality after her son was tased in the face, while in handcuffs.
Cops and tasers are a lethal combination. From 2001 to 2012 there were 500 deaths recorded as a result of these supposed 'non-lethal weapons.'
But now we are seeing multiple instances of cops tasering people in handcuffs. Just last year Danielle Maudsley, a 100 pound girl, broke free from police custody. Instead of breaking into a brisk jog to simply catch a HANDCUFFED girl trying to flee, trooper Daniel Cole fired a taser into her back as she fled. This caused her to fall to the ground hitting her head. She has been in a vegetative state ever since.
Now we have discovered another incident involving a handcuffed individual being tasered while cuffed and this time its a 14 year old boy.
The teen was arrested by Tullytown Police for shoplifting from Wal-mart when he tried to flee from custody. Instead of running after the boy, the police fired a taser striking the boy in the face and causing him to collapse, face first onto the concrete. Had this boy fallen like Danielle Maudsley he could very well be in a coma right now, or worse.
According to NBC Philadelphia, 
Authorities say after the teen's arrest, and before he was loaded into a police car, he took off running along Route 13 while handcuffed.

Bucks County District Attorney David Heckler tells NBC10 that police officers yelled warnings at the teen and fearing for his safety, they fired a stun gun to subdue him. The D.A. says the Taser struck the boy in the face and with his hands cuffed, the boy had no way to brace himself against falling face-first.
Since when would it ever be considered justified to fire a debilitating taser device into the face of a teen boy, that you have already handcuffed? Here is an idea that may prevent any future incidents like this one; for the police physical fitness test, they have to at least be able to chase down a child in handcuffs on foot in order to remain an officer.
On a serious note, something has to be done about the increasing level of brutal police action. Community defense projects are a good start. Ideas like Peacekeeper.org that help to create a local network of people that help each other out in times of need are starting to emerge. Check out the video below from Cody Drummond, who is trying to make this vision a reality.

Feature Image Courtesy of NBC Philadelphia