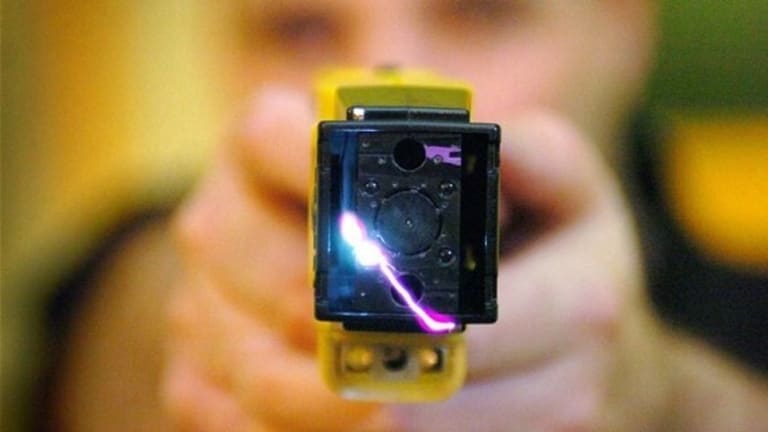 Cops Taser Deaf Man Having Diabetic Attack
Lawsuit: Instead of calling paramedics, officers punch and shoot man with tasers
Steve Watson
Infowars.com
February 19, 2014
Yet another case of police tasering a deaf person who did not respond to verbal communication has emerged this week. However, this time the man in question was also in the midst of a diabetic episode.
A man having a life threatening diabetic episode was beaten and electrified by cops before receiving medical attention.
Robert Kim is suing two police officers in federal court after an incident in St. Louis, when he was caught in need of assistance at the road side, after getting a flat tire.
Kim has type one diabetes, and during the wait he slipped into a severe hypoglycemic state.
No matter for officers from Bridgeton, who arrived on the scene and broke out their tasers, according to the lawsuit.
The documents state that officer Leah Hall immediately understood that Kim was deaf, and was informed that he was having a diabetic attack. Instead of calling paramedics, the officer called for police back up.
According to the papers, another officer, Brandin Raney, soon arrived to find Kim sat on a grassy area at the side of the road. Without attempting to ascertain what the situation was, the officer immediately began angrily screaming at Kim, who could not respond.
What happened next is, sadly, a familiar story.
"Unable to effectively communicate with plaintiff, defendant Raney fired his Taser at plaintiff, striking plaintiff in the chest," the complaint states. "Plaintiff immediately fell to the ground. Defendant Raney continued to apply repeated electrical shocks through the Taser, even after plaintiff was on the ground."
The complaint also states that the officer repeatedly punched Kim while he was on the ground in hypoglycemic shock and being tasered.
"Plaintiff was Tasered by defendant Raney at least three times, one of which was while plaintiff was handcuffed." the papers state.
Eventually, Kim was taken to a hospital, where doctors assessed his condition as life threatening.
Kim is suing the police department and the officers, claiming that they were not sufficiently trained to communicate with deaf or hearing-impaired people. Charges include violations of civil rights and the Americans with Disabilities Act, as well as battery and intentional infliction of emotional distress.
"Defendant Bridgeton is mandated to provide aid and services to those individuals with disabilities such as plaintiff," the complaint states. "Plaintiff was discriminated against by not being provided with medical services, but instead was subjected to an unlawful battery and detainment as a result of the failure of defendants."
This is the second time in a matter of days that a case has been heard in federal court over police tasering a deaf person for failing to respond to verbal orders.
Last week we reported on a case in Hawthorne, California where cops beat and tased an innocent deaf man, when he failed to respond to their demands during a routine call out. Jonathan Meister was removing boxes of his own possessions from a friend's house, but cops believed him to be a burglar following a call from a neighbour. After tasering Meister until his flesh burned, and beating him unconscious, the cops then charged him with assault, according to details released as part of a lawsuit.
There are untold numbers of cases of police beating and even tasering both physically and mentally disabled people across the nation. In cases of people in wheelchairs to diabetics literally having fits on the ground, police have deployed tasers, which are supposed to be used only as a last option before lethal force.
Such cases highlight both a woeful lack of training in police departments, as well as an endemic eagerness to attack and punish anyone who fails to respond to demands and orders.
Reprinted with permission from Infowars.com