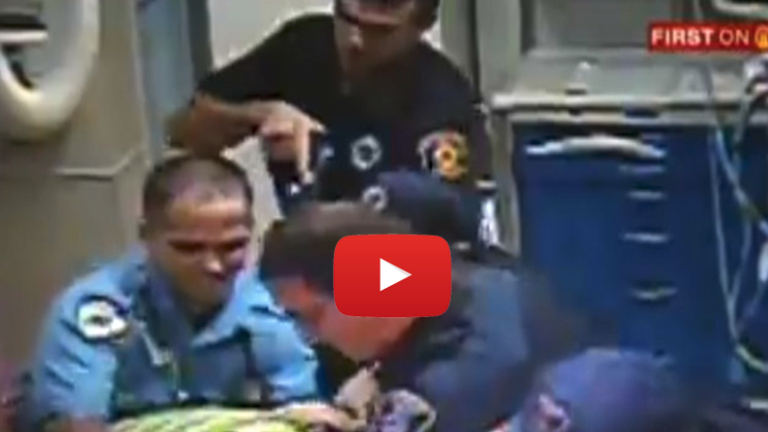 Cops Taser Grieving Man as He Prayed Over His Stepson's Body
The family of a deceased Pennsylvania man has filed a federal lawsuit alleging that police forcefully and unnecessarily ejected the slain gunshot victim's step-father from a Pittsburg emergency room in June 2012.
Surveillance camera footage recorded from the ER at UPMC Mercy Hospital in Pittsburgh more than two years ago shows Rev. Earl Baldwin Jr., a local community activist known for speaking out against street violence, crying over the body of his dead 23-year-old stepson, Mileek Grissom.
"I needed to tell him his family was going to be okay," Baldwin told WPXI this week. "I was going to do everything I could to make sure they were okay."
As he sobbed above the boy however, surveillance camera footage shows that police officers in the emergency room started to wrestle Baldwin away from his step-son, with one cop eventually using his Taser stun-gun on the man.
"You know what they did to me? They tasered me and I fell under this boy. They had to slide him out of the way to get to me, and they jumped on top of me," he told the news network.
Troi Baldwin, the mother of Grissom, said she was not even allowed in the hospital to see her son after he was shot in the chest while trying to break up a street fight.
"I wanted to rub his head. I wanted to kiss him. I know he was calling for his mom," she told WPXI.
Court records show that the Baldwins filed a complaint against the Pittsburgh police and the hospital staff this past June in which they alleged they were denied their right to privacy during the ordeal two years earlier. On Tuesday this week, Judge Cathy Bissoon signed an order in the US District Court for the Western District of Pennsylvania setting a conference in place for the case early next month.
The UPMC responded to the lawsuit by issuing a statement to the network saying: "Clearly this was a stressful situation and a tragic loss for this family. However, the allegations about the circumstances are inaccurate."
The family for the Baldwins argues that the video footage shows the cops overacted, though.
"Watch the video. Not only was the child not being treated. The child was dead," lawyer Joel Sansone said to WPXI.
Republished with permission from Russia Today