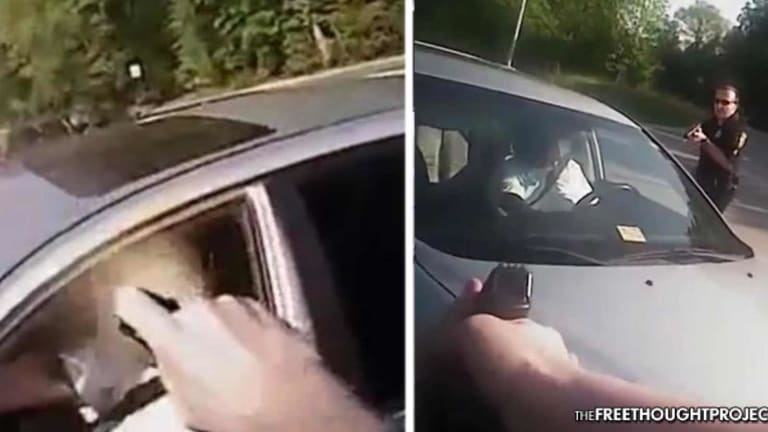 WATCH: Cop Maces & Tasers Unconscious Man in His Face as He Has a Stroke—Taxpayers Held Liable
After maintaining a standoff with an unconscious stroke victim, police then tasered him in his face, pepper sprayed him, and threw him down.
Fredericksburg, VA — The taxpayers of Fredericksburg will shell out an unknown amount of money this week in a settlement for one of the most gruesomely excessive force claims ever caught on camera. As an innocent man lay unconscious during a stroke, he was pepper sprayed, tasered in his face, and held without medical care causing him to suffer permanent damage—all thanks to untrained cops needlessly escalating violence.
In March of 2016, attorneys for the victim, David Washington, filed a suit against the city claiming excessive force was used against their client in an incident 10 months prior. The incident was a simple traffic accident.
The lawsuit requested $5 million and alleged excessive force, denial of medical care, battery and other wrongdoing by the officers, according to The Free Lance–Star. 
"Police misconduct cases, they're difficult to win," Alexandria attorney Donald Rosendorf, who helped represent Washington said. "I think we were satisfied, and the client was satisfied, with the settlement."
On May 4th, 2015, Washington was driving his car down Route 1 near the University of Mary Washington when he experienced a medical emergency. He was having a stroke which caused him to black out, hit a jeep, and cross over the median striking a road sign.
The driver of the jeep called 9-1-1 to report the crash and Officers Matt Deschenes and Crystal Hill arrived on the scene followed by officer Shaun Jergens. Body cam footage shows the officers cared not about the man in obvious medical distress.
As the Free Lance-Star reports:
The suit claimed Deschenes and Hill held Washington at gunpoint for several minutes as he sat unresponsive in the driver's seat of his stopped car. The officers asked him to show his hands and exit the car, but Washington could not do so because he had suffered from a stroke while driving.

According to the lawsuit, Jurgens arrived several minutes later and fired a Taser at Washington with no verbal warning, striking him in the face. Deschenes then holstered his firearm and opened the driver's side door of Washington's car, "further confirming" the suspect had no weapons.
The body cam confirms that as Jergens approached the car, the distressed and unresponsive Washington was blasted with pepper-spray and tasered.
"Get out the car or I'm going to fucking smoke you," says Jergens after assaulting Washington.
Jergens then dragged the sick man out of his car and continued his assault by laying him on the hot asphalt. As if being pepper-sprayed, tasered, thrown on the ground and handcuffed after having a stroke wasn't enough, police allowed the car to roll on top of Washington's foot.
Washington was then taken to the hospital to be treated for his assault and doctors discovered that he had in fact been experiencing a stroke.
According to the lawsuit, because police waited so long to bring Washington to the hospital and because of the "unreasonable use of force" this contributed to his condition, which is expected to be permanent. According to the suit, Washington cannot stand without assistance and his speech is now impaired.
After reviewing the incident in accordance with department policy, Command Staff determined at the time that the force used by the officers involved in the incident was "not appropriate," according to WJLA.
"The use of force demonstrated in the incident involving Mr. Washington was not in compliance with department policy or training," said Captain Rick Pennock in a news release. "We take matters such as these very seriously and require that officers at all times exercise appropriate restraint and good judgment in their dealings with citizens."
Jurgens resigned from the department on May 14 only to turn around and get hired as a Spotsylvania County sheriff's deputy. Jurgens then sued the department for defamation because the chief called the officer's actions of pepper-spraying and tasering a stroke victim in the face 'inappropriate.'
No charges were ever filed against Jergens for his abuse. None of the officers involved faced charges for failing to stop this assault either. However, Washington was charged with hit-and-run, hit-and-run (property damage), reckless driving, and driving on a revoked or suspended license. Is this justice?
Below is the graphic body camera footage showing the unnecessary excessive force by these officers. Notice how he is in such bad shape that he is unresponsive to being tasered in the face and barely moves as the officer empties a can of pepper spray into his face.