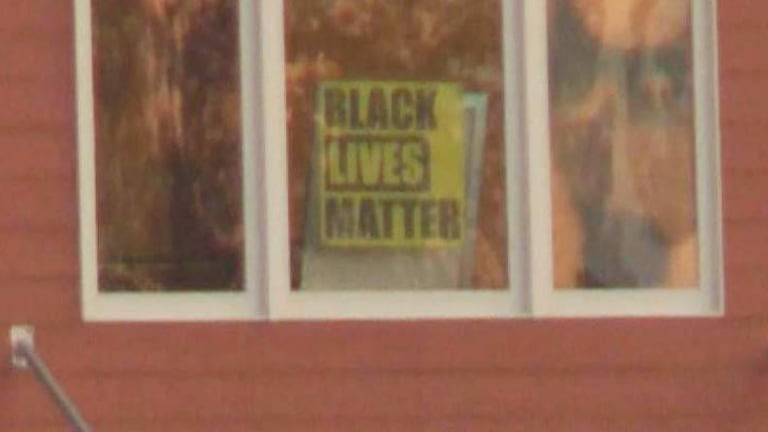 Cops Told To Boycott Business Because "Black Lives Matter" Sign Displayed in Nearby Home
In a blatant attempt at intimidation, a Virginia police union called for boycotting a business, because a house nearby had a sign in their window.
Fairfax County, VA -- The president of the Fairfax Fraternal Order of Police Lodge 77, Brad Carruthers, took to Facebook this week to dispel any myths about him being an open-minded cop.
In a lengthy message posted on Tuesday, Carruthers urged his fellow boys in blue to boycott a local pumpkin patch over a "Black Lives Matter" sign. Centreville's Cox Farms pumpkin patch was the target of the boycott, but oddly enough, they were not the ones displaying the sign (as if that would be a reason to urge a boycott in the first place.)
Carruthers is so deeply against a group of people claiming their lives matter, that he called for the boycott because a nearby home displayed the sign.
After receiving massive backlash from residents, Carruthers removed the post, but not before the internet made it permanent. 
According to the Washington Post:
In the initial message, Carruthers posted a photo of the sign and wrote that displaying it was a "slap in the face" to the Fairfax County police.

"When Black Lives Matter emerged, it was a small group trying to do the right thing," Carruthers said in an interview. "The fact of the matter is it seemed like that movement got hijacked toward anti-police sentiments."

Carruthers added he felt some Black Lives Matter activists had helped foment violence toward police officers across the country.
Carruthers is taking the words of a few crazed individuals who called for violence and applying their sentiment to entire populations of people who support the BLM movement -- including cops.
Erika Totten, a Black Lives Matter activist in D.C., said she views the post as an effort at "intimidation and control," and she's correct.
Carruthers calling for the boycott of a business, because of the free speech choice of that business' neighbor, is certainly an attempt to deter others from speaking out; a de facto act of intimidation.
The Owners of Cox Farms issued the following statement on Thursday:
"We have always believed that we had a very positive relationship with our local police department," the family wrote on Facebook. "We have contracted FCPD officers to provide security for our festival for over a decade. We have supported their fundraising efforts, donated to their Police Unity tour, employed their children, and offered discounts to officers on our Public Servants Weekends. Neither our family nor our business is anti-cop, and we are absolutely anti-violence, against anyone. For this reason, we were especially surprised that the FOP and so many local officers jumped on the call to boycott our business and make such hateful accusations against us via social media."
Even after removing his post, Carruthers is still defending his choice to threaten people for their free speech. After calling the sign "disturbing and disappointing," that said only, "Black Lives Matter," Carruthers made another post on Facebook playing the role of victim.
"This is a time in which law enforcement is the target for criticism for almost everything they do and officers are constantly questioned by the public and the media without the benefit of all the facts," the Facebook post read. "The presence of this sign at Cox's Farm helps perpetuate this kind of behavior and judgment. I know you have heard it all about a million times but the truth is that 'All Lives Matter.' "

Carruthers finished by reiterating his call for a boycott: "I hope you will join me and my police family and make a choice to go somewhere else to enjoy your family fun this fall, where you will not be confronted by such baseless criticism and judgment."
Carruthers' sentiment echoes that of the majority of law enforcement across the country. Instead of addressing the obvious problem of police brutality, a move is made to silence those who speak out about it. After silencing the opposition, Carruthers then acts as if it is police officers who are the victims. Shameful indeed.