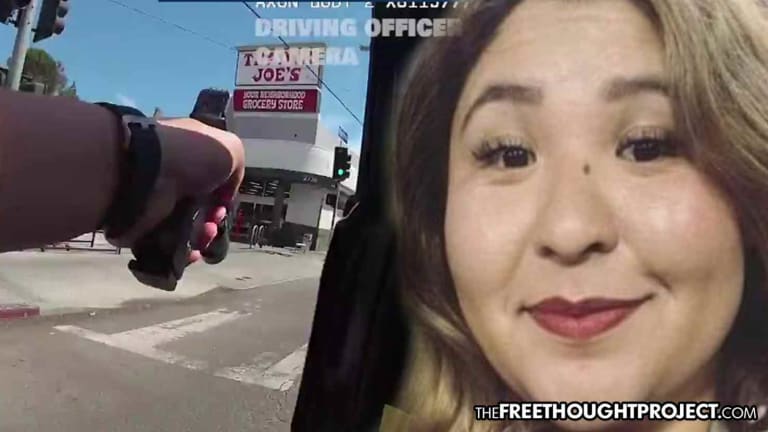 WATCH: Cops Try to Kill Suspect By Firing Into Trader Joe's Front Door, Kill Innocent Woman Instead
An innocent woman was shot and killed in front of a Trader Joe's when police officers exchanged gunfire with a suspect following a chase.
Silver Lake, CA – A police spokesperson has admitted that the only victim who died after a shooting that turned into a hostage situation at a Trader Joe's store in South Los Angeles was fatally shot by officers who fired a hail of bullets at the storefront.
Melyda Corado, 27, was an assistant manager at the grocery store and her life ended tragically when her workplace became the scene where a police chase ended and officers started to exchange gunfire with the suspect they had been pursuing.
The Los Angeles Police Department has been surprisingly open with the public, and Police Chief Michel Moore admitted on Tuesday that the bullets that struck and killed Corado were fired by LAPD officers.
"The source of that round, we've recovered it, and ballistically we believe it's from one of the two officers," Moore said. "The fatal bullet first hit (Corado's) arm, then entered her body."
The police chief attempted to defend the actions of the officers by claiming that they "had to make a split-second decision. I'm here to say that that is the worst, worst decision that any officer ever wishes to have to make."
Corado initially walked outside of the grocery store to ascertain what was happening when it became the place where a vicious police chase ended on Saturday, and as soon as gunfire was exchanged and she was shot by officers, she went back inside and collapsed behind the manager's desk where she bled to death.
Medical aid was not immediately called for Corado, and it is unclear if the officers even realized that she had been wounded, because they were so focused on Gene Evin Atkins, 28, who was the suspect in their chase.
The ordeal began when Atkins reportedly opened fire on both his 76-year-old grandmother and his 17-year-old girlfriend. Atkins' cousin, Charleo Egland, told the Orange County Register that she believes an argument broke out because Atkins' grandmother did not approve of his young girlfriend, and did not want her inside of the house.
After he fired multiple shots at his grandmother, Atkins took the young girl—who suffered a bullet wound to the head—with him when he left, which made him a suspect for both kidnapping and attempted murder. The two women have since been taken to the hospital where they are said to be in critical condition.
When police officers located Atkins' vehicle and began pursuing it, the chase ended in front of the Trader Joe's store when Atkins crashed into a pole. He got out his car and began shooting, and the officers who were on the scene engaged and exchanged gunfire.
Atkins then went into the grocery store to take cover, which resulted in a three-hour standoff with police, and dozens of citizens were taken hostage. Corado was among the hostages, and now the question remains as to whether her life could have been saved if she had received immediate medical attention.
LAPD Chief Moore blamed Corado's fatal injuries on the fact that she was too close to Atkins when she exited the store. However, the hail of bullets, which was supposed to be exclusively targeting Atkins, only resulted in a minor injury to his arm.
Melyda Corado's family and friends are now left to mourn her tragic death, and unfortunately, the question of whether police officers were justified in shooting her will likely never be addressed in court because Atkins has been charged with her murder, among 31 other felony counts.
The Los Angeles Police Department released Dash cam footage of the shooting on Tuesday, marking an unusually quick release just three days after the fatal incident.
A GoFundMe campaign was launched for Corado.