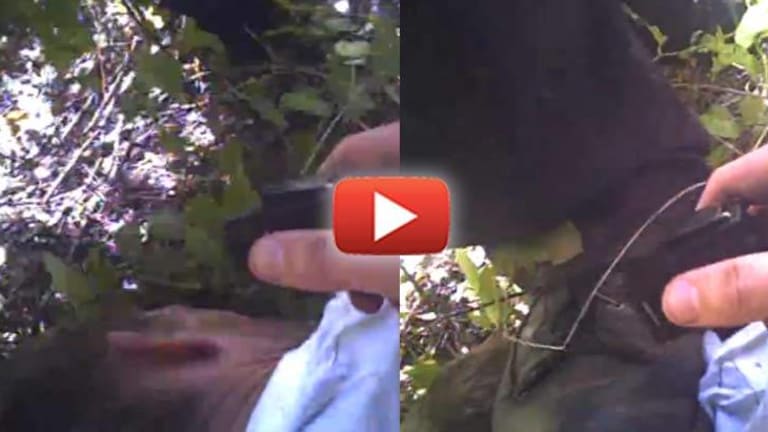 Cops Caught on Body Cam Saying "Turn it Off" Before Stomping on Handcuffed Man's Face
What good are body cameras when cops can turn them off to brutalize handcuffed suspects?
Henryetta, OK -- While police-worn body cameras can bring extra evidence into cases on both sides, they are far from a fix for police brutality. During a recent chase in Oklahoma, police can be heard whispering to each other to turn off their body cameras before one of the officers stomped on the suspect's neck.
The suspect allegedly robbed a Dollar General store and fled on foot before he was chased by police down the highway. Eventually police caught up with him, used a taser to subdue him, and then multiple officers piled on to take him into custody. However, during the footage that is available, officers can be heard telling each other to turn off their cameras.
"This is the first time we see something a little concerning in the video. Where you hear one officer whispering very low to another officer 'turn it off,'" Civil rights attorney Mitchell Garrett said when viewing the video.
"What's concerning to me is when you see someone who is not even involved in the chase scene applying quite a bit of force to the suspect's head and neck once the suspect is fully in custody. The officer with the body cam turns away from the scene so that it cannot be captured on video," he added.
As expected, the police department has defended the actions of its officers. Henryetta Police Chief Steve Norman said he was on the scene of that arrest and saw nothing inappropriate.
"I believe in this situation he was justified in holding him down," he said in a statement to KJRH.
"That day the heat index was probably 110. These guys doing the chasing were worn down and the other officer was giving them a break," he said, totally avoiding the question about the body cameras.
"Everyone is against law enforcement. That's why they're having such a hard time filling positions," Norman complained.
Even if the suspect was guilty of robbing the store, it is not the police officer's job to inflict punishment on individuals suspected of a crime. Contrary to what some may believe, American cops are not Judge Dredd.
This video gives us a glimpse into how police attempt to manipulate the body camera footage that gets seen by the general public. It is commonplace for officers to turn off their dash cams when they are guilty of a crime, and this incident is another example of the same type of censoring occurring with body cameras as well.
John Vibes is an author, researcher and investigative journalist who takes a special interest in the counter-culture and the drug war. In addition to his writing and activist work, he organizes a number of large events including the Free Your Mind Conference, which features top caliber speakers and whistle-blowers from all over the world. You can contact him and stay connected to his work at his Facebook page. You can find his 65 chapter Book entitled "Alchemy of the Timeless Renaissance" at bookpatch.com.