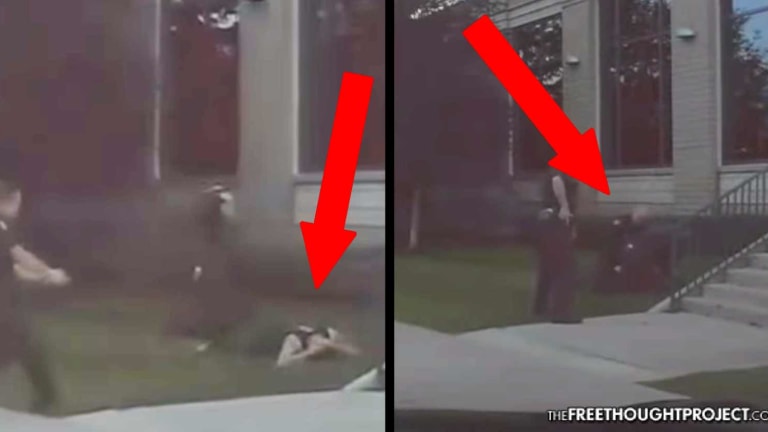 "YouTube Alert!": Cops Turn Off Dash Cam While Beating Surrendered Man, Nearly Kill Him
Police officers on the scene of a violent arrest admitted to turning off their Dash Cams and yelling "YouTube alert!" to cover their fellow officers.
A trial on the use of excessive force during a violent arrest in the city of Calgary has included a number of revelations as one officer admits he intentionally turned off his Dash Cam, and another officer admits he yelled "YouTube alert!" to encourage his fellow officers to stop recording a brutal beating that was sure to go viral.
Clayton Prince, 35, suffered multiple broken ribs and a collapsed lung on July 30, 2016, after a traffic stop led to a violent arrest. Prince testified that he was on his way home from a summer music festival when he was pulled over, and because he was paranoid that he still had marijuana and cocaine in his system from the event, he fled the scene.
When officers caught up to Prince, he was lying face-down on the grass, in the position to surrender for an arrest—the only thing the officers had to do was to put him in handcuffs. However, that is when the violence began.
Constable Chris Harris testified that the officers on the scene made "no meaningful attempts" to actually put Prince in handcuffs, and they resorted to mercilessly beating him with their fists and knees instead, as he lay helpless on the ground with no way to defend himself.
"It was clear that Mr. Prince's reaction was one of pain. It appeared he wasn't resisting the officers; he was attempting to move away from the pain," Harris said, in response to a video played for the court, which showed Prince screaming in pain as the beating took place.
Harris saidthe violence became so "out of control" that he began yelling "YouTube alert" at his fellow officers, hoping it would encourage them to stop the beating, for fear that members of the public were recording the incident.
As a result of the violent assault, Prince spent five days in the hospital recovering, and Calgary Police Officers James Othen, Kevin Humfrey and Michael Sandalack, are now on trial for charges of assault causing bodily harm.
While there is Dash Cam footage that shows Prince lying face down on the ground as Othen jumps on his back, and Humfrey punches him, Constable D'Arcy Oakes admitted that he turned off the camera moments after he arrived at the scene, leaving out crucial footage.
"I hit the button," Oakes told Crown Prosecutor Jim Stewart when asked why he ended the video when he did.
"Why did you do that?" Stewart asked.
"I did not do it on purpose," Oakes replied, claiming it was "a combination of adrenalin, trying to turn the vehicle off and turning the (flashing) lights off."
Oakes testified that he watched Othen jump and kick his knee into Prince's ribs, and then as Othen and Humfrey held Prince down, Sandalack began striking Prince in the face with his knee. Oakes said that both Othen and Humfrey were yelling at Prince to stop resisting.
Othen is also charged with assault with a weapon for digging a key into Prince's neck behind his ear—a claim that Constable Ryan MacPherson testified to witnessing after Prince was finally handcuffed and placed in a police truck, and Othen opened up the backdoor and confronted him.
Both Humfrey and Othen have also been charged with public mischief for filing false reports, after footage from a police Dash Cam contradicted their accounts of the incident, and prompted an investigation by the Alberta Serious Incident Response Team.
"In an effort to change the narrative from the truth, both James Othen and Kevin Humfrey made false statements to [a constable], who they knew was in charge of writing up the report," Stewart said during the trial.
Othen and Humphrey are currently suspended without pay, and Sandalack is on "administrative duties." The trial is set to resume on Nov. 6.