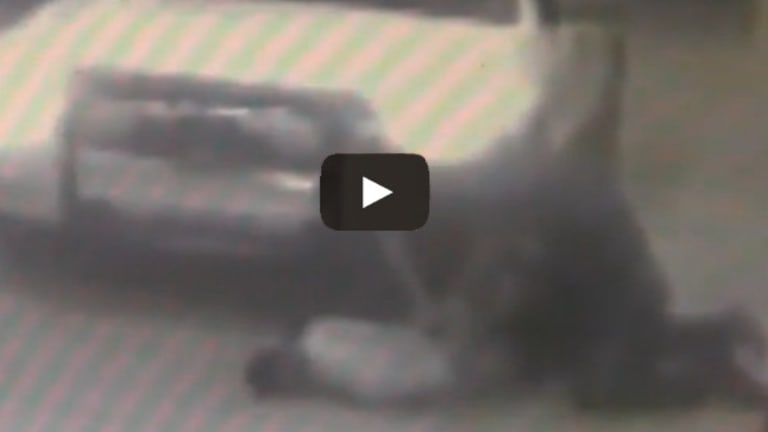 These Cops Didn't Know they were on Video when they Brutally Beat this Innocent Man
May 1, 2014
A disgusting instance of thuggish brutality was caught on a gas station security camera that contradicts the reports of two Broward Sheriff's Office Deputies.
According to Local 10 News, David Gonzalez, 50, admits he was drinking but said he was just using words to defend himself against an allegation that he had stolen some beer at a Texaco station in Deerfield Beach when he was struck twice by a deputy and slammed violently face-first to the pavement.
The two BSO deputies questioning him -- Justin Lambert and Mike Manresa -- claim it was Gonzalez who "raised his hand" at them and then resisted arrest, forcing them to "escort him to the ground."
The video shows Lambert initially striking Gonzalez when he leans in toward him. Gonzalez is knocked back against the gas station wall, where he appears to offer his hands for arrest before Lambert strikes him again, grabs him by the neck and both deputies lift him and slam him down, breaking his left orbital bone, putting a split over his eye that required stitches and knocking him out cold.
When Gonzalez finally came to, he was told that he fell down.
According to the deputies' reports Gonzalez raised his hand at Lambert, and also resisted arrest; 2 things that clearly did not happen in this video. The report also stated that he was "escorted" to the ground because Gonzalez was being belligerent, yet another fabrication that we do not see in the video.
Deputy Lambert's past is also far from stellar. Just last year BSO paid out a $350,000 settlement to a Dania Beach couple because of Lambert's actions.
Lambert responded to a noise complain at the home of Jorge Rodriguez, 50. Rodriguez was then stunned several times with a Taser, tackled and beaten in front of his children and friends during a party at his home on Dec. 6, 2009.
The lawsuit stated that Rodriguez did not resist arrest in any way, although deputies charged him with resisting arrest with violence and battery on a law enforcement officer.
Rodriguez went to trial on those charges in July 2011. A jury found him not guilty.
His wife, Maria Rentel, 48, had been charged with disorderly conduct, but was acquitted by a judge in December 2010.
Watching this video and then seeing what the cops actually reported is disheartening, to say the least. The fact that Broward was able to keep his job after having a history of brutality is also disturbing.
The violent interaction between Gonzalez and the two BSO deputies is ominously similar to a mugging or similar gang-related violence. The only difference here is that these gang members carry badges and wear uniforms.
To the police officers that are reading this article, please share this with your fellow officers. There is no justification for this type of violent thuggery.
Actions such as this only serve to further divide the people and create more fear and hatred for law enforcement.
It is so much easier to do the right thing. Please look at what is happening and change it. Be on the right side of history.