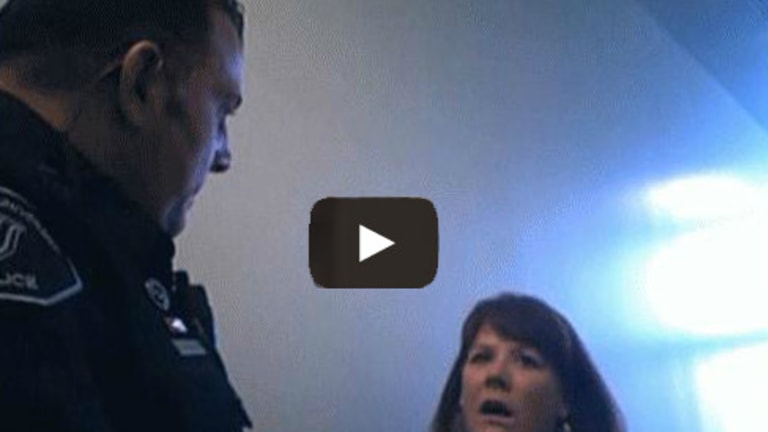 Cops Violently Arrest College Staff Member for Ridiculous Offense of 'Fixing' Upside Down Map
In a valiant display of chivalry and heroism, UVU Police saved the day when they arrests a 48 year old college staffer for fixing a map that was on a wall incorrectly.
We can now all sleep well at night knowing that police are so concerned about our safety that they will initiate force against a woman in her 40's for the heinous crime of helping students get to class.
According to CBS12, UTAH -- A Utah Valley University employee and student, was arrested, slammed into a wall, and tossed to the ground. This was in part because of a small change she made to an incorrect wall map inside one of the buildings of UVU.
Ginger Anderson, 48 who works in the information center at the university and is also attending the school, says on the first day of classes back in January she noticed many new students were having trouble getting to classes because of a wall map inside the Browning building. The map in question was being displayed upside down.
Anderson, who spends much of her work day directing students to their proper classes, informed a university employee that the map was incorrect. The employee then used a marker to make some changes to the map, soon after so did Anderson.
She says she corrected the compass, and wrote in marker that the map was upside down. Two days later a couple officers from the UVU police department visited her and told her they intended to arrest her for criminal mischief. A shocked Anderson refused to go with officers to the police department and was thrown to the grown and arrested.
She says the department used unwarranted force and complained. The Utah County Sheriff's Office conducted an independent review and found that Anderson was resisting, both passively and actively, and found that the officers did not break any laws, or violate protocol.
The question here is, how can these cops feel that they are somehow providing a service when acting like complete mafia cronies? The mentality that it takes NOT to question such an arbitrary show of force is unnerving to say the least.
Will these robotic costumed thugs enforce anything they are told? Unfortunately, yes they will.