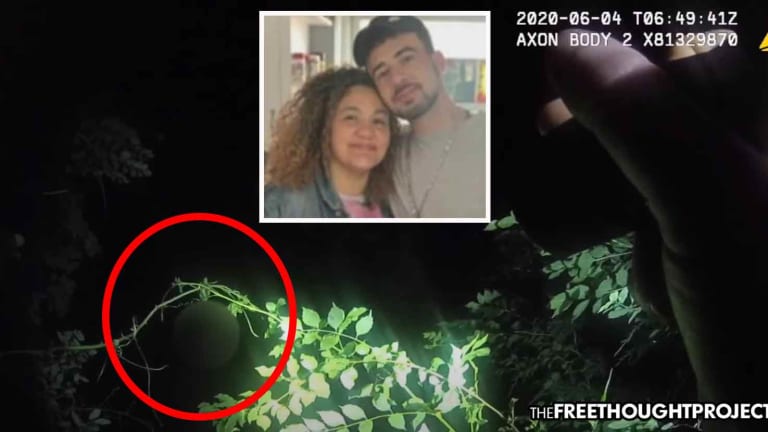 'Your Dumb A** Jumped In!': Cops Taunt 24yo Man as He Drowns 10 Feet Away
Instead of helping a drowning man who was only 10 feet away, cops looked on and taunted him as he went under and died.
Franklin County, TN — According to his family, Johnny "JJ" Baldwin, 24, had just moved down to Tennessee to get a new start on life. Unfortunately, however, the new start would never happen because Baldwin would drown as the people who claim to "protect" society looked on and taunted him.
According to police, they began pursuing Baldwin after they claimed he made a minor traffic violation last Thursday. Baldwin's uncle told local news that Johnny was scared and ran from the police because he had not yet gotten his Tennessee driver's license.
Baldwin never broke 45 mph during the chase which eventually came to a halt before he fled on foot. A Winchester police report claims it was during the foot chase that Baldwin jumped into Tims Ford Boiling Fork Creek.
"I gave him orders to stop and swim back towards us, which he did," an officer said in the report.
Baldwin was about 10 feet from the lake's bank when "he stopped coming closer and just floated there for a second," the officer wrote.
Baldwin would "go under water and pop back up several times but would never proceed to the edge where we could get him." Then he "went under water one last time and never came back up," the officer wrote, according to ABC.
As the heartbreaking video shows, the cops did nothing to help him and opted to taunt him instead.
"He's doing it on purpose," an officer said.
Baldwin begs the officers to show one ounce of courage and jump in and help him, but they taunt him instead. He says "help" over and over but this simply appeared to make the officers taunt him even more.
"Then swim. Your dumb a** jumped in the river," an officer says.
When one cop actually gets up enough courage to go in and attempt to save Baldwin, his fellow "hero" in blue tells him not to do it.
"No, don't go in there with him, he's going to pull you down," one officer said.
Moments later, Baldwin goes down and never comes up again.
"Why didn't they save him? He was an innocent 24 year old man, drowned begging for help three times and the police sat there and laughed and made jokes about it," said Brian Kirk who is a close family friend.
Instead of apologizing for the cowardice of his officers, the Winchester police chief went on the defensive.
"He ends up drowning, which is an extremely sad situation," Police Chief Richard Lewis told ABC News on Wednesday. "We have released our body camera and we have caught absolute hell for it."
According to ABC, two Winchester police officers were at the scene at the lake as well as two Decherd police officers, Lewis said. Decherd was the lead agency for the pursuit, Lewis said.
The body camera video "sent straight anger through me, because I know what kind of person that he is," Baldwin's cousin, Destiny Baldwin said. "They treated him very, very unfairly."
"It's a part of your job to protect and serve the community. It just seemed like in that case with JJ that wasn't it. It was more of, 'Do I know this person? Is he armed? He's faking it.' Stuff that a cop on duty shouldn't ask," she said.
As to why the cops didn't jump in, Lewis says it's because they aren't trained to help people in the water.
"We are not trained in water rescue -- we do not possess the gear to do that," Lewis said. "You've got to have a flotation device tied off somewhere to the bank where they can rescue you if something happens."
"That's the reason we didn't jump in," Lewis said. "If my officer got in there and got tied up with him [and got pulled under,] it's just a bad situation."
But others noted that they had plenty of resources to help Baldwin and could've simply reached out their baton to him since he was only 10 feet away. They would've never needed to get close to him. One cop could have held onto a tree on the bank and the others could've held onto each other's outstretched arms, ensuring everyone's safety.
"How come he couldn't reach out the baton he was using to cut down the trees extend it to J and save him? Why was nothing done?" questioned Holly Duckett who is an advocate for the Baldwin family.
Others pointed out that someone shouldn't be a cop if they can't help a drowning person.
"I was angry, I was tearful. I have watched the life drown out of someone's eyes and I don't understand how they could just stand there and do nothing, because human nature if you have may humanity your first impulse is to help someone. Even your worst enemy you don't want to see anyone befalling, but they let this man die while they stood there on the bank," Gina Sims-Johnson of the New South Chronicle told News 2.
"As a veteran they taught us water rescue. I was 145 pounds dragging 300 pound guys out of water as a trainee. If the police officers don't have the same comparable training that I had as a veteran they don't need to be on the force," stated Sims-Johnson.
Sadly, cops train to kill people and protect themselves far more than they do to help those in need.
Had these offers truly cared about preserving life, the story below could've been a heart warming tale of a young man getting rescued by local cops. But they did not care, had no courage, and opted to watch him die instead.
Johnny "JJ" Baldwin's life mattered.
The family has created a GoFundMe account, as they say JJ didn't have life insurance.
A change.org petition has garnered over 1,000 signatures calling out one of the Winchester police officers involved.