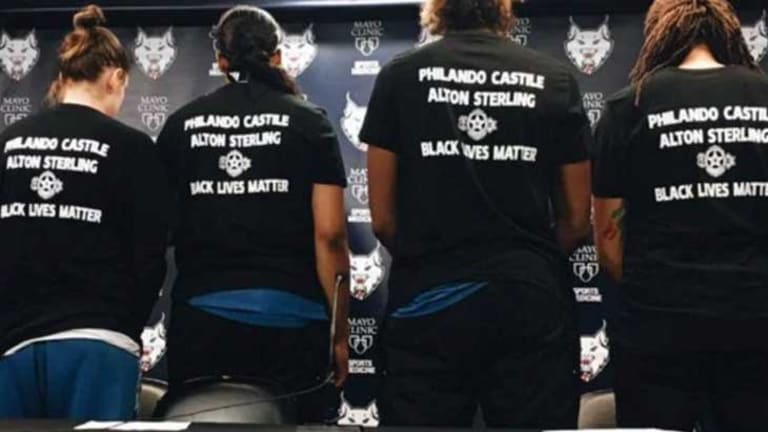 Cops Commended for Abandoning Security Post at WNBA Game in Protest to Philando Castile Shirts
Cops not only abandoned their posts at a WNBA game over the players' choice of t-shirt, but they were commended for by superiors.
Minneapolis, MN -- "I commend them for it," said Lt. Bob Kroll, president of the Minneapolis Police Federation -- in response to four cops walking off their security positions at the Target Center during Saturday night's WNBA Lynx game. The officers' reason for leaving -- players wore shirts decrying the murder of Philando Castille, Alton Sterling, and the Dallas Police officers.
The officers were off duty but were being paid as police officers for their role as security at Saturday's game. Apparently, they took offense to the fact that the Lynx players would dare ask for accountability for the murder of innocent people.
Making the situation even more repulsive was the immediate commendation the cops received from the Minneapolis Police Federation.
According to the Star Tribune, Kroll said the four officers also removed themselves from a list of officers working future games. He did not know who the officers were. "Others said they heard about it and they were not going to work Lynx games," he said.
Asked if other officers will fill in for those who quit, Kroll said, "If [the players] are going to keep their stance, all officers may refuse to work there."
The black warm-up shirts, which the officers found offensive enough to fail to fulfill their contractual duties, said, "Change starts with us. Justice and accountability" on the front. (Accountability is a Lynx team mantra.) The back of the shirts featured the names of Castile and Sterling, the Dallas Police Department shield and, at the bottom, "Black Lives Matter."
At a pregame news conference, Lynx forward Rebekkah Brunson said the players were "wearing shirts to honor and mourn the loss of precious American citizens and to plead change for all of us."
"We are highlighting a longtime problem of racial profiling," said forward Maya Moore, the 2014 WNBA MVP.
Only an obstinate group of criminals would find offense in a shirt asking for accountability. They even mourned the Dallas cops who were murdered last week. But this had no bearing on their tantrums.
In regards to the incident, the Lynx released a statement saying: "While our players' message mourned the loss of life due to last week's shootings, we respect the right of those individual officers to express their own beliefs in their own way. At no time was the safety of our game in question as Target Center staffs extra personnel for each and every game. The Lynx and the entire WNBA have been saddened by the recent shootings in Dallas, Baton Rouge, and St. Paul. We continue to urge a constructive discussion about the issues raised by these tragedies."
The week following America's anniversary of the declaration of independence quickly morphed into a gruesomely solemn time for the country as innocent blood spilled out into the streets.
Starting on Tuesday, a graphic cell phone video surfaced showing two officers execute Alton Sterling at point blank range as they held down his arms which prompted outrage in a Baton Rouge community and eventually nationwide.
Following the police killing of Alton Sterling, in a shocking video streamed on Facebook Live, Philando Castile, 32, is seen bleeding to death after a Minnesota police officer shot him through his driver-side car window. His girlfriend, Lavish Reynolds, captured the horrific scene on her cell phone, narrating the tragic events and streaming them live on Facebook.
These two deaths were enough to shake Americans out of their slumber and thousands took to the streets across the country to protest these needless murders.
While Americans peacefully protested these killings in Dallas, a murdering psychopath shot 12 police officers, killing five of them.
These tragedies need to be talked about, they need to be pushed into the national conversation and this was all the Lynx were doing. However, for practicing their free speech and asking for accountability, for cop killers too, they have been refused service by the gang in blue.
The good news is that not all cops are as close-minded as these. Immediately following the death Alton Sterling, one brave cop in Ohio did what most cops refuse to do -- call out the crimes of their fellow officers.