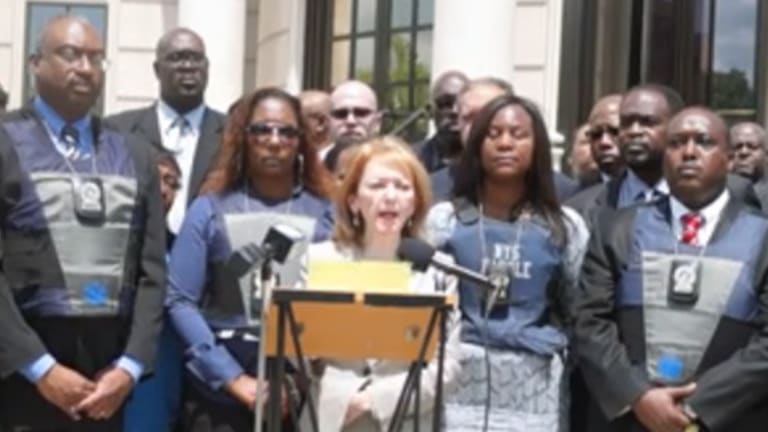 These Cops Can't Go Back to Work After Experiencing Police Misconduct Firsthand
"All I could think of was if I sneeze, or blink, or clear my throat, that, yeah, I might have a bullet lodged in my head"
Matt Agorist
July 18, 2014
Four veteran New York State Parole officers, who were driving down route 59 in Rockland County, didn't know their lives were going to be forever changed on that late April night.
The last thing they thought would happen would be a potentially deadly confrontation with other cops. But that is exactly what happened.
The officers were wearing their vests and shields and riding in a state-issued vehicle with a parole placard on the dashboard. Suddenly, the car was surrounded at gunpoint by cops from the Ramapo Police department and one from the Village of Suffern.
"All I could think of was if I sneeze, or blink, or clear my throat, that, yeah, I might have a bullet lodged in my head," said Annette Thomas, one of the officers in the car that night.
The officers believe they were victims of racial profiling. "Racial profiling, there's no doubt in my mind. I believe that 4 black officers with gold shields in a predominantly white neighborhood was just a tad bit too much for them to swallow," Shelia Penister told WABC New York, when asked about the reason for the stop.
Apparently Ramapo cops received a 9-1-1 call reporting black people riding through the neighborhood wearing bullet proof vests, so they responded.
According to WABC, Officer Mario Alexandre had left his business card at the parole violator's home but says police never called his number, and although the vehicle plate was registered to the state, cops still confronted the parole officers. Alexandre, the driver, says a Ramapo PD cop got physical.
"He came toward me, punched me in the badge, said, bulls---, you can buy it at any store. I said, if you turn it over, you will see the state ID. But he didn't pay no attention to that," he said.
The scene quickly escalated into a dangerous situation as the assaulting officers began issuing different commands while pointing guns as the 4 officers.
"We had our hands up but then they were giving us different commands," said Washington. Alexandre said that everyone was giving different orders and they were afraid they were going to get shot.
The officers have now filed a Federal claim against both police departments for violating their civil rights.
"Once they already had confirmation of the identities' of my clients, they had 1, no right to stop them, 2, no right to hold them at gunpoint, 3, no right to assault them and use excessive force on them," said Bonita Zelman, attorney for the officers.
The officers have been so traumatized by this incident that they are unable to return to the job.
"If I do return to work, I still have to encounter working with other law enforcement agencies and I'm not sure how I'm supposed to do that when I'm fearful, distrusting. I basically felt betrayed," said Thomas.
If ever there were a red flag of a government organization running wild with violence and negligence, this is it. Hopefully this incident will shine some much needed light on the deadly incompetence of so many police departments.