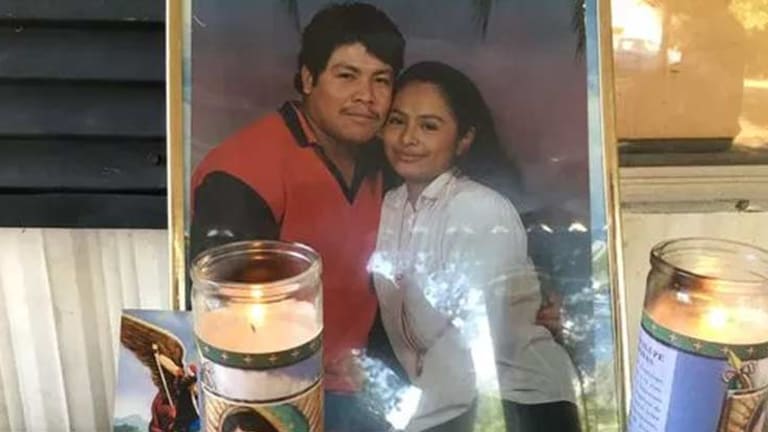 Cops Respond to Wrong Home, Shoot and Kill Innocent Husband as He Came to the Door
A community is grieving after an innocent man was gunned down by police officers who allegedly responded to the wrong home belonging to an innocent couple.
Southaven, MS — Police responding to a call of domestic violence this week allegedly went to the wrong home and killed an innocent husband.
Ismael Lopez and his wife were the only ones home when Ismael heard his dogs barking, so he took a look outside to see what was going on. Through a translator, Mrs. Lopez said that Ismael looked out the window and saw police cars.
"They started pounding on the door and as far as she knows when he opened the door, they started shooting. She didn't see it, but she is just repeating as much as she knows," says Rami Desantiago, a family friend.
"My sister told me it was the police that killed him. I can't believe it. He was a really good person," says family friend Juan Castillo.
"She said when he got up, she heard the footsteps all the way up to the door, she heard the doorknob turn, and then after the doorknob turned it was just gunshots from there."
According to police, however, they say Lopez pointed a gun at them and when they told him to drop it, they opened fire.
The spray of bullets left the Lopez house full of holes and their family dog was hit too. Ismael died on the scene from bullet wounds sustained by the police.
Castillo said Lopez was a native of Veracruz, Mexico, who had lived in the U.S. for many years and formerly worked for the city of Bartlett and more recently operated a small mechanic's shop across the street from his home, according to Commercial Appeal. He said Lopez was a father figure to him and mentored him when he was a troubled teenager.
Castillo also noted the bullet holes that appear to be fired through a closed door. "If you're shooting through a door in that manner, you don't know who's behind that door," he said.
As WREG reports, Lopez's family says police told them they were at the house following up on a call from Tate County, where a woman told officers she had been beaten and the person responsible was at the address on Surrey.
Whether or not Lopez had a firearm makes no difference in the outcome of the case as police, according to District Attorney John Champion, could have been at the wrong house.
Champion noted that Lopez had no warrants for his arrest and that "He was not wanted for anything at all."
As the Free Thought Project has reported numerous times, entirely innocent people are often shot or killed by police at the wrong home. The innocent home owner comes to the door with a gun to see who the intruders are and bang, they are met with a hail of gunfire from cops who failed to check their GPS before assaulting completely innocent people.
However, according to the family friend, Mrs. Lopez saw no such gun.
"She ran out. She saw him laying on the floor. She ran out and she saw him laying on the floor with his hands empty. She didn't see any kind of a gun or anything," says Desantiago. "She just wants to know why. She wants to seek justice. She doesn't understand why they come and killed him."
While there has been no official statement from police admitting they went to the wrong house, Lopez did not make the call and Tate County authorities said the woman who did make the call says she was choked by her boyfriend at a gas station, and he lived in Southaven. The Lopez's were married.
Sadly, as it seems, none of the officers involved in this case will likely be charged as TFTP reported earlier this year, cops can go to the wrong house, kill the innocent homeowner and face no charges.
A disturbing precedent was set in March in a federal appeals court which ruled in favor of police who knocked on the wrong door at 1:30 am, failed to identify themselves, and then repeatedly shot the innocent homeowner until he died.
The homeowner, 26-year-old Andrew Scott had committed no crime when officers came to his home that night on July 15, 2012.
"Government officials insist that there is nothing unlawful, unreasonable or threatening about the prospect of armed police dressed in SWAT gear knocking on doors in the middle of night and 'asking' homeowners to engage in warrantless 'knock-and-talk' sessions," said constitutional attorney John W. Whitehead, president of The Rutherford Institute and author of Battlefield America: The War on the American People. "However, as Andrew Scott learned, there's always a price to pay for saying no to such heavy-handed requests by police. If the courts continue to sanction such aggressive, excessive, coercive 'knock-and-shoot' tactics, it will give police further incentive to terrorize and kill American citizens without fear of repercussion."
In the land of the free, those who claim they have sworn to protect you, can come to your house and kill you, and face no consequences. This is why police in America kill more citizens than anywhere in the rest of the world. This is why people protest. This is why people are angry.