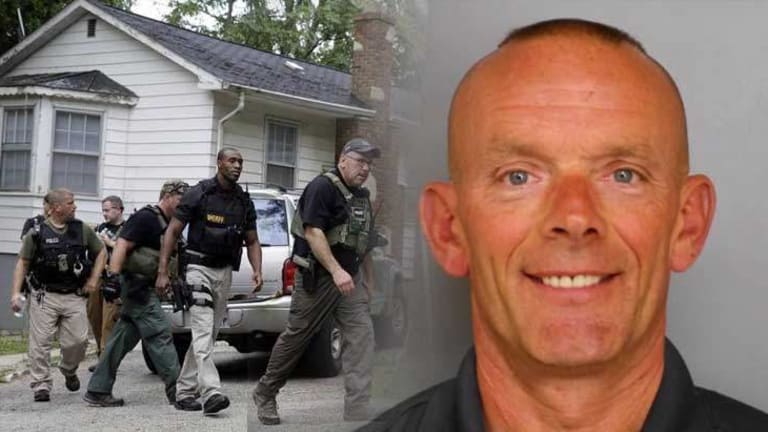 Coroner Says Fox Lake Cop May Have Shot Himself, Sheriff Furious
The entire town may have gone on lockdown for no reason. A coroner investigating the death of a Fox Lake cop is saying he may not have been murdered.
Fox Lake, IL -- During the media frenzy following the death of Fox Lake police Lt. Joseph Gliniewicz, some mainstream outlets invariably began creating their own narrative, pushing the bounds of speculation with a dearth of known facts. Fox News in particular used it to trump their new slogan of a "war on cops," despite the fact that 2015 is turning out to be a safe year for cops, relative to past years and decades.
On the morning of September 1st, Lt. Gliniewicz was found dead 50 yards from his cruiser, about 15 minutes after he radioed in that he was pursuing three suspects on foot. Despite a massive manhunt, no suspects were found in the area.
If Lt. Gliniewicz was indeed shot by another person, it is a tragedy, and the perpetrator should be brought to justice, just like any other murder case. However, comments from Lake County Coroner Thomas Rudd are casting doubt on the assumption that it is a homicide, suggesting it could be a case of accidental shooting or even suicide.
"We obviously know that a bullet killed him," said Rudd. "I can't rule out a suicide. I can't rule out an accident. And I can't rule in a homicide. I can't issue a manner of death until law enforcement gives me everything they have."
At this point, it is being treated as a murder investigation, and police are keeping most of the evidence confidential. They only said their evidence "supports our investigation that more than one shot was fired at the scene."
Rudd would not reveal how many times the officer had been shot, or whether he was shot at close range or from a distance. The coroner did say that Gliniewicz died from a "single devastating gunshot wound."
Rudd went further to state, "Based on what is coming from law enforcement agencies, we are pursuing it as if it is a homicide. If we are told later that they don't have evidence of a homicide, then we have to consider the other manners of death, which could be suicide or accident."
The Lake County Sheriff's Office is incensed at Rudd's public comments, and said the coroner put "the entire case at risk."
"This is an active investigation and it's inappropriate for anyone other than the investigating body to release information to the media, prior to providing a final written report of the findings, or even having a conversation with the Task Force," said Lake County Major Crime Task Force Commander George Filenko.
Rudd may have made the comments to prod police into giving him more evidence that another person, or persons, was involved in the shooting before he rules it a homicide. He made the comments a day after Filenko emphasized to the press that he did not have the final autopsy report. Rudd also said the police know everything that he knows, as three of Filenko's task force members were present at the autopsy.
The only solid lead for police appears to be the fact that Gliniewicz radioed that he was pursuing three individuals. A massive manhunt was initiated after Gliniewicz was found dead, but no suspects were found. There were no eyewitnesses, either.
The Lake County Sheriff's Office seems eager to reach the conclusion of murder, even slipping up during a press conference when Filenko said "they found him murdered—I'm sorry, killed."
Certain media outlets have already run with the assumption of murder to further the false narrative of a "war on cops."
Cold-blooded murder is a terrible thing, for cops or citizens, but care should be taken not to insinuate such a heinous act without incontrovertible evidence.