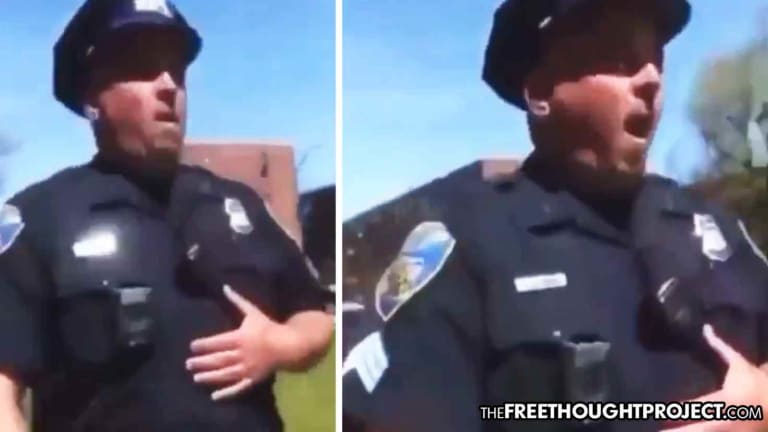 As Arrests for Coughing Spike Across U.S., Video Shows Cop Coughing on People in Baltimore
A countless citizens arrested across the country for coughing on people, a Baltimore cop was caught on video doing the same thing and has not been arrested.
Baltimore, MD — Across the country the mere sound of a cough sends individuals running for cover. With the spread of COVID-19, coughing has become the new scarlet letter — even if the person is not infected. As a result, a string of arrests from coast to coast has seen people incarcerated for the act of coughing.
Jonathan Dechoudens, 27, of Grapevine, Texas, was charged with Harassment of a Public Servant, a 3rd degree felony, after he coughed into an officer's face. Thomas Rensch, 65, of Bismarck, North Dakota, was upset about the coronavirus precautions in place at a local Walmart and coughed toward at least two employees. He was arrested Saturday on a terrorizing charge.
A 23-year-old California man was arrested after he allegedly coughed on a gas pump handle in the Arizona town of Yuma, a report said. Christopher Canfora, 49, was arrested at his home and taken to Volusia County Jail. He is being charged with assault with intent to commit a felony and is being held on $5,000 bond for coughing on a store employee.
As a report in the Verge points out, these people aren't being arrested under coronavirus-specific laws, says Lindsay Wiley, director of the health law and policy program at American University Washington College of Law. Men in North Dakota and New Jersey, for example, were charged with terroristic threats, or threatening to cause physical harm or violence to someone. Prosecuting them for coronavirus-specific physical harmwould be much harder.
One would think that with all these arrests for people coughing on one another, that police — the ones making the arrests — would refrain from such acts. One would be wrong.
After massive backlash on social media, the Baltimore police department has launched an internal investigation into a video that appears to show an officer repeatedly coughing near citizens in Southeast Baltimore, according to the department.
As the video shows, a citizen is greeting the officer when he walks up to her and starts coughing in her face. He then continues to walk and cough throughout the apartment complex. While this may have been the officer's poor attempt at humor, it is no joke as 10 members of the Baltimore Police Department — eight officers and two civilians — have tested positive for the coronavirus. More than 100 others remained in self-quarantine as of Monday, the department said.
A police spokesperson told CNN, the department's Public Integrity Bureau has opened up an internal investigation and reviewed the online video, according to a release from BPD, as well as the unidentified sergeant's body-worn camera footage. The department says a complete investigation will be conducted.
"The Department takes Covid-19 very seriously and we do not condone any action by our members which may be perceived as making light of the Covid-19 pandemic," police spokeswoman Lindsey Eldridge wrote in the department's statement.
As of the writing of this article, over 400,000 people have reportedly contracted the virus in the United States with 13,000 deaths attributed to it. So, when a cop goes around coughing on citizens, it is not okay.
For now, the department and local officials seem to be responding to the backlash.
"After watching the full video, it [sic] its entirety, it is not only disturbing, but incomprehensible, especially considering the high-level of strong and clear guidance that we have provided from the beginning, regarding Covid-19," Baltimore Police Commissioner Michael Harrison said in the statement. "Members are always expected to be sensitive and professional to the community, but what we saw in the video is alarming because this pandemic is affecting lives not only nationally, worldwide, but right here in our own police department."
"Covid-19 is not a joke and this behavior is beyond unacceptable. When you are in public service, it is your duty to treat everyone with respect, especially when we are dealing with both a public health pandemic and a gun violence epidemic. This is not behavior that we want our police officers or any of our public servants to model to our residents," Baltimore City Council President Brandon Scott said in a statement.
The NAACP responded by calling the officer's coughing emblematic of the police department's "failure to respect and build trust with the people of Baltimore," calling for the officer to be pulled from contact with the public immediately, "and subsequently held accountable for his actions."