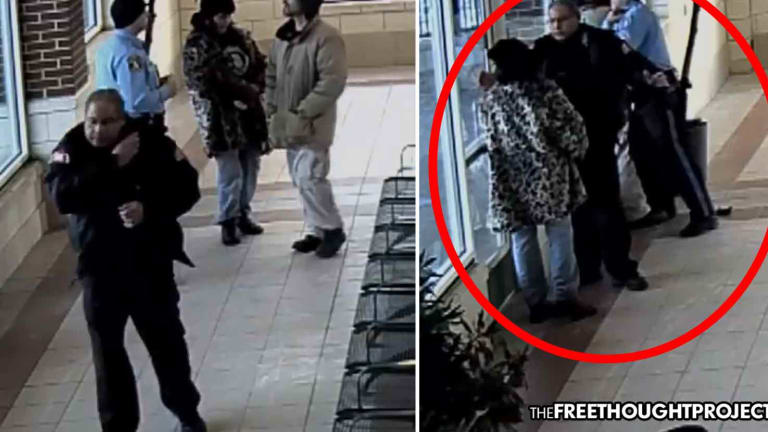 WATCH: Good Samaritans Attacked, Arrested for Helping Homeless People Not Freeze to Death
A couple was helping homeless people stay warm during a weather emergency and their kindness would make them a target of police.
Lansing, MI — In January, temperatures in Lansing, Michigan plummeted far below freezing making it extremely dangerous for those who are homeless. Knowing people would likely freeze to death if they stayed outside, one couple decided to help out those less fortunate than them. However, instead of being praised for their good deed, the couple was arrested.
Julia Miller and Martin Mashon were handing out bus tokens in January so that homeless people could go to the bus station instead of staying outside and freezing to death. They are advocates for the less fortunate and during weather emergencies like this one, they often hand out coats and help people make it to warming centers. But on this particular day, the police would show up to put a halt to their kindness.
On January 26, during a polar vortex and weather emergency, temperatures had fallen well below zero so Mashon and Miller went to the CATA station to hand out tokens and try to save lives. But body camera footage shows that police showed up and acted like the couple was robbing the place.
"This isn't a warming station, it's a bus station so there's no loitering," the officer says after he ran up to the couple like there was some sort of emergency.
"But it's a great place for people to stay warm," said Mashon.
"I know it's cold out," said the officer in the video, "But that doesn't give you a right to loiter somewhere, where loitering's not permitted."
According to many folks who have commented on the video, the director of the CATA bus station has an open door policy during cold weather and allows the less fortunate to "loiter" in the station to stay warm. However, it appears that the police wanted nothing of it.
Despite the director's reported policy, the officer asked the couple of they were waiting for a bus.
Mashon said, "No I'm not actually."
"Then you're gonna have to leave," said the officer.
Mashon said, "Actually this is a warm place that I help pay for."
After several minutes, the conversation got heated.
"No I'm trying to explain something to you and you won't stop talking," said the officer.
Mashon said, "Are you my master, am I your slave now."
"Take your hand out of your pocket," said the officer.
Mashon said, "Excuse me?"
"Take your hand out of your pocket," the officer repeats as he moves in to arrest Mashon.
Mashon said, "Woah, don't touch me."
"What do you have in your pocket," said the officer. "Easy, easy, easy."
Mashon said, "Don't touch me."
"Relax, relax, relax," said the officer.
Mashon said, "Let go of me. Why are you touching me?"
"Stop," said the officer. "Stop."
Mashon said, "Why are you touching me?"
The officer then throws Mashon up against the window and puts him in handcuffs. Moments later he arrests Miller as well.
Miller was charged with trespassing and Mashon was charged with trespassing and hindering an officer.
Miller explained that they plan on fighting the charges and are asking for the police to apologize as well as implement a policy for helping the homeless during weather emergencies.
"Don't they understand that if they A. Drop all charges against both Martin and myself. B. Offer a public apology in regards to the excessive force and verbiage the officer used and C. Implement a plan of action that involves several local homeless advocacy groups in regards to what needs to be done during weather emergencies that the chances of us deciding to pursue a civil suit will lessen AND it will save them some face," Miller wrote on Facebook.
She says that is not likely to happen, however.
Below is a video showing what helping the homeless looks like in a police state.
"Are you my master? Am I your slave now?" A confrontational arrest downtown was caught by Lansing police body camera footage in January. Our WLNS Kiyerra Lake shows you what was said between the officer and the people arrested.More: https://www.wlns.com/news/confrontational-arrest-caught-on-lpd-body-camera/1898672206

Posted by WLNS-TV on Wednesday, April 3, 2019