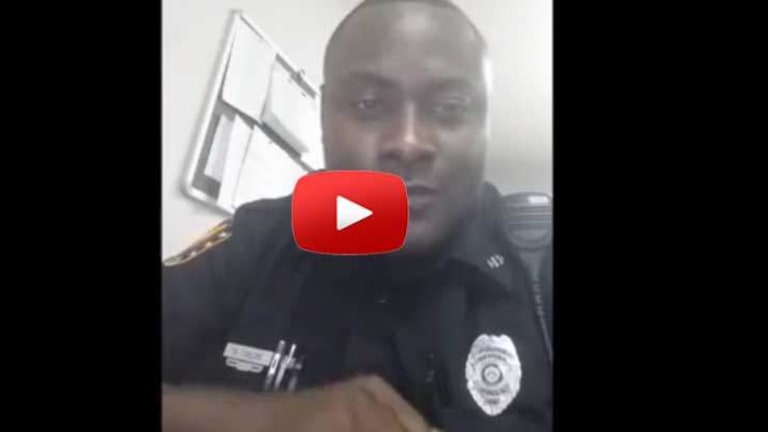 This is What a "Good Cop" Looks Like, Here's the Video All Cops Should be Making
In a jaw-dropping video, a Georgia cop calls out the bad cops and expresses his support for the police accountability movement.
A courageous Georgia police officer, identified as Billy Ray Fields, has taken a strong stance against the rampant police abuse of authority. In a viral video, originally posted on Mediatakeout, Fields states that he supports the police accountability movement as a means of ridding departments of the bad cops.
In the video, Fields claims that people often tell him that "it's a bad time to be a cop," to which he tells them that now is a "perfect time to be a cop." He then expresses his gratitude towards a movement that has begun to expose the illicit actions of rogue officers across the nation.
The clearly frustrated Fields "keeps it professional, but real at the same time," as he declares his support for the police accountability movement. He says the movement works to expose bad cops, and to hold them accountable for engaging in wrongdoing under the color of authority.
He claims that good officers still exist but are being tainted by the actions of the bad officers. And while a common refrain from police accountability experts has been; if there were good officers, they would stop the bad ones from brutalizing people, Fields' expression of gratitude for bad officers being held accountable shows that there are cops that want to change the culture of policing.
Offering no excuses Fields lays down the gauntlet to other cops, stating:
When I became a cop, I took an oath knowing what I would face in these streets… This young generation they're our future and some of them don't have a clue nor a plan. So it's not only my job to uphold the law, but to show, guide and lead them in the right direction.
He then provides a clear example of the type of quality of character that is necessary for those that engage in the profession of policing, as he states:
I'm the same guy with the badge on as well as off. I give the dope boys and gang members the same amount of respect and courtesy as I would a judge or a lawyer.
While some may scoff at the notion of giving any of the aforementioned groups respect, the idea that treating each individual you encounter with courtesy and respect is of great value, and in short supply in police state USA.
Because at the end of the day we've all done bad at one time or another. It's not my job to judge how you choose to live your life, as we are all one nation under god.
He claims to fully understand that by even making this video and releasing it publicly he may be dooming his future in law enforcement, as officers which cross the "thin blue line," and speak out about abuse and corruption, often find themselves blackballed from the profession of policing altogether.
If there must be an institution of policing, it would surely be made more honorable if officers began to stand up and speak out about it rather than toeing the "thin blue line" in fear of retribution.
The Free Thought Project stands behind officers' showing their true bravery by taking a stand against their fellow cops who choose to abuse their authority and violate their oath.
My words are real and I stand behind what's right. So to the actual good cops out there I salute ya'll, stand up, cause this too shall pass. But the bad cops out there, man go cut yourself and go jump in the ocean for me. My people, continue to record. I'm Billy Ray and I'm out.
Attention America, this is what a good cop looks like!
Jay Syrmopoulos is an investigative journalist, free thinker, researcher, and ardent opponent of authoritarianism. He is currently a graduate student at University of Denver pursuing a masters in Global Affairs. Jay's work has previously been published on BenSwann.com and WeAreChange.org. You can follow him on Twitter @sirmetropolis, on Facebook at Sir Metropolis and now on tsu.