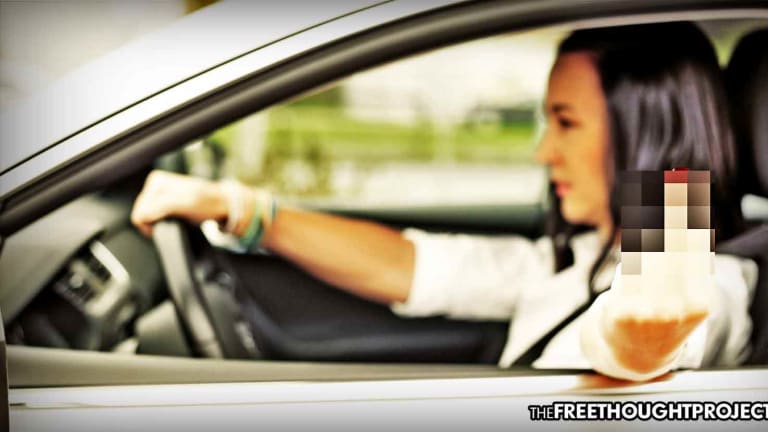 Appeals Court Sets Damning Precedent, Rules Giving Cops the Finger is "Illegal"
A North Carolina appeals court ruled that a cop was justified in detaining and subsequently arresting an innocent person for the sole act of raising his middle finger.
Raleigh, NC — Flipping the bird or raising a middle finger has been ruled to be free speech many times over. In fact, in a 14-page opinion, the U.S. Court of Appeals for the 2nd Circuit addressed the specific action of flipping off cops when it ruled that the "ancient gesture of insult is not the basis for a reasonable suspicion of a traffic violation or impending criminal activity." However, we've seen citizens pepper-sprayed, assaulted, and arrested for this act of free speech. And now, a North Carolina appeals court just ruled that police can initiate a chase and subsequently detain people for the already-protected act of free speech.
As WNCT 9 reports:
A North Carolina appeals court says a state trooper acted appropriately when he chased and stopped a vehicle after its passenger flashed an obscene hand gesture at the law officer.

A divided panel of the state Court of Appeals ruled Tuesday there was no legal error in charging Shawn Patrick Ellis with resisting or delaying the trooper during the Stanley County stop. Ellis initially refused to turn over identification. He argued in court the traffic stop was illegal.

Judge Chris Dillon wrote for the court that while Ellis's middle-finger wave was protected free speech, the trooper had reason to believe that the crime of disorderly conduct was being committed. Dillon wrote that it's illegal to make gestures plainly intended to provoke violent retaliation and cause a breach of the peace.
The idea that a person's middle finger can be interpreted by the court as a means of provoking "violent retaliation" is chilling. Across the country on roads in every city, every day, people give each other the middle finger in acts of frustration and anger. This is a form of expression — which is protected under the first amendment — and in no way implies that someone wants "violent retaliation."
However, that is exactly what Ellis received when the state trooper pulled him over as he was kidnapped and caged.
Obviously flipping people the bird will not make you many friends. But so what, you've harmed no one in the act of raising your middle finger. If someone is offended by another person's finger —namely a police officer — it does not justify that person's extortion nor kidnapping.
However, Ellis was kidnapped and caged for raising his middle finger and now an appeals court has justified this cop's tyrannical behavior.
In the land of the free, a person can be kidnapped and thrown in a cage for arbitrary sounds made with their mouth or raising their middle finger that causes harm to no one.
Aside from this being clearly asinine, it's well established by the Supreme Court that arresting someone for swearing and raising the middle finger is unconstitutional.
In Cohen v. California, the U.S. Supreme court upheld a citizen's First Amendment right to wear a jacket to court that read "F**k the Draft," the court held:
"WHILE THE PARTICULAR FOUR-LETTER WORD BEING LITIGATED HERE IS PERHAPS MORE DISTASTEFUL THAN MOST OTHERS OF ITS GENRE, IT IS NEVERTHELESS OFTEN TRUE THAT ONE MAN'S VULGARITY IS ANOTHER'S LYRIC. INDEED, WE THINK IT IS LARGELY BECAUSE GOVERNMENTAL OFFICIALS CANNOT MAKE PRINCIPLED DISTINCTIONS IN THIS AREA THAT THE CONSTITUTION LEAVES MATTERS OF TASTE AND STYLE SO LARGELY TO THE INDIVIDUAL."
What's more, the U.S. Supreme Court ruled, in City of Houston v. Hill, that police must tolerate even more abusive speech than an average citizen—which certainly includes looking at someone's middle finger. The court concluded that "in the face of verbal challenges to police action, officers and municipalities must respond with restraint," and added that, "the First Amendment protects a significant amount of verbal criticism and challenge directed at police officers."
Here at the Free Thought Project, we feel there are no such things as 'bad words' but, rather, certain words some people don't like to hear. The same goes with raising random fingers.
The arbitrary nature of government enforcing laws that dictate what vocabulary a person can use and which finger they can display to a cop is as ridiculous as it is tyrannical. Sadly, it remains a part of society.
Have we learned nothing from history?
Telling people what words they can and can't say or which fingers they can raise, to 'protect' a cop's feelings is chilling. Freedom of speech does not come with terms and conditions as words and arbitrary fingers alone, less the obvious yelling "fire" in a movie theater, cannot cause physical harm.
Americans who support such tyrannical acts should heed the legendary George Carlin's advice below.