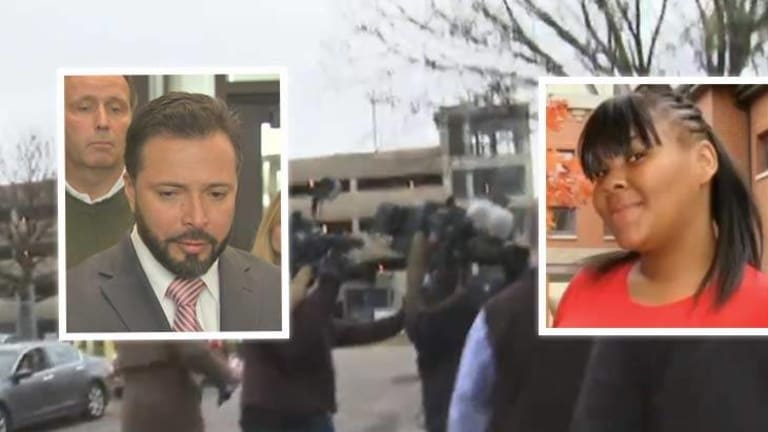 Courtroom Erupts in Outrage as Off-Duty Cop Who Shot & Killed Unarmed Woman is Acquitted
"You want me to be quiet?! This motherf****r killed my sister!" Impromptu protests spark as this killer cop walks free.
Chicago, IL-- An off-duty police officer who shot and killed Rekia Boyd will remain free, after a judge found him not guilty on charges of killing the 22-year-old woman. Despite purposely and willfully pulling out his weapon and firing into a group of people, the officer was only charged with involuntary manslaughter, reckless conduct, and reckless discharge of a firearm.
On March 21, 2012, Chicago Police Officer Dante Servin, was off-duty when he became upset about noise from people who were walking to a store near a park. The officer parked in an alley and confronted Rekia Boyd and three friends, telling them to quiet down. When the two young men in the group talked back to the officer, he slowly pulled out of the alley. He then brandished his service weapon and fired five shots over his shoulder while sitting in his car as the group had their backs to him.
One of the shots hit Boyd's boyfriend in the hand, while another hit Boyd in her head. The bullet ricocheted inside her head, left to right, back to front and then slightly upward," according to her autopsy. She was killed immediately.
Servin's defense claimed, naturally, that "he feared for his life." The defense claimed that Servin saw Cross pull a gun from his waistband and point it at him, causing him to fire in self-defense. No gun was found at the scene.
As outrageous as this story is, the judge some how decided to allow this killer to remain free.
"Simply put, the evidence presented in this case does not support the charges on which the defendant was indicted and tried. There being no evidence of recklessness as a matter of law, there is no evidence to which the state could sustain its burden of proof as to the fourth element of the charge of involuntary manslaughter," Judge Dennis Porter stated. "Therefore, there is a finding of not guilty on all counts and the defendant is discharged."
As the judge made the shocking announcement, the courtroom erupted in shock and outrage.
"You want me to be quiet?! This motherfucker killed my sister!" Boyd's brother, Martinez Sutton, screamed as he was being removed from the courtroom.
An impromptu protest broke out immediately outside the courtroom, and outraged family and community members followed the killer cop as he exited the courtroom, screaming "murderer" as he walked.
"I really didn't expect it to happen in this case," her brother stated outside the courtroom, speaking about the officer being found guilty. "But I had faith. I had hope. I thought that maybe the judge would grow a heart but just like the Tin Man he never had one."
The young woman's killer then made a bold and heartless statement to the media outside the courthouse, saying:
"I think it was a mistake for the state's attorney to charge me, but I also explained to the family that if this is what they needed for closure - for me to be charged - I hope they got what they were looking for," Servin said.
Cook County State's Attorney Anita Alvarez provided a written statement on the ruling expressing disappointment in the outcome.
"I am extremely disappointed by the Judge's ruling. The State's Attorney's Office brought charges in this case in good faith and only after a very careful legal analysis of the evidence as well as the specific circumstances of this crime."
"I am Rekia Boyd's mom. They just found this man not guilty on all counts, and he blew my daughter's brains out in the alley," Angela Helton, Boyd's mother said of the decision.
The officer remains working at the police department on desk duty but has been stripped of police powers until the Independent Police Review Authority finishes their investigation.